By Steve Beauregard
Zion National Park is a scenic wonder and national treasure. With gorgeous red rock canyons, soaring sandstone cliffs, slot canyons, vistas that stretch for miles, and scenery seemingly straight out of a movie set, it's no wonder the park attracts over 2.9 million visitors each year.
And a good portion of those 2.9 million visitors arrive from Las Vegas, as either residents or visitors looking for a side excursion during their vacation to Sin City.
It's just 165 miles (or 264 kilometers), from Las Vegas to Zion National Park in southwestern Utah. Specifically, we're talking about the distance when starting at the center of the Las Vegas Strip to the Zion Canyon Visitors Center at the south entrance to the park.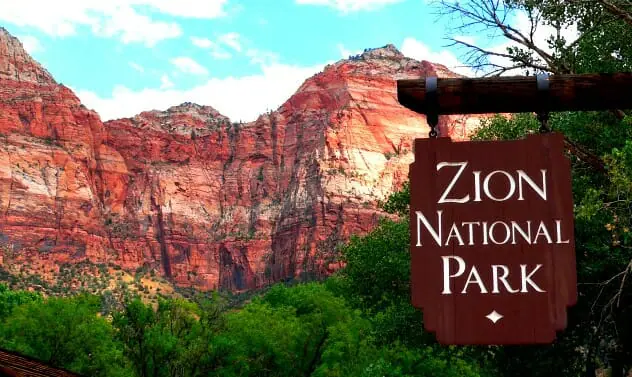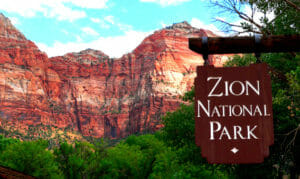 There are, in fact, three entrances to Zion National Park, however this southern entrance near St. George, Utah is, by far, the closest entrance to Las Vegas.
It would take you between 2 ½ and 3 hours to drive from Las Vegas to Zion National Park.
Driving from Las Vegas to Zion National Park
At 165 miles away, or roughly a 2.5 to 3 hour drive each way, a day trip to Zion is doable, but would make for a long day. Several Vegas visitors I know have stayed in either Springdale, (right outside the park), or in St. George, Utah for a night or two so that they could take full advantage of the park without feeling rushed.
(Here's a map showing you the route from Las Vegas "A" to the Zion Canyon Visitor's Center "B" at the park's southern entrance.)
The drive and directions are pretty straightforward. From Las Vegas, you'll simply want to get on Interstate 15 going east.
The first 86 miles of the 165 miles from Las Vegas to Zion is flat, boring desert landscape. At mile 86, or roughly halfway, lies the small gaming town of Mesquite, on the Nevada/Arizona line.
(Related: Distance from Las Vegas to St. George, Utah)
From there you'll pass some more desert, crossing 29 miles across Arizona, as you climb uphill, up the Virgin River Gorge, for a total of 40 miles before reaching the town of St. George, which sits on the far southwestern edge of Utah.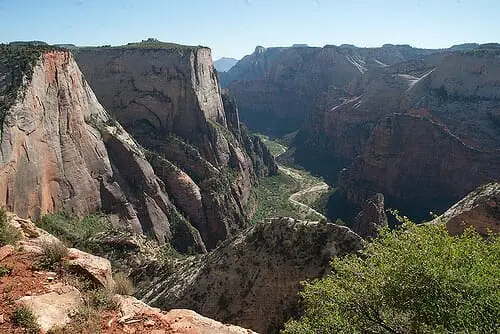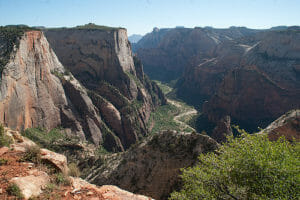 After driving through St. George, you'll stay on I-15, getting off at exit 16, which is about 7 miles north of the middle of the town of St. George. The signs pointing you to Zion National Park are clearly marked, with the traditional brown signs signaling a national park.
Once you're off the interstate it's just 33 miles to the entrance to Zion National Park. You'll pass through small towns like Hurricane and La Verkin before reaching Springdale, then the park entrance.
Once there, you'll be able to check out the visitor's center, see the geological history of the park's formation, or simply take the free park shuttle for a free tour of Zion. There are also, of course, endless opportunities for hiking, bird watching, horseback riding and more.
Here's the National Park Service's official Zion National Park page: www.nps.gov/zion
Shuttle Service from Las Vegas to Zion National Park
Those of you not wanting to drive, nor get a rental car can take shuttles from Las Vegas to the park. For a fee of course.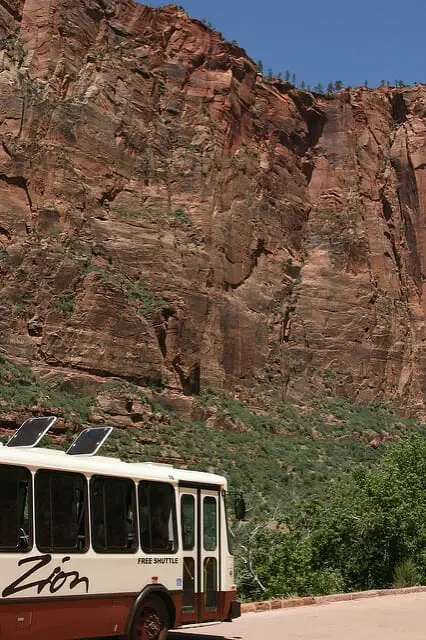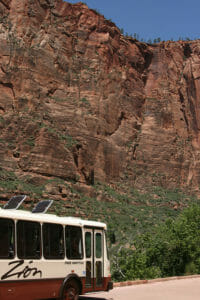 Companies such as the St. George Express, and the St. George shuttle take passengers from McCarran International Airport to the park entrance. Once there, you are not your stuck at entrance, as the National Park Service runs a free shuttle through the park. In fact, during the busier summer season, traffic on the road through the park is closed to private vehicles. You can only access the park by taking this free shuttle.
As for the paid shuttles from Las Vegas to Zion: both the St. George Express and St. George shuttle run at various times, and both offer very early morning departures (6 a.m.). Thus, it's possible to have a day trip to Zion from Las Vegas, as there are returning shuttles that would put you back at the Las Vegas airport at around 10 p.m.
Their respective websites will have the current schedules and prices, however from my research, you can expect to pay in the range of $85 to $100 per person for roundtrip shuttle service between Las Vegas and Zion National Park.
As we all know, a vacation to Las Vegas is a wild ride and exciting time, however a side trip to the peaceful serenity and beauty of Zion National Park is a quiet and relaxing change of pace. And, since it's somewhat conveniently located only 165 miles away, it may be something you'd want to consider the next time you are visiting Las Vegas.
(Photos courtesy of Les Haines, Janjko, and Quinn Dombrowski via Flickr).)