Las Vegas to St. George Utah – Distance, Mileage & Driving Time
By Steve Beauregard
They are about as two different towns as you will find in the United States: one a non-stop 24 hour a day hard-charging party and entertainment capital, and the other a Mormon-dominated sleepy town full of friendly people and surrounded by beautiful scenery.
Despite the differences, (or perhaps because of them), many people in Las Vegas venture to St. George, Utah for hiking, biking, golfing, destination spas, sight-seeing the two nearby national parks, and maybe also just to unwind a bit from the noise and energy of Las Vegas.
It's just 123 miles (or 198 kilometers), from Las Vegas to St. George, Utah. It takes just about two hours to get to St. George from the center of the Las Vegas Strip, assuming normal traffic condition. More specifically, Google Maps says it typically takes between 1 hour 40 minutes, and 2 hours 20 minutes to drive from Las Vegas to St. George.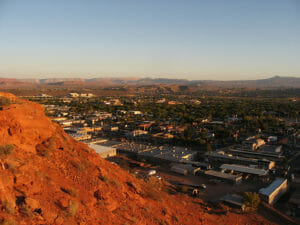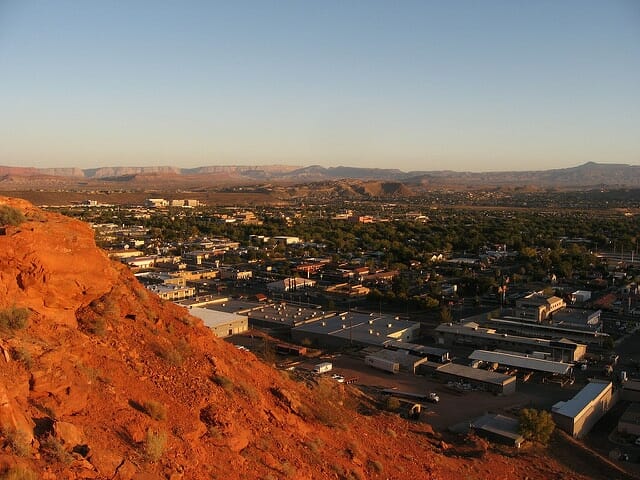 St. George makes a nice little get-away from Sin City. And not just because of the Cracker Barrel just off the interstate that I always make my wife stop at for some good old fashioned comfort food in way too big of portions.
In addition to being a mecca for golfing, hiking, outlet store shopping and mountain biking mecca, St. George is the gateway to the wonderful Zion National Park. In fact, St. George is located just an hour's drive west of the entrance to Zion National Park.
(Related: Distance from Las Vegas to Zion National Park)
The map below shows you the drive from Las Vegas to St. George.
The laid back town has become a retirement mecca in recent years, and the area boasts 12 golf courses. That's pretty good for a city of just over 150,000. But in fact, recently the United States Census reported that the St. George region was the 5th fastest growing area in the country.
(Related: Distance from Mesquite to St. George, Utah)
Driving From Las Vegas to St. George, Utah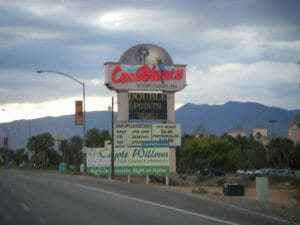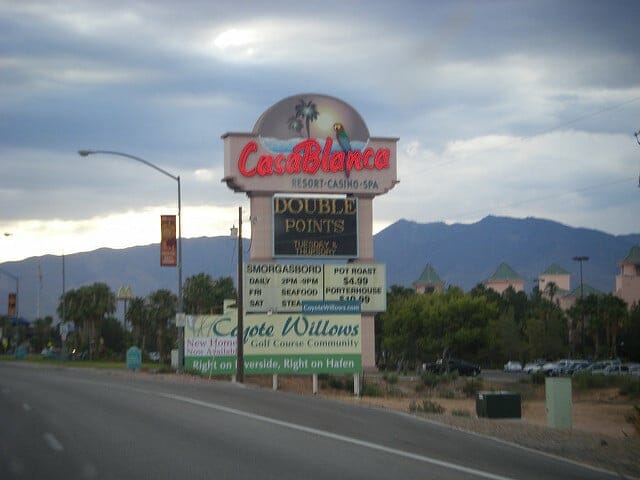 The drive from Sin City to St. George is simple and straightforward, albeit pretty boring for most of the way.
There are, however gorgeous soaring canyon walls that tower above you on all sides as you approach St. George, and – due to an odd geographical quirk – a trip from Las Vegas to St. George will have you spending time in three states in one day.
A trip from Sin City to St. George has you traveling east on Interstate 15 the entire way, as the interstate connects the two towns.
The majority of the 123 mile drive, (about 2/3rds to be more specific), is spent cruising through bland desert landscapes just east of Las Vegas. You will enter into an Indian Reservation (if that was on your bucket list).
About 46 miles into the drive, you'll enter the Moapa River Indian Reservation. Once you are on the reservation, eight miles down the interstate, you'll have the option at stopping at a little dive casino/gas station/liquor store on the right side of Interstate 15, called the Moapa Paiute Travel Plaza.
(Related: Distance from Las Vegas to Mesquite)
While a lot of people wouldn't trust the gambling at a small Indian casino in a remote area, the store does have affordable prices for liquor, as there is no sales tax. The store also sells tobacco products, and the fireworks that you can't find in states where busy-bodies legislators have banned them.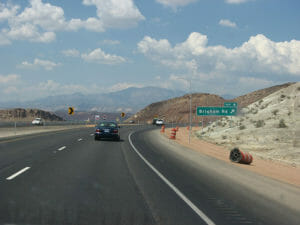 Eighty-six miles east of the center of the Las Vegas Strip is the small gambling town of Mesquite, Nevada. This town sets right on the Arizona/Nevada border, and is always a must-stop for west-bound travelers from places like Salt Lake City, Grand Junction Colorado, and Denver, who are going to Las Vegas, but needing to scratch that gambling fix.
Just feet outside Mesquite, Nevada, you'll cross the Arizona/Nevada border. From there it's a short desert drive before you get to Virgin River Gorge Canyon.
This pretty canyon is an uphill drive that has you continuing in Arizona before you reach the Utah border. All total, you'll drive about 30 miles in Arizona before reaching the Utah state line. From there, St. George is just six miles east of the border.
Again, the drive is pretty easy, and straightforward. It's all interstate (and not a busy interstate at that), and should take you about two hours to drive.
(Photos courtesy of Ken Lund and Bradley Gordon (Mesquite picture) via Flickr).