Las Vegas to Mesquite, NV – Distance, Map & Directions
As a laid back gambling town with little traffic, affordable prices, low limit gambling and great golf courses, Mesquite, Nevada is a pleasant counterbalance to the bustling action of Las Vegas.
In fact, each month, over 110,000 visitors drive to Mesquite to gamble, play golf, relax, or take part in one of the numerous sports camps and tournaments.
Fortunately, this town of close to 20,000 residents on the Nevada/Arizona state line is just 86 miles from Las Vegas, or roughly around an hour 15 minute to 1 ½ hour drive.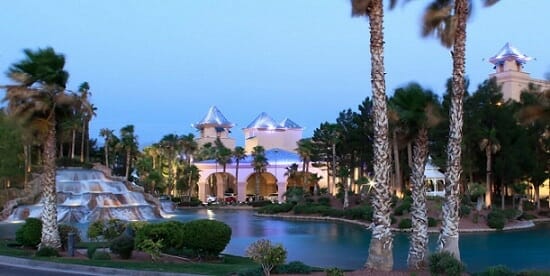 Here we're calculating the distance from the center of the Las Vegas Strip. The drive is shorter from North Las Vegas, and a little longer from southern and western parts of the valley.
Either way, the directions for this drive are simple: get on Interstate 15 and go northeast until you hit Mesquite.
(The blue line represents the driving route from Las Vegas, Nevada to Mesquite)
The drive is typically congested from Las Vegas to the outskirts of town. After passing some industrial areas, you'll get to the Las Vegas Motor Speedway, which is 16 miles outside of the center of the Strip.
Once you pass the speedway, it's usually open highway (or close to it) for the remaining 70 miles to Mesquite.
The drive on the four-lane interstate will seem long as there is nothing but desert, sagebrush and billboards for most of the way.
About the only thing that may catch your attention is the Moapa Paiute Travel Plaza, 38 miles into the 86 mile drive.
The buildings are at Exit 75, the "Valley of Fire" exit. You'll see the large "CASINO" AND "SMOKE SHOP" signage on the right-hand side of I-15 when heading northwest to Mesquite.
There's a restaurant and tiny casino, however the big draw here are vices of a different nature: tobacco and fireworks.
Being on Native American land, the combination gas station/restaurant/casino sells tax-free cigarettes and liquor. Their large selection of tax-free fireworks includes many that probably can't be sold in your state. There's even an area behind the store where you can shoot off the fireworks bought inside.
After passing this fireworks and smoke shop, it's just 41 more flat miles to Mesquite.
Mesquite, NV to Las Vegas Airport
Google Maps tells us it's exactly 86 miles from Harry Reid International Airport (the closest airport to the Las Vegas Strip), to the CasaBlanca Resort in Mesquite.
Mesquite
For folks making the hour-long plus drive from Las Vegas, there are eight different golf courses, and three major casinos in Mesquite to choose from: the CasaBlanca Resort & Casino, the Virgin River Hotel & Casino, and the Eureka Casino Hotel.
The CasaBlanca and Virgin River are both owned by the same company while the Eureka, across the street from the Virgin River Casino, is separately owned. All three casinos have plenty of slots, video poker machines, and the usual table games, include blackjack, craps and roulette. The Virgin River offers bingo games, while the Eureka has the only poker room.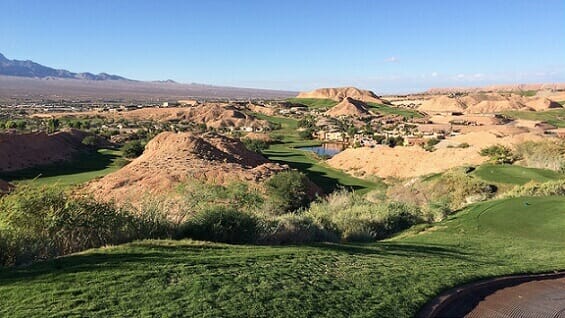 On the non-casino front is the Rising Star Sports Ranch Resort.
This former casino is now a casino-free hotel property catering to families and athletes attending sports camps.
With 210 rooms, Rising Star Sports Ranch Resorts has a lighted field for football, soccer or lacrosse, outdoor volleyball and basketball courts, batting cages, and baseball/softball fields.
But for those 112 degree days, there's the "Barn" – a 30,000 square foot indoor facility that can transform from anything to several basketball courts, to soccer and other turf fields. Even the UNLV basketball team holds a retreat there.
Other
In addition to being a relaxing vacation destination in its own right, Mesquite also offers a great starting off point for exploring Bryce Canyon, Zion National Park, or other areas of southwest Utah as the distance from Mesquite to St. George is just 39 miles.
From downtown Henderson, Nevada, Mesquite is a 96 mile drive.
Boulder City is 107 miles from Mesquite.
Each year, 1.4 million people visit Mesquite. The majority of Mesquite visitors come from Las Vegas, followed by Salt Lake City, Grand Junction, Colorado and Denver.
By Steve Beauregard. Photos courtesy of Mesquite Gaming and Dan Perry via Flickr.