Las Vegas to Death Valley National Park – Distance, Map & Directions
Perhaps you want to visit the lowest spot in North America. Or maybe you're checking all of the National Parks off of your bucket list. Or maybe, you're insane like me and have this weird desire to see if the park's notorious, record-breaking heat matches the hype.
Whatever your reason, Death Valley is a surprisingly popular tourist destination. It's also very close to Las Vegas.
In fact, it's just 118 miles (191 kilometers), from the Las Vegas Strip to Death Valley. This translates into a drive that typically takes between 2 hours and 2 hours, 40 minutes to complete.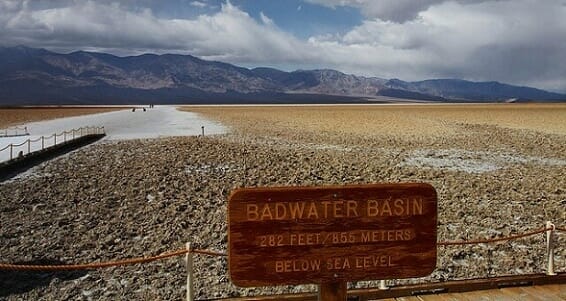 In other words, it could be done as a day trip from Las Vegas, however it would be a very long day.
I should also note that the 118 miles figure is the distance from the center of the Las Vegas Strip to Death Valley's main entrance at the Furnace Creek Visitor Center. Distances from Las Vegas to other Death Valley attractions are listed further below.
The Furnace Creek Visitor Center however, is the jumping off point for most visitors to Death Valley.
Not only can you stop by the center to cool down or use the restrooms, you can get maps, information, see exhibits on the history of Death Valley and watch their 20 minute movie about the park.
Drive from Las Vegas to Death Valley National Park
(The blue line is the fastest driving route from the Las Vegas Strip to Death Valley)
Although there are two different highways that go towards Death Valley, the fastest route has you taking Highway 160 south and west out of Las Vegas.
From most parts of Las Vegas, you'll take Interstate 15 south and go west at the Blue Diamond Road exit, (which is right at the Silverton Hotel & Casino).
You'll stay on Blue Diamond Road as it turns into Nevada State Highway 160. You'll be on this for 58 miles when you reach the town of Pahrump, Nevada.
Three miles north of Pahrump, on the outskirts of town, you'll turn left on Bell Vista Avenue. At the time I saw it, there wasn't good signage pointing you to make a left turn, but that may have changed since then.
After several miles, you'll cross the state line into California, eventually reaching the small town of Armagosa, where you'll take a right, then a left in another 600 feet or so. Signage here was much better if I recall.
Now you'll be on California State Highway 190, which will take you all the way to Death Valley National Park.
A couple of miles before you get to the Furnace Creek Visitor's Center, you'll see, on your right The Oasis at Death Valley and the Inn at Death Valley resorts.
After, that the next vegetation and signs of life you'll see will be on your left, just about 1/3rd of mile before the visitor's center.
It's a resort called the Furnace Creek Ranch, and I only mention it because it's the location of our planet's highest recorded temperature.

On July 10, 1913, the temperature reached 134 degrees here. But it was a dry heat. (rimshot). It remains the record to this day.
From here it's just another .3 mile to the Furnace Creek Visitor Center.
Distance from Death Valley Attractions to Las Vegas
Badwater Basin – 133 miles
It's called "Badwater Basin" but it's more famous for being the lowest point in the contiguous United States.
The little parking area here is 133 miles from Las Vegas. From the parking lot (which is RV friendly), you can walk out to the flats, where you'll find yourself 282 feet below sea level.
You'll get there by turning on Badwater Road, which is about a 1 mile south of the Visitor Center.
Dante's View – 119 miles
The payoff for this winding drive is an incredible view of combing mountains, desert and the basin below from your perch at 5,475 feet above sea level, which is a full mile higher than Badwater Basin.
Artists Palette – 130 miles
A nine-mile loop of gorgeous "multi-hued volcanic and sedimentary hills."
Zabriskie Point – 114 miles
A scenic overlook with great views of Furnace Creek badlands. Also a start for hiking trails.
Other
Death Valley consists of 3.4 million acres, making it the largest National Park in the lower 48 states.
Each year, roughly 1.3 million people visit Death Valley National Park
(By Steve Beauregard. Photos courtesy of: Jitze Couperus and Bryan Ungard)