Las Vegas to Sequoia National Park – Distance, Map & Drive Time
By Steve Beauregard
It's an ancient ecosystem with over 400,000 beautiful acres and is home to both the highest point in the continental USA and the largest tree in the world.
And it's just a day's drive from Las Vegas.
Sequoia National Park sees just over one million visitors a year, drawn in by the park's trails, rock climbing, mountainous scenery, and of course the enormous redwood and sequoia trees that soar hundreds of feet into the air.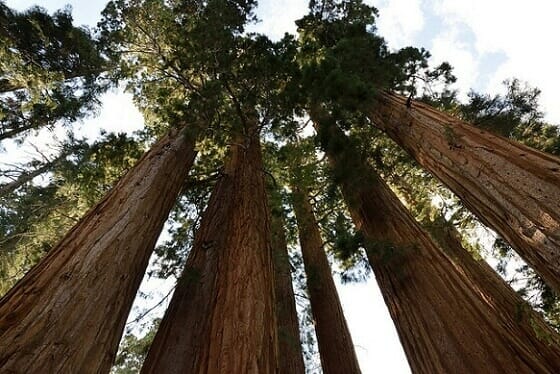 For visitors in Las Vegas, this natural wonder is just 376 miles away (or 605 kilometers), when measuring from the Las Vegas Strip to the Sequoia National Park Foothills Visitor's Center.
This equates to a six to seven hour drive, (without stops). Therefore a visit to Sequoia National Park makes for more of a pleasant two or three day accompanying side trip to your Las Vegas vacation, rather than just a long day trip.
The majority of the drive will take place on the seemingly-always busy Interstate 15.
The drive from Las Vegas to Sequoia National Park can be broken down into three different segments, each one lasting about two hours of drive time.
In the first segment, you'll drive the long stretch of desert west on I-15 for 153 miles to Barstow, California.
At Barstow, you'll get off the I-15 and take California Highway 58 to Bakersfield.
(Here's a map showing you the drive from Las Vegas "A" to the Sequoia National Park visitor's center "B")
This second-leg drive from Barstow to Bakersfield is another 130 miles, or roughly a two-hour drive.
From Bakersfield, you'll head north on Highway 65 through California farm country. Just east of Visalia, you'll head east on Highway 198, which leads you to the Sequoia National Park Foothills Visitors Center.
This leg of the trip is less than the other legs, at only 96 miles, but will still take you around two hours to drive given that some of it is on a two lane highway, while other parts of the road, (closer to the park entrance) wind-up through the mountains to the visitor's center.
More about Sequoia National Park
America's second national park, (Yellowstone was the first), Sequoia National Park was established in 1890 through an act signed by President Benjamin Harrison.
The park is perhaps most famous for its soaring redwood trees and sequoia trees, some of which pre-date the birth of Jesus.
The most notable of these is the General Sherman tree, the largest tree in the world at 275 feet tall with a 36 foot diameter. At its base, the tree is an incredible 102 feet in circumference.
The General Sherman tree is found in the Giant Forrest, a 1,800 acre grove of sequoia trees that is home to five of the ten tallest trees in the world.
In addition to these natural marvels, Sequoia National Park has hundreds of hiking trails, ranging for long backpacking routes, to very short guided tours.
Also located in the park is Mt. Whitney, the highest point in the continental United States, with an elevation of 14,505 feet.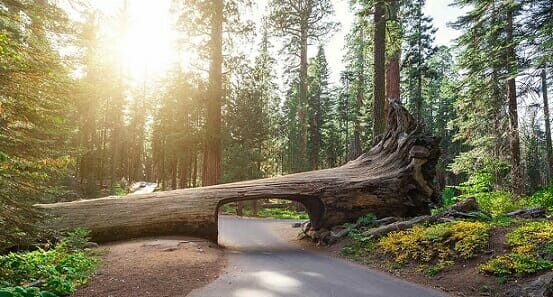 Sequoia National Park Basics
The park is open 24 hours a day, 365 days a year, although some roads are closed during winter months (more on that below).
It's one of 16 National Parks near Las Vegas.
Park entrance fees are subject to change, however as of this writing, the fee to get into the park (we're talking one vehicle) is $30 per vehicle.
Once in, there are several free shuttles run by the National Park Service that takes visitors to various campgrounds, visitor centers, and sites, including the General Sherman tree.
There is also a pay-for shuttle service that takes visitors from hotels in the neighboring towns of Visalia and Three Rivers into the park.
Sequoia National Park Address, Phone and Website
47050 Generals Highway
Three Rivers, CA 93271

(559) 565-3341

The National Park Service's official Sequoia National Park page is: Here
Kings Canyon National Park
Those of you with National Park bucket lists can check another one off by visiting the nearby Kings Canyon National Park to the north of Sequoia.
In fact, the entrance to Kings Canyon is just around a 50 mile drive north from Sequoia National Park.
Although incredibly scenic, the main road connecting the two parks, Generals Highway, is mountainous and curvy, and will take several hours, possibly even longer during crowded summer holiday weekends.
So slow down and enjoy the ride. Please also note the road is also closed from January to March.
(Photos courtesy of Ming-yen Hsu via Flickr and from VisitCalifornia.com)