Updated January 2nd, 2021
(Editor's note: We will update this article as soon as opening dates for the two water parks are announced. Until then, below is the article from last year.)
Long summers and lots of sunny dry days with temperatures often in the triple digits help make Las Vegas a perfect haven for outdoor water parks.
For Las Vegas residents and visitors wanting to cool off while chasing some fun thrills, there are two different large scale area water parks on opposite ends of the valley.
To be sure, some Las Vegas Strip resorts have elaborate pool areas, and one, Mandalay Bay – with a large beach, wave pool and lazy river – could be considered a mini-water park in its own right, however here we're just focusing on large, destination waterparks in the Vegas valley.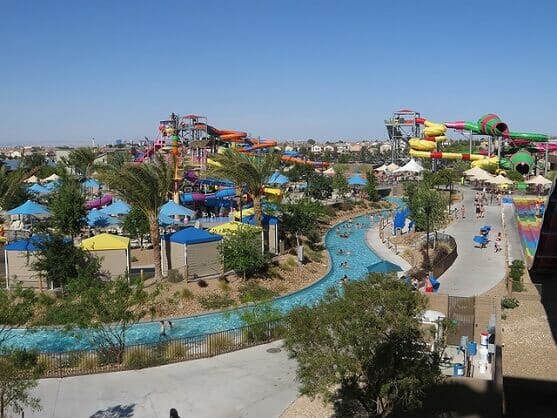 Those two Las Vegas water parks are Wet'n Wild, and Cowabunga Bay.
Both are part of national water park chains, and both are full of slides, (ranging from mild to extreme), raft rides, splash pools, wave pools, lazy rivers and separate little kid areas designed for those under 48 inches tall.
Us "old-timers" remember when there was a fun waterpark directly right on the Las Vegas Strip. In fact, it was the original Wet'n'Wild and was located just south of where the Sahara Las Vegas Hotel & Casino is now. There aren't any water parks on the Strip now, however the two big ones we'll cover below are each just a short drive (around 11 miles away) from the center of the Strip.
(Below, the black star is Wet'n'Wild while the red star represents Cowabunga Bay)
Wet'n'Wild Las Vegas
Opened in 2012, Wet'n'Wild sits on 20 acres next to open space below mountains 11 ½ miles south west of the center of the Las Vegas Strip.
The park features 25 slides and other water attractions, including the 400,000 gallon Red Rock Bay wave pool.
Paradise Falls is the kid's area, with a 10,000 square foot interactive aquatic playground full of splash buckets, slides, water guns and more, while Kiddie Cove has three slides for tots.
On the bigger kid side, Wet'n'Wild's Zipp Zapp Zoom slide section has what's called "slideboarding" which is billed as, "the world's first waterslide gaming experience."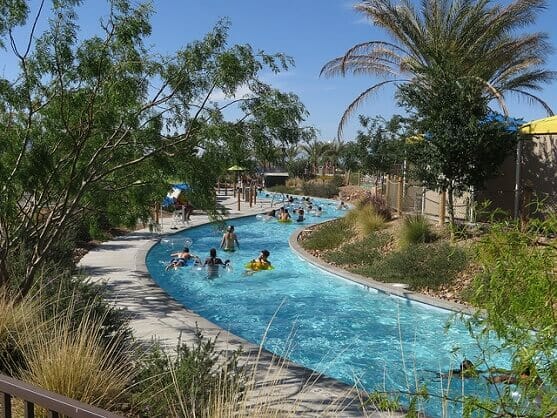 After lying down on a flat, surfboard-style raft, (equipped with buttons near the handles), you try to get points pushing the buttons while navigating down the dark, neon-lit enclosed tube.
Other highlights at Wet'n'Wild Las Vegas include their funnel slide called "The Tornado," and Canyon Cliffs, an extreme drop ride, in which you achieve speeds of 33 feet per second.
The numerous fun multi-passenger tube rides include favorites such as the Constrictor, the Rattler and the Hoover Half-pipe.
In addition to a couple of different restaurant options and dessert stands with ice cream, there is a separate 21 years and older area where you can purchase drinks.
Wet n' Wild Las Vegas Hours 2021
The water park opens on April 4th, and is only open on weekends, up until May 23rd.
Starting on May 24th, and going to September 1st, it's open every day of the week. After September 1st, it's only open Saturdays, Sundays and Mondays until September 8th. From September 8th to September 30th, it's only open on weekends.
Hours change based on the day and month, however from most of the direct summer, the park opens at 10 AM, and closes at 8 PM on weekdays, and 10 PM on Friday and Saturday nights.
Wet n'Wild Las Vegas Ticket Prices 2020
Here are standard prices when bought online. At the gate, if I remember right, you have to pay five bucks higher than what is shown here:
Adult one day passes (for people 42 inches and taller): $34.99 (when bought online).

Children under 42 inches: $29.99

Children 2 & under: Free.

Seniors (60 & over): $9.99
Address, Phone & Website
7055 S. Fort Apache Road
Las Vegas, NV. 89148

(702) 979-1600

Website: wetnwildlasvegas.com
Cowabunga Bay Las Vegas
Las Vegas's newest water park, Cowabunga Bay, is not actually in Las Vegas. It's located in Henderson, Nevada, 11 miles southeast of the center of the Las Vegas Strip.
Splashing sure builds up an appetite! 😋 Join us on Tuesdays through August 4th for $22.22 Admission PLUS Tasty Treats like a slice of Pizza, Slushy & Soft Drink for just $2 each. 🍕 pic.twitter.com/tmDssL5vY1

— Cowabunga Bay (@cowabungabaylv) June 22, 2020
Opened in the summer of 2014, Cowabunga Bay's 23 acres feature 25 different rides and attractions spread out over three themed areas.
Surf-a-Rama is the park's 35,000 square foot wave pool and the park claims that their Cowabunga River is the longest lazy river in the state of Nevada.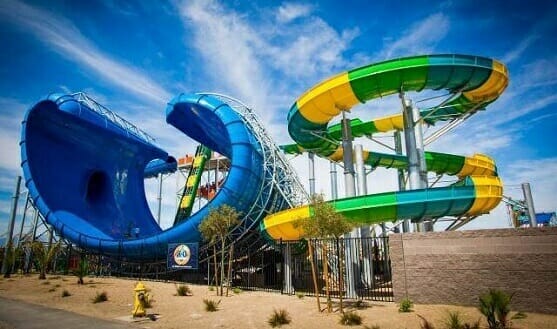 Their children's section, called the Cowabunga Kids Cove has a large shallow pool with numerous mini-slides, waterfalls, tipping buckets, and the like.
Highlights for the bigger kids (and adults) here include and the Wild Surf, which they claim is the world's largest man-made wave, and the Beach Blanket Banzai – another 4 person raft ride going down 600 feet of twists, turns and splashes.
Zuma Zooma, the park's tallest ride, is their trap-door style ride that has you dropping 73 feet into a high speed looping fall, while the Surfin' USA lets you race (face-front) against 5 other people from a 55 foot perch.
Cowabunga Bay Las Vegas Ticket Prices 2021
Tickets for Cowabunga Bay can be purchased online or in person at the park, however prices are a whopping $10 more per person if bough in person.
These are all regular admission prices for a one day pass when bought online. Season passes are available as well.
Everyone 48 inches or taller: $39.99

Everyone under 48 inches: $29.99

Children 2 & under: Free

Seniors (60 on up): $11.99
Please note that if you are in the military and have a military I.D. with you, you'll save $7 off the adult price, paying $32.99 for a one day pass.
Hours
Cowabunga Bay is the first Las Vegas water park to open this year, with a March 21st opening date. It has a limited schedule until May 20th, when it starts to open everyday of the week.
This goes until Monday August 9th, after which it reverts to Friday – Sunday only. It is open on Monday, September 7th as well, (Labor Day). Cowabunga Bay closes for the year on Sunday September 7th.
For the main summer months, the park is open from 11 AM to 7 PM every day of the week.
And as with Wet'n'Wild, there are a few dining options, including Bullwinkle's Boardwalk Grill and funnel cake booth. There's also the Bora Bora Bar for the grown-ups.
Address, Phone & Website
900 Galleria Drive
Henderson, NV. 89001

(702) 850-9000

Website: cowabungabayvegas.com
When do Las Vegas Waterparks Open?
Matching the Las Vegas Strip pool season, one Las Vegas water park opens in late March, and shuts down in late September.
In 2020, Cowabunga Bay opens on Saturday, March 21st. Wet'n'Wild, however, doesn't open until April 4th, 2020.
It's typical for the water parks to open on the third or last Saturday in March and close on the last Sunday in September.
Indoor Water Park Las Vegas
Unfortunately, Las Vegas doesn't have one of the large fun indoor water parks you may be used to, such as a Great Wolf Lodge or Kalahari Resorts.
As such, your best bet for indoor water park fun will have to be at one of the indoor municipal rec centers spread throughout Las Vegas.
(Related: Las Vegas hotels with indoor pools)
In researching these city and county owned pools, (all in rec centers), the pools are basic, without the slides and kids play areas you'll find at municipal rec centers in colder climates.
(Photos courtesy of Ken Lund via Flickr and PRweb).