Las Vegas Hotels with Indoor Swimming Pools
By Steve Beauregard
For a tourism-dependent city where most outdoor swimming pools are closed from November to March, Las Vegas has a surprising lack of hotels with indoor swimming pools.
In fact, there aren't any hotels on the Las Vegas Strip with indoor swimming pools.
This is somewhat of a minor problem for many. Perhaps you have to get in your daily pool time. Or perhaps you're like me, with young kids, where every winter trip stay requires an indoor pool both for the perfect free entertainment it provides the kids, as well as keeping them occupied and worn out, so they aren't bouncing off the hotel room walls at midnight.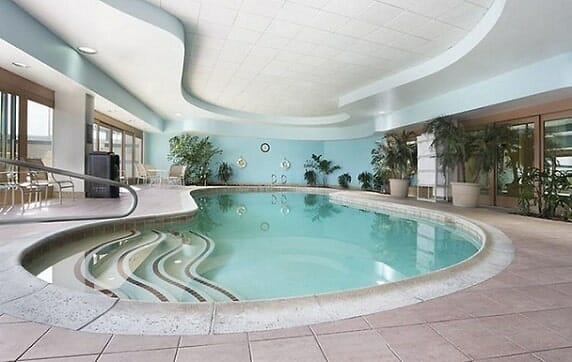 Here's a list of Las Vegas hotels with indoor pools. None of them are elaborate, nor are there water slides, or kid-type amenities. Nor is there a Great Wolf Lodge in Sin City.
Please also note that I have personally verified that each and every one of these here has an indoor pool. I'm talking about a regular swimming pool. Sites like Tripadvisor claim that the Vdara (inbetween the Bellagio and Aria) have an indoor pool, however this is false (they do have a relaxing plunge-type pool in their spa area.
The Vdara Hotel does, however, have one of the few heated, year-round open outdoor pools in Las Vegas.
And although I've researched it a lot (I don't have a life), this list is not exhaustive and there are likely some other budget chain hotels in Las Vegas (not on this list) that have indoor pools.
Here's the list, starting with hotels with indoor pools that are closest to the Las Vegas Strip. (Disclosure: Some of the links on this page are affiliate links. If you make a purchase through them I will receive a commission).
The Platinum Hotel
A 255 room all-suite hotel just off of the Strip, The Platinum Hotel is located just east of the Las Vegas Strip, on the corner of E. Flamingo Road and Koval Lane. It's just one back east of Bally's Hotel and Casino.
The Platinum has both an indoor and outdoor pool. Both are heated. I'd consider it walking distance to the Strip, although it would be a long hot walk in the summer.
Both of the Platinum's pools are heated year-round pools, and their hours are from 8 AM to 10 PM.
The Platinum is also a non-gaming hotel, meaning no noisy slot machines. It's also non-smoking.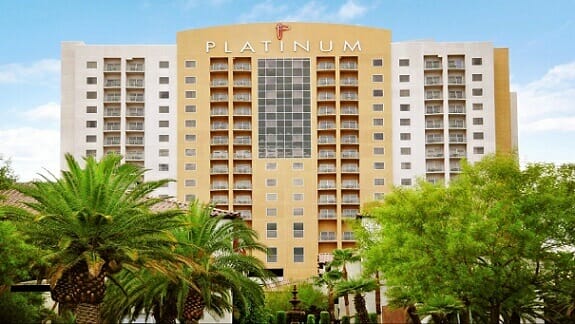 The exact address is:
The Platinum Hotel
2111 E. Flamingo Road
Las Vegas, NV
(702) 365-5000
Embassy Suites Convention Center Las Vegas
This popular hotel is one of the closest to the Las Vegas Strip that has a heated indoor pool, albeit a small one.
The hotel's address is 3600 Paradise Road, just one block south of the Las Vegas Convention Center and across from the Wynn Golf Club.
If you're looking for a kid-friendly, convenient near-Strip hotel, this may be your ticket. There is free breakfast and a shuttle to the Las Vegas Strip for hotel guests.
You can get a room rate here: Embassy Suites Las Vegas Convention Center Prices
As an added bonus, it's just a few minute walk (less than a 1/2 mile walk) to the Las Vegas Monorail station, which can whisk you and your family to MGM Grand, or the Flamingo, etc.
Please be sure to book the "Convention Center" Embassy Suites. There is another Embassy Suites Las Vegas, however that hotel does NOT have an indoor pool.
Baymont Inn & Suites Las Vegas South Strip
This chain hotel is on Robindale Road, about a mile and 1/2 south of Mandalay Bay. It's just one block off of the Las Vegas Strip, just south of the Las Vegas Premium Outlets South shopping mall. It has your typical, smallish, but decent indoor swimming pool.
Bluegreen Club 36
This is one of those timeshare resorts that let non-members book rooms, just like a normal hotel. It's east of the Strip, on Tropicana Avenue.
It's one of the closest hotels to the Las Vegas Strip with an indoor pool, as it's just a one mile walk (about twenty to twenty-five minutes) to front entrance of the MGM Grand on the Strip.
La Quinta Inn & Suites Las Vegas Tropicana
This La Quinta is about one mile west of the Las Vegas Strip. Specifically, it's just 8/10th of a mile west of the NY – NY Hotel and Casino and the Excalibur. Besides an indoor swimming pool, its other advantage is that it's just a 1/2 mile walk, (or ten minutes) to the In-N-Out Burger by the Strip.
(Related: Las Vegas Water Parks)
Best Western Plus – Las Vegas West
This hotel at 8669 W. Sahara Avenue is about 3 and ½ miles west of the Strip. It used to be called the "Holiday Inn Express Las Vegas West", in case you're looking for that hotel mentioned years ago by USA Today as a great Las Vegas hotel with an indoor pool.
Best Western Plus – North Las Vegas Inn & Suites
At 4540 Donovan Way, this Best Western is right off I-15 on the far north east part of Las Vegas. It's actually an indoor/outdoor pool.
La Quinta Inn Las Vegas Nellis
The chain hotel in the far north east part of Las Vegas has an indoor pool. The hotel's address is: 4288 N Nellis Blvd, and it's located right next to the Nellis Air Force Base of course.
Springhill Suites Las Vegas Henderson
Located in the south east part of town, south of 215 (The Bruce Woodbury Beltway), has a very modest, smaller-than-normal, indoor pool.
Hawthorn Suites by Wyndham Las Vegas/Henderson
This seemingly clean, but modest hotel is right on the S. Boulder Highway, southeast of Las Vegas. Like other Henderson hotels with indoor pools mentioned here, it's quite a ways from the Strip and Fremont Street in downtown Las Vegas.
Las Vegas Indoor Pools not part of a Hotel
Those of you staying at a Las Vegas resort without an indoor pool and who desperately need your indoor pool fix can always drive west to Summerlin and go to the City of Las Vegas' municipal indoor pool.
Pavillion Pool
It's called the Pavilion Pool and it is "50 meters by 25 yards" in size. So in other words, I have no clue how big it is, although photos of it show it to be Olympic sized (in my view).
It has 14 lanes, and 2 springboards, a one-meter and a three-meter. The pricing sheet puts the entry fee in the $2 to $3 range (depending on your age), however, that these may be just prices for Las Vegas residents. Tourists may have to pay extra.
Hours for the Pavilion pool are Monday through Friday 7 a.m. to 9 p.m., and on weekends, Noon to 6 p.m.
Desert Breeze Aquatic Facility
Also on the municipal front is the Desert Breeze Aquatic Facility.
This large indoor pool is just about 4 miles west of the Strip at Treasure Island on Spring Mountain Road. It opens at 5:30 a.m. and has a pricing structure similar to the Pavilion Pool.
Aquatic Springs Indoor Pool
Opened in December of 2017 by Clark County, Aquatic Springs is on the new Wet n' Wild site in southwest Las Vegas, about 10 miles away from the Strip.
There is a 25 meter by 25 yard lap pool, a smaller pool for swimming lessons, along with the main 30,000 square foot pool.
Other
In Henderson, the Whitney Ranch Recreation Center has an indoor swimming pool with 10 competitive swimming lanes.
Also in Henderson is the Heritage Park Aquatic Complex, which has two indoor pools.
Other Las Vegas indoor pools include those at the City Athletic Club and other private athletic clubs, the Hollywood Aquatics Center, the Henderson Multi-generational Center, and the Centennial Hills YMCA.
One final note, unlike what you may see on other Las Vegas-related sites, (including reputable ones), or from Yahoo Answer questions that date back to the Bush Administration, the Tropicana Hotel and Casino on the Las Vegas Strip does NOT have an indoor swimming pool. They used to have one, but no longer after completion of their remodeling project.
(Photos courtesy of the Embassy Suites and Platinum Hotel respectively).