Luxor Las Vegas Hotel Food Court: Restaurants & Hours
Situated on the mezzanine level, above the casino floor, the Luxor's food court is fairly modest in size, yet still provides a way for you to get a meal quickly and with much less expense than a normal sit-down Las Vegas casino restaurant.
From the casino level (the main ground level), you'll take escalators up to the mezzanine level, where you'll find the food court tucked away at the back of the resort, past the showrooms on your left.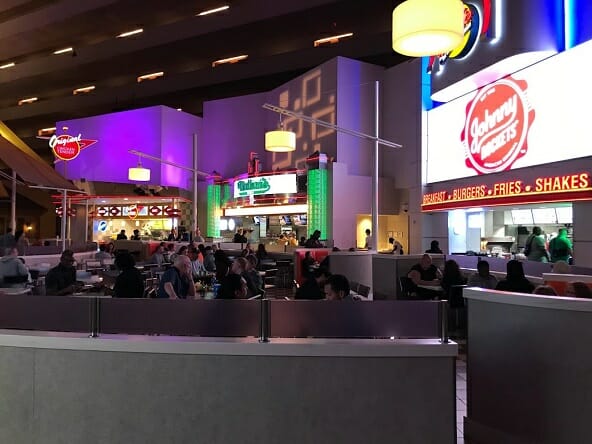 There is plenty of both table and booth seating and there is a Starbucks located here as well.
If you're a return visitor to the Luxor Hotel and Casino, you may have noticed that McDonald's is no longer on this list, as it has been replaced with a Johnny Rockets, which is also a fast-food burger chain found up and down the Strip, and on cruise ships as well.
MGM Resorts, the owner of the Luxor, has ended its partnership with McDonald's restaurants in all of its Las Vegas Strip casinos.
That being said, here's an updated list of all the restaurants at the Luxor food court.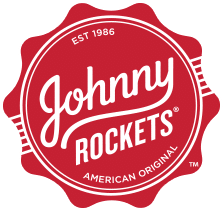 Johnny Rockets
The California-based fast food burger joint serves up "classic American eats."
These include several different varieties of hamburgers, although my understanding is that they offer less varieties than what you'd find at a stand-along Johnny Rockets.
Either way, you'll also find a Philly cheese steak, hot dogs, chicken fingers, chicken sandwiches, and their famous creamy shakes and malts.
Johnny Rockets is designed to be a late night drunk food haven, as it stays open until 3 AM on weekends.
Bonanno's New York Pizzeria
In addition to their New York style pizza, (by the slice or whole), Bonanno's services up stuffed pizzas, spaghetti and meatballs, strombolis, salads, chicken parmigiana, ziti, salads. There's also a small beer menu.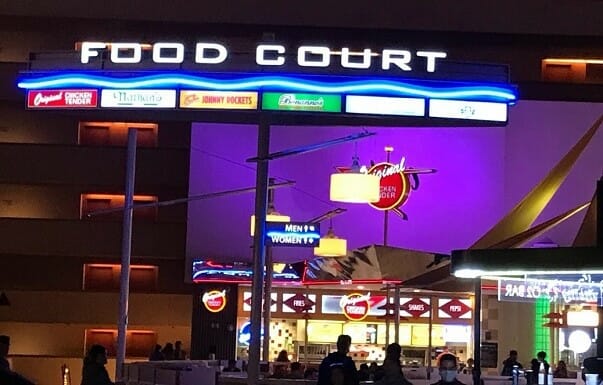 The Bonanno's Pizzeria at the Luxor closes at 2 AM on weekends.
L.A. Subs
Perhaps the healthiest eating option at the Luxor food court, L.A. Subs is sort of like a Subway. In addition to fresh sandwiches, their menu includes wraps, grilled paninis, and salads. They close at 9 PM.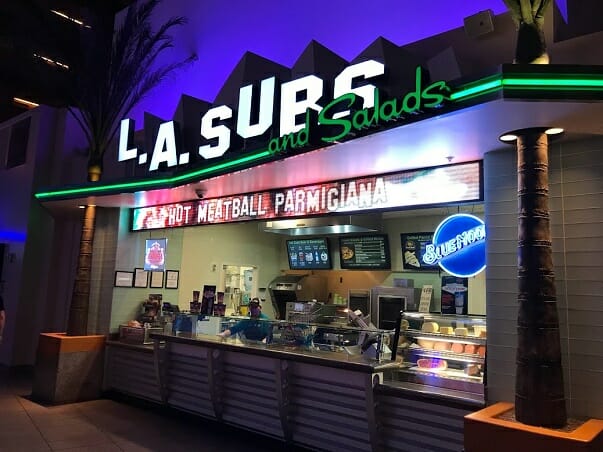 Nathan's Famous Hot Dogs
Also open for breakfast, you know Nathan's for their hot dogs of course, along with classic crinkle fries. Besides the footlong hotdogs and chili cheese dogs, other menu offerings include chicken sandwiches and Philly cheesesteaks.
Nathan's breakfast menu (available Fridays – Sundays), includes bacon, egg, and cheese biscuit sandwiches, potatoes, and even waffles.
Just a warning though: even though it's fast food, Nathan's is not known for having low prices. They are open until 10 PM on weekdays, and 2 AM on weekends.
Original Chicken Tender
Home of, you guessed it, chicken tenders, served in a variety of ways and portions. The menu also includes fresh cut fries, their "Original Texas Toast Tender Sandwich," and sides you don't always see at fast food joints. These include Momma's Mac & Cheese, mashed potatoes, sautéed vegetables, and even fried okra.
As for sweets and drinks, Original Chicken Tender has three different flavors of milkshakes (with whipped cream), and both sweet tea and Arnold Palmers (in addition to all of the usual soft drinks and water).
They close at 10 PM on weekdays, and 11 PM on weekends.
Starbucks at the Luxor Food Court
In addition to the restaurants listed above, there's also a Starbucks at the Luxor food court. It's one of three Starbucks inside the Luxor.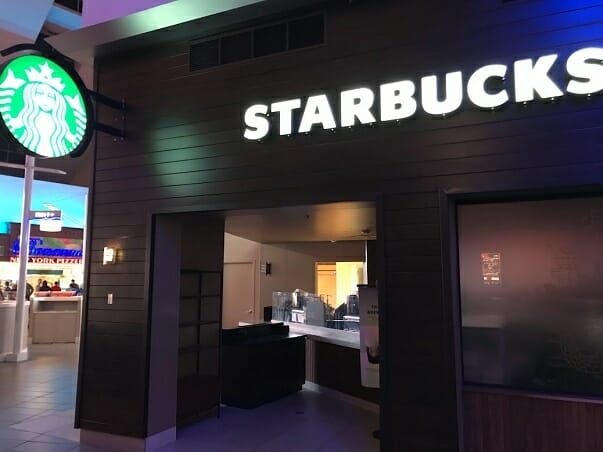 This Starbucks at the food court was recently temporarily closed, maybe due to staffing issues, but is normally open from 7 AM to 9 PM. However the Luxor's main Starbucks on the casino floor is open until 10 PM weekdays, and 11 PM weekends.
(Related: Luxor Buffet and price)
Luxor Food Court Hours of Operation
Each restaurant has varying hours, however the food court itself is opening at the following times:
| | |
| --- | --- |
| Monday – Friday | 7 AM to Midnight |
| Saturday | 6 AM to Midnight |
| Sunday | Open 24 hours |
You can reach the Luxor Food Court's dedicated website: Here
Also, whether you're staying at the hotel, or just visiting the casino, there is a fee to park at the Luxor.
(By Steve Beauregard. Photos copyright gamboool.com)