Mandalay Bay Buffet – 2023 Bayside Buffet Prices, Hours & Menu
Updated January 2023
(Please note: The Bayside Buffet remains closed – and may be so permanently. If and when a re-opening date is announced, we'll update this article. Below is the pre-shut down wording.)
Considering its plush surroundings and location in a fairly upscale resort, the Mandalay Bay's buffet is reasonably priced, especially compared with other Strip buffets.
Its holiday brunch pricing is particularly affordable, given the variety of breakfast and lunch offerings available, and given the fact it includes unlimited champagne. (More on that later).
Located just off the casino floor, the Bayside Buffet at Mandalay Bay is one of the more aesthetically-pleasing buffets in Las Vegas. The above-average décor has columns, high ceilings, plants, and comfortable booths and chairs.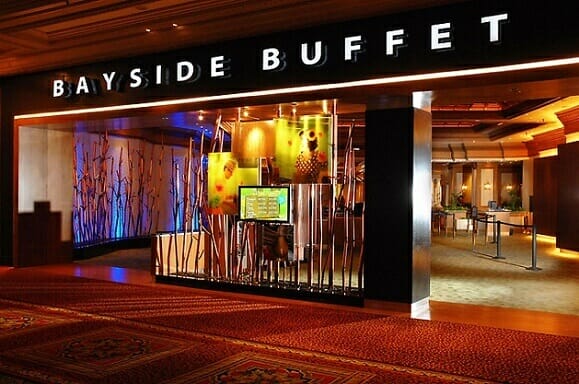 Best of all, tall windows found in some sections afford diners wonderful views of the resort's beautiful pool and gardens area.
Here's a look at menu times you'll find at the Bayside Buffet. I always preface this by saying specific menu items are subject to change, however Mandalay Bay doesn't seem to rotate or remove buffet dishes as frequently as other Strip buffets.
Bayside Buffet at Mandalay Bay Menu
Breakfast Buffet
You'll find your typical made-to-order omelet station, along with herb crusted salmon, apple-smoked pork bacon, (along with turkey bacon), ham, turkey breast, eggs and egg dishes, corn beef hash.
There are buttermilk pancakes, French Toast, Belgium waffles, cheese blintzes, and all of the fruits and breakfast pastries one would expect at a decent buffet.
Lunch
There is a lot of overlap between Mandalay Bay buffet's lunch and dinner menu. For example, both lunch and dinner feature a pasta station and a functional, if not spectacular, salad bar. Soups include Miso soup and clam chowder.
Main menu items include panko crusted salmon, mashed potatoes, Korean flank steak, and fried chicken.
You'll also find salt & pepper shrimp, Swedish meatballs, mushroom ravioli, pork pot stickers, barbecue pork buns, shredded pork carnitas, corn on the cob, Loredo beans, and steamed fresh vegetables.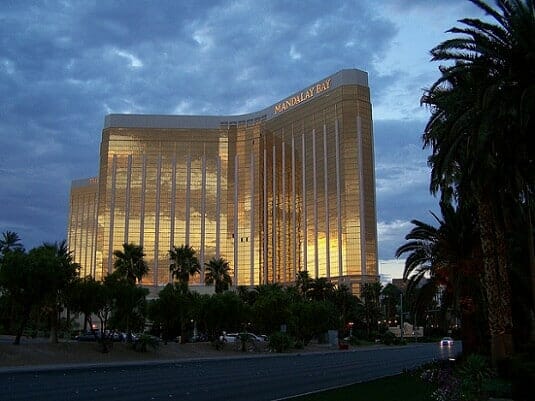 Dinner
On the supper side, you'll find roasted garlic mashed potatoes, steamed Alaskan crab legs, roasted asparagus spears with roasted tomatoes, and grilled pork chops.
Some of the non-standard items include Hawaiian BBQ chicken, couscous, lamb osso bucco, tempura shrimp, and a baked swai fish. For those of you like me, who didn't know what a "swai fish" is, it is apparently a fish very similar to catfish that is river-farmed and native to Asian countries.
In addition to the standard shrimp cocktail, you'll find baked tilapia with a teriyaki glaze.
The small Mexican section includes chicken chimichangas, Spanish palella, tamales, and something I've never seen at a buffet before: fried (but not battered) jalapenos which were misspelled on the sign as "Fried Jalpeno."
The Italian area features your standard pepperoni, along with three other varieties of pizza, Italian chicken, cheese lasagna, and cheese ravioli.
Asian offerings include sweet and sour pork, fried rice, broccoli, spring rolls, Singapore noodles and orange chicken. I believe I counted eight different types of sushi.
You meat-lovers headed to the carving station will choose from meats such as grilled flank steak, prime rib and roast turkey.
Desserts
Both the lunch and dinner buffets have a similar dessert offerings, although the dessert area here is not as spacious as you often see at Bayside's Sin City competitors.
These include bread pudding, brownies, the usual assortment of cakes, pies and pastries found at every other buffet on the Strip including cheesecake and fruit cobbler.
Standouts however, include the chocolate chip cookies, coconut macaroons, chocolate fudge cake and the coconut cake, which you'll love if you are as addicted to coconut as I am.
Of course, there is self-serve ice cream and frozen yogurt, both which you can have it in either a bowl or in a waffle cone.
As for brunch, it stays true to its name, as Mandalay Bay's site simply states the brunch menu, "will be a combination of Breakfast and Lunch."
Mandalay Bay Buffet Prices and Hours
Breakfast (Monday – Thursday) 7 AM to 11 AM: Adults $19.99 (Children $12.99)
Lunch (Monday – Thursday) 11 AM to 2:30 PM: Adults $21.99 (Children $13.99)
Dinner (7 days a week): 4:30 PM to 9:45 PM: Adults $32.99 (Children $21.99)
Brunch (Friday to Sunday): 7 AM to 4:30 PM Adults $25.99 (Children $20.99)
Children are defined as being 5 to 12 years of age. In other words, your kids 4 and under will eat free, while teenagers on up will pay adult prices.
There is also an 8.25% tax applied to all meals. Therefore, a dinner buffet for two would cost you $71.42, after tax, but before tip.
Please also keep in mind, that similar to most other Las Vegas Strip buffets, the Bayside Buffet increases prices during what they call their "Seasonal Pricing" periods.
This applies to all major holiday weekends, (New Year's, Easter, Memorial Day, July 4th, Labor Day, Thanksgiving, and Christmas), in addition to both Mother's Day and Father's Day's weekends.
(Related: MGM Grand Buffet Price)
Typical pricing for the Brunch Buffet during these holidays is $30.99, while the holiday dinner buffets run $35.99. Children's pricing remains the same as it is on non-holidays.
Mandalay Bay Buffet Unlimited Drinks Option
Available only during the dinner buffet, guests at the Bayside Buffet can pay $10.99 extra for unlimited drinks.
These do not include mixed drinks, however you can choose from among a selection of premium beer, draft beers, white and red wine, and champagne.
(RELATED: Go here for prices and information about the wonderful Wynn Buffet)
While this is only offered at dinner, there is an unlimited champagne option available during the weekend brunch.
This costs $7 and entitles you to bottomless glasses of Sparkling Brut champagne. Again, it's only available during the Friday, Saturday and Sunday brunch.
Phone number: (702) 632-7200
(By Steve Beauregard. Photos courtesy of Mandalay Bay's official website and James Havard via Flickr.)