Massachusetts Lottery Second Chance Drawing
Massachusetts residents love the lottery.
And they should also love the state's second chance lottery drawings, as those losing tickets can turn into Boston Bruin's seats, trips to Las Vegas, or even a million dollars.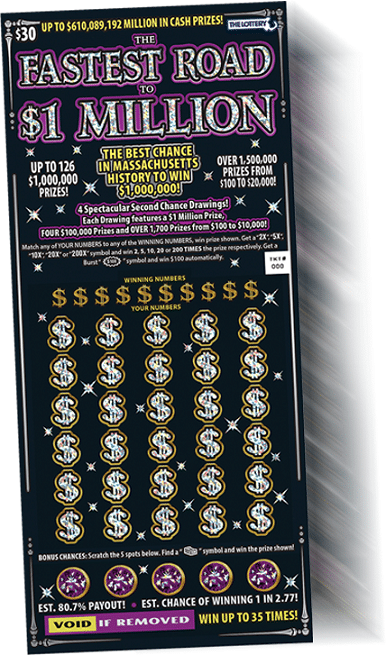 According to the most recent data from the United States Census Bureau, residents of the Commonwealth, (on average), spend more on lottery games than any other state – $768 per year per person to be specific.
With over $5 billion in annual sales, that's a lot of tickets. And also a lot of missed out opportunities to those who fail to take advantage of the Massachusetts second chance lottery drawings.
Mass State Lottery 2nd Chance Drawing
Like an increasing number of other state lotteries, the Massachusetts State Lottery offers a few different opportunities for those with losing scratch tickets to win prizes and money via a second chance drawing.
A 2nd chance drawing is exactly that: a drawing held by the lottery commission in which everyone with a losing ticket or tickets who took time to enter that ticket into drawing online is eligible to win cash and/or prizes.
Not all scratch-off tickets can be entered into a second-chance drawing. Eligible tickets can be as low as $5, however the bigger giveaways seem to be for the $30 scratchers. Either way, specific tickets will typically have markings indicating they have 2nd chance opportunities.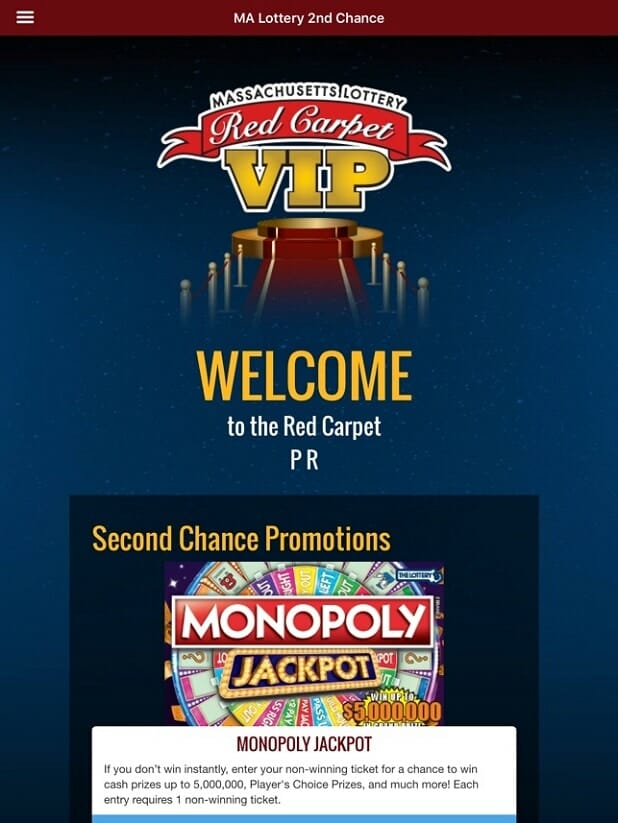 In addition, the prizes for each second chance drawing can vary wildly. We're talking everything from inexpensive Boston Bruin merchandise to a Corvette, to one million dollars.
You can enter with any eligiblenon-winning ticket you purchased, or even found in the trash. Entering these losing tickets is very simple, and best off, it's free!
Massachusetts Lottery Second Chance Prizes
First off, the 2nd chance lottery drawings we're talking about here are for the scratch-off, instant ticket games. Yes, there are some second chance promotions for some lotto games, (more on that below), but those are just a few, relatively minor prizes.
As for the instant win second chance drawings?
In the past there have been prizes with complicated point payout arrangements in which a second chance winner would use the points to order merchandise.
Other recent 2nd chance prizes included the giveaway of hundreds of seats in a suite for a Boston Bruin's game.
However, there are some marquee second chance drawings.
These include the Diamond Millions – with a half million first place prize, and 2019's "The Fastest Road to $1 Million, which awarded multiple one million prizes, and $100,000 cash prizes (among other prizes).
Typically the higher the cost of the scratch ticket, the bigger the prize. A $30 ticket may have several different $1 million dollar 2nd chances prizes, whereas a $5 instant win ticket may offer trips for the winners.
The recent Massachusetts Millionaires Club $30 scratch off ticket had a second chance drawing in which ten different people each won $100,000, on top of 20 different $20K winners, all the way down to $100 given away to 3,000 players. Of course, these prizes were in addition to the 3 different $15 million dollar first place prizes they were awarding in the original game.
Multiple Drawings
I've written about other state lottery drawings for a second chance, however what's interesting about the drawings in Massachusetts is that there are several per game.
In most other states, (take the Colorado Lottery 2nd chance drawing for example), there will be one second-chance drawing after the game has ended.
Thousands of losing tickets, (over 150,000 tickets in one case) will all complete for a single, solitary prize.
In Massachusetts however, there are many more prizes offered. Plus, the second chance drawings have four or five different drawings – even before all the tickets have sold.

The window to enter into these second chance drawings can be as low as two months between drawings. In other words, your losing ticket or tickets is only completing against those who entered over the course of sixty days. These seem to be much better odds than second chance lotteries in places like California, where there can be six months (or more) entry windows.
How to Enter the Massachusetts Second Chance Lottery Drawing
You can enter the second chance drawings on your computer or phone. There is no longer a mail-in option.
1) From a computer
If you're not already signed up with the Mass Lottery Red Carpet VIP club, you'll want to go to registration page on the state's official site here: MassLotteryPlayersClub.com and register an account.
Once registered, you'll be able to enter those non-winning scratchers into the drawing.
2) From your phone
The easiest way to enter a 2nd chance drawing is to download the MA Lottery 2nd Chance app from the Apple or Google Play stores on your phone.
Once downloaded and logged in, you can simply open the app to scan the barcode of the losing ticket to enter.
Please note that you can only enter these drawings from a device that is physically in the Commonwealth of Massachusetts borders.
Also, each second-chance drawing is a brand new event. By that I mean, let's say there are four different drawings for the game you played – each two months apart. If you entered one ticket in the first drawing, it's only good for that first drawing. You cannot enter that ticket in the remaining drawings for that game.
Is entering the Massachusetts Lottery 2nd Chance Drawings Worth it?
Considering the ease and cost to enter, it's most certainly worth your time to enter those losing scratch-off tickets into the second chance drawings.
For example, recently the Massachusetts State Lottery had a $5 James Bond themed "007" scratch-off ticket.
In this case, there were actually five different 2nd chance drawings. In each drawing, eight trips to Las Vegas were awarded. That's a chance for you to win one of forty trips to Sin City.
That's on top of the five different $25,000 cash prizes awarded, the thirty different $5,000 prizes, and 375 different $100 winners. In other words, numerous chances to turn that loser into a winner.
As mentioned above, there are over 6,200 $100 bills given out over the course of four 2nd chance drawings in the "Fastest Road to $1 Million" game. That's on top of the million dollar prizes, $100K prizes, etc.
Five Dollar Bills in the Trash Can?
Using very primitive estimates, it's possible that a $30 losing scratch off ticket you see in the trash is actually worth $5.
Let me explain.
There was a total of $3,238,000 given out during each of the four 2nd-chance drawings in the "Fastest Road" game.
In other states, second chance drawing participation rates hover in the 10% range. Using the rough 10% rate and the rough 25 million tickets available in the "Fastest Road" game, we make the assumption that there are roughly 2.5 million second chance tickets entered during the entire run of the game.
Assuming those estimated 2 ½ million tickets are spread out over the four contests, we assume that there are 625,000 second chance entries for each drawing. In other words, that losing ticket you have, or the one your brother-in-law was going to throw away but you snatched, has a 1 on 625,000 chance of making you a cool million (based on these rough estimates).
However there are thousands of dollars in other prizes, $3.238 million per each of the four drawings to be exact. Taking that amount divided by the estimated 625,000 entries means that each losing ticket has an expected value of $5.18
Those people who don't just throw away those losing lottery tickets are throwing five dollar bills in the trash!
And while you are correct in assuming your chances of winning the top million dollar second-chance drawing aren't great, at least think of winning one of the thousands of $100 prizes given out.
Those that don't take the three seconds it takes to scan their losing tickets on their phone app are losing out on a lot of different chances to win significant cash and prizes.
Second Chance Promotions for Massachusetts Lotto
While there aren't big life-changing amounts awarded, there are occasionally some second chance opportunities for Mass Lotto players who buy season tickets.
In 2019, for example, everyone who purchase a season ticket plan (during a specified period in the summer) for Megabucks, Mass Cash, Mega Millions, or Lucky For Life tickets could register to win one of ten $1,000 prizes.
More about the Massachusetts Lottery
Massachusetts became the very first state to issue instant win tickets, back in 1974.
While most of us would consider it a once-in-a-lifetime miracle to win the lottery, several residents of the Bay State have won a million dollar plus prize…twice!
In 2014, Barre resident James Peddle won $10 million from an instant scratch off ticket. Then in 2017, he won a $1 million instant win from another scratcher bought at a liquor store in Barre.
In November of 2019, Rolf Rhodes of Mendon won a $1 million off an instant win game for the second time in just a year and a half!
There is even a man in Lakeville who has won a million on two different occasions (2014 and 2016), only to see his wife win $1 million from a scratch off ticket in 2019!
(By Steve Beauregard. Photos courtesy of the Massachusetts Lottery)