MGM Grand Food Court in Las Vegas: List of Restaurants & Hours
Whether you're wanting less expensive meals than found at the numerous, pricey MGM Grand sit-down restaurants, or simply looking to grab a quick meal or snack, the MGM Grand's food court offers a variety of options.
There are seven different restaurants inside the food court, which is located in what they call "The District" area of the resort.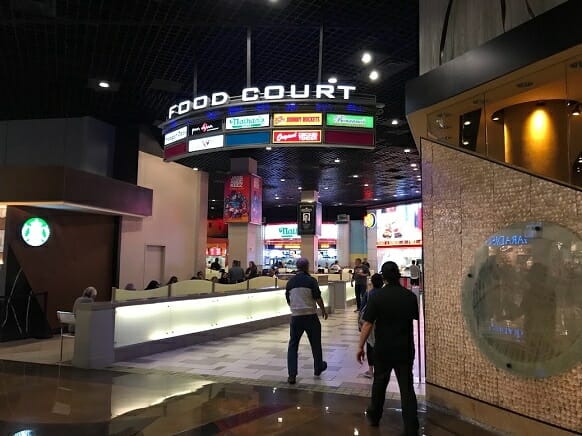 The food court is on your right-hand side as you're walking to the pool or Grand Garden arena.
The food court doesn't have the larger well-known national fast food franchises, such as Burger King, Wendy's, Taco Bell, etc.
Up until recently, MGM's food court was home to a McDonald's, however the resort has decided to replace the golden arches with another fast-food burger chain: Johnny Rockets.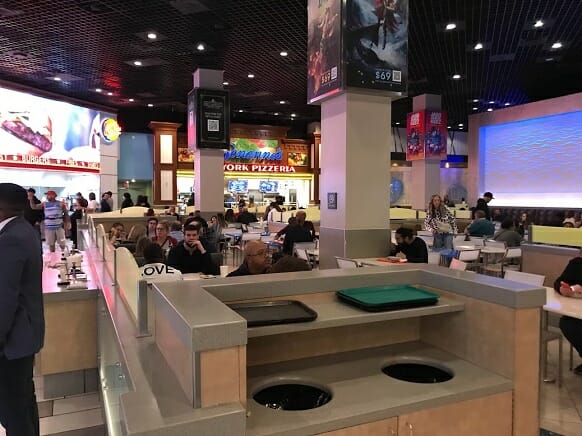 As with most food courts, the area is open, with plenty of seating. It's also very conveniently located, (especially given the enormous size of the MGM Grand), and I've found it to be generally clean on my visits.
It's also very convenient for that late night fix, as some restaurants close at 3 AM, or 6 AM. One stays open 24 hours.
Here's a list of the restaurants at the MGM Grand food court, along with their hours of operation.
Bonanno's New York Pizzeria
Bonanno's serves up many different varieties of pizza, including stuffed pizzas, along with its signature New York style pizzas.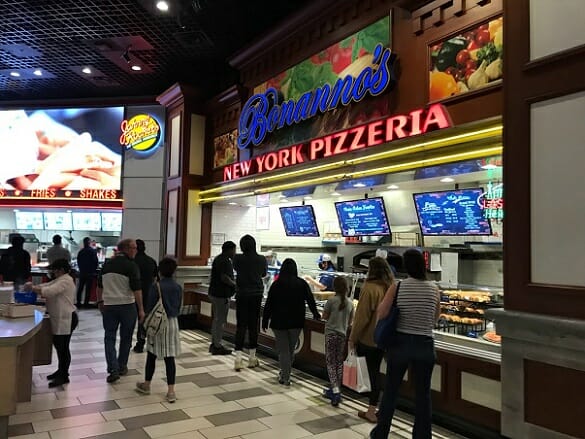 It's not just a pizza counter, however, as the menu includes Stromboli, ziti, salads, garlic knots, and salads. You can purchase pizza by the slice or order a full pie if the mood suits you. It's also a great late night, (and very late night) option, as Bonanno's stays open until the wee hours of the morning.
Hours: 7 Days a Week: 7 AM to 6 AM
Original Chicken Tender
Chicken, chicken, and more chicken. You can get their signature chicken tenders in quantities of three, four or five piece meals (served with their "Original sauce") and a side (everything from mac n' cheese to fries to okra), or choose among their small selection of chicken sandwiches.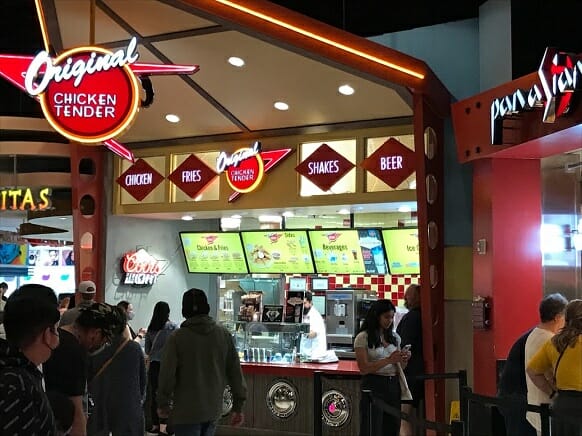 Hours: Sunday – Thursday: 10 PM to 10 PM, and on Friday & Saturdays, from 10 AM to 11 PM.
Nathan's Famous Hotdogs
You know the drill here: hotdogs, (including footlong hot dogs), fries, chili-cheese dogs, etc. They also have chicken sandwiches and a Philly cheesesteak sandwich.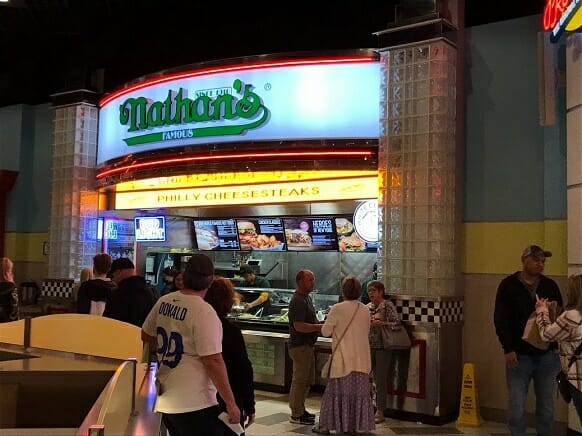 Surprisingly, Nathan's gets pretty good reviews for their breakfast sandwiches – those being the egg, cheese and either bacon or sausage on an English muffin.
Hours: Seven Days a Week: 7 AM To 3 AM.
Pan Asian Express
Similar to a Panda Express, teh Pan Asian Express serves up fast-Asian cuisine, with all the standards: stir-fry noodles, orange chicken, kung pao chicken, fried rice, cashew shrimp, beef and brocolli, etc.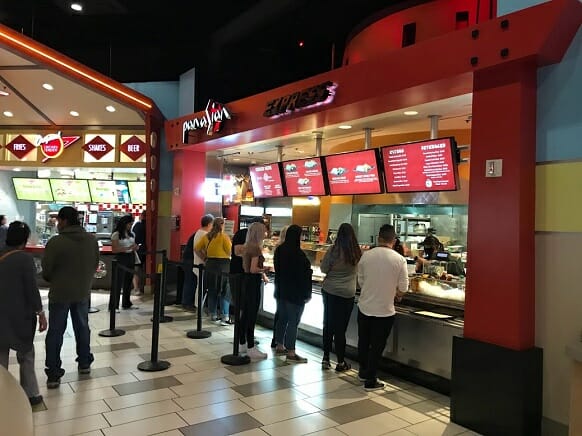 Hours: Sunday – Saturday: 7 AM to midnight
Johnny Rockets
Although you may have heard of Johnny Rockets, this growing fast food burger chain is expanding rapidly. You'll find these at most of the food courts at MGM Resorts properties, (i.e. the Luxor food court, Excalibur, etc.), as the company has moved from having McDonald's in their food courts, to now, Johnny Rockets.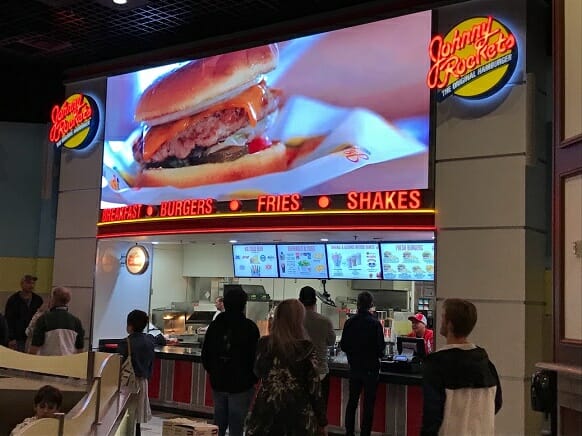 The 50's style burger joint has several different types of hamburgers and cheeseburgers, along with chicken sandwiches, and milkshakes.
Hours: 24 Hours a day, every day.
Tacos & Rita's
Similar to a Chipolte or Qdoba, this Mexican fast-food restaurant serves tacos, burritos, nachos, burrito bowls, in a made-to-order way, where you choose the entree filling (steak, beef, chicken, tofu, etc.), and toppings. Items include carnitas, quesadillas, chips and guacamole, and more.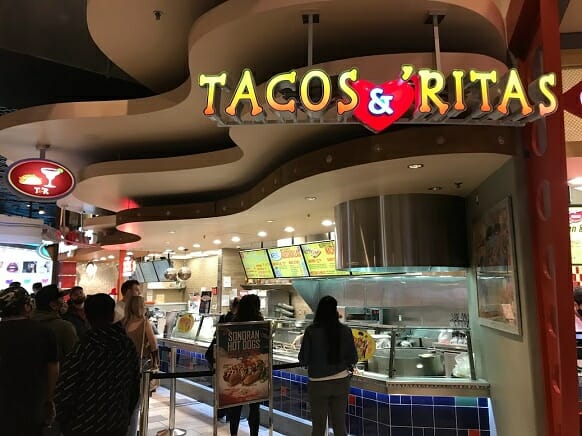 As for the "rita" part of the restaurant's name, they are known for their very large margaritas, (44 ounces is the big one I believe). There are three different kind of frozen margarita's offered: regular, strawberry, and mango.
Hours: 7 Days a Week: 11 AM to 10 PM
Haagen-Dazs Ice Cream
Ok, so it's not really a restaurant, but I've had portions of ice cream that probably weighed more than a meal, so we'll count it.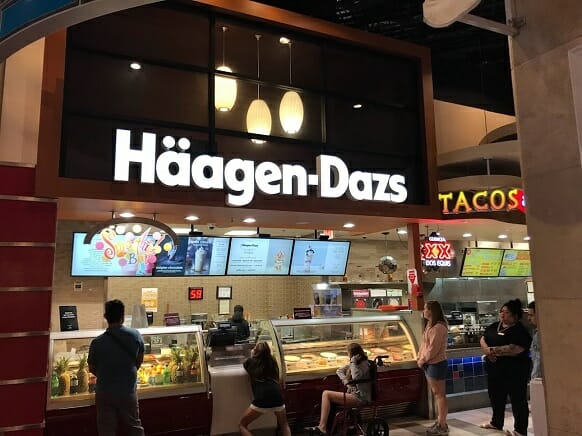 Known of course, for their wonderful gourmet ice cream in a variety of mouth-watering flavors, Haagen-Dasz serves up milkshakes, sundaes, and fruit smoothies. When ordering ice cream, you have options as far as having it in a cup or cone (waffle, sugar, etc.).
Hours: Sunday – Thursday: 11 AM to 11 PM. Friday & Saturday: 11 AM to 1 AM.
Starbucks at MGM Grand Food Court
Although not, technically, part of the food court, there is Starbucks just as you enter into the food court. It's one of three Starbucks located inside the MGM Grand.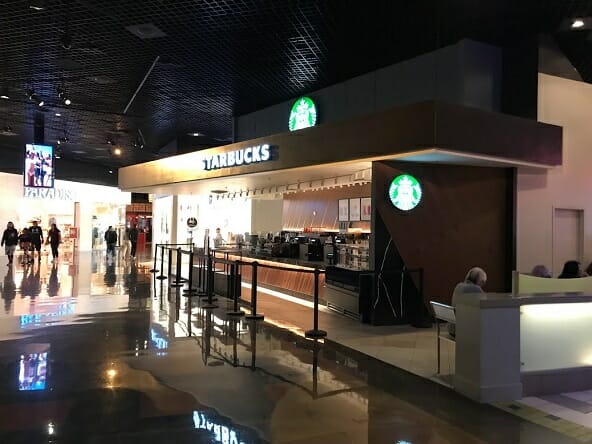 This Starbucks near the food court is open from 7 AM to 8 PM.
Blizz Frozen Yogurt & Desserts
Another stand just outside the food court confines is Blizz Frozen Yogurt & Desserts.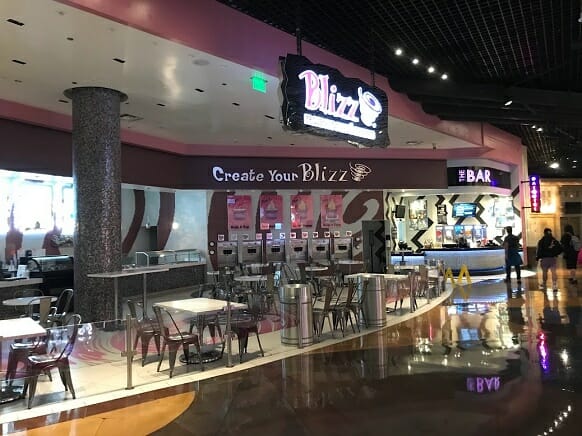 The froyo and sweet spot also has crepes and smoothies. It's open 10 AM to 5 PM, every day of the week.
Overall, MGM Grand's food court offers customers a few more fast food options than other hotel/casinos on the strip. I suppose that's wise, given the fact the busy resort has over 5,000 hotel rooms.
(Related: MGM Grand Parking Fee and Garage)
In any case, one of these seven restaurants (six if you don't count Haagen-Dazs as a restaurant), may provide a relief to your wallet after a few meals spent at one of traditional, nice, but pricey, MGM Grand sit-down restaurants.
MGM Grand Food Court Website: Here
(By Steve Beauregard. Photos copyright gamboool.com)