Park MGM Hotel & Casino Parking Fee & Valet 2023
With a complete remodel and central location, the Park MGM is a great option for those looking for affordable, contemporary lodging on the Las Vegas Strip.
The resort's recent overhaul and rebranding of its 3,000 rooms, (including the new Nomad Hotel – a 292 room boutique hotel within a hotel), cost $550 billion. To put that in perspective, it cost $344 billion to originally build the Monte Carlo in 1999.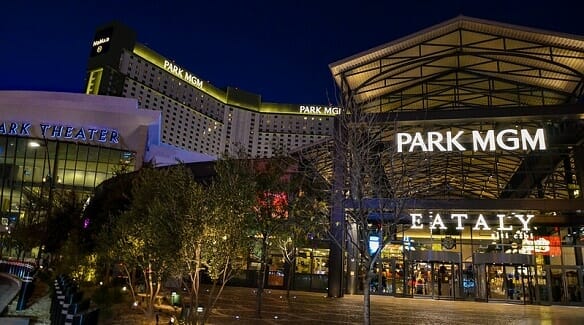 According to Forbes, the Park MGM has a "minimalist, European feel, with a heavy dose of whimsy."
What's not whimsy is Park MGM's parking fee. As with just about every other Las Vegas Strip casino, there is a fee to both self-park and valet park here.
These parking fees applies to everyone, (hotel guests included), with a few exceptions which we'll address down below. (Go here for free parking on Las Vegas Boulevard)
Park MGM Hotel & Casino Parking Fee
| | |
| --- | --- |
| 1st Hour | Free |
| 1 – 4 Hours | $15 |
| 4 – 24 Hours | $18 |
| Each Additional Day | $18 |
The rates above apply to those of who staying at the NoMad Hotel as well.
Please keep in mind these are the standard parking rates. They are subject to increase during special events. An advantage of staying at Park MGM is its great proximity to the nearby T-Mobile Arena. The disadvantage is that you may have to shell out extra in parking fees for that convenience.
Park MGM Hotel Guests
For registered guests staying at Park MGM, your 24 hour parking fee gives you unlimited in and out privileges. Not so for just visitors to Park MGM. People using the parking garage who are not staying at Park MGM will have to pay a new fee everything they drive off and come back.
Hotel guests staying at Park MGM will have the parking fee automatically charged to their hotel bill. Others will pay at the walk-up self-serve kiosks on your way back to your vehicle to leave.
Park MGM Parking Map
(The black star represents the entrance into the self-parking garage. The orange star is the valet parking area).
Before driving in, you'll receive a ticket. Be sure to keep track of it, as a lost ticket will cost you $30.
The resort has a massive, spacious 11 story parking garage just west of the hotel, accessible off of Park Avenue. It's the same structure used for some Aria parking and special event parking at T-Mobile Arena, so it can get congested during concerts, Golden Knight hockey games, etc.
An enclosed pedestrian bridge leads you from the parking structure into the hotel and casino.
Park MGM Valet Parking Fee
| | | |
| --- | --- | --- |
| Parking Time | Monday – Thursday | Friday – Sunday |
| 0 – 2 Hours | $18 | $20 |
| 2- 4 Hours | $22 | $24 |
| 4 – 24 Hours | $26 | $30 |
| Each Additional Day | $26 | $30 |
The valet parking area here is at the back of the resort, off of Park Avenue.
(Related: T-Mobile Arena parking fee)
Free Parking at Park MGM Hotel & Casino
The casino players card used at Park MGM is called "MGM Rewards." It's the same card used at every other MGM Resorts casino. If your casino play gets you to the level of Pearl, Gold, Platinum, or Noir, you'll receive complimentary self-parking.
Valet parking is free for those of you at the Gold, Platinum or Noir level. (But not Pearl).
You can also park for free if you have the MGM branded Master Card. There isn't an annual fee.
Everyone who has the MGM Master Card gets automatically upgraded to "Pearl" status, and Pearl card holders get free self-parking. You'll still have to pay for valet parking however.
If you get the MGM credit card, make sure to bring it with you to Las Vegas, as you'll have to insert the credit card for free parking access.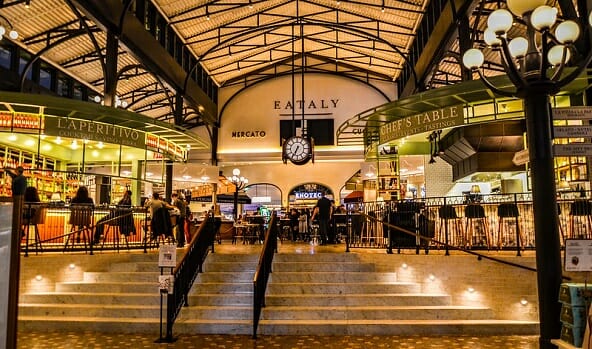 Also, the first three hours of self-parking for Nevada residents (with proof of i.d.) is complimentary.
Other
The access points for Park MGM self-parking and valet parking are only off of Park Avenue. There aren't any other shortcuts.
You can get on Park Avenue either from the Las Vegas Strip, (it's the first left after NY-NY Hotel/Casino when driving north), or via Frank Sinatra Drive west of the Strip.
Please note that sometimes the Strip entrance to Park Avenue is closed during special events.
(By Steve Beauregard. Photos courtesy of Tomas Del Coro via Flickr.)