T-Mobile Arena Parking Fee & Map 2023
Las Vegas' newest large entertainment venue is a super flashy, beautiful and hi-tech arena boasting a seating capacity of 20,000.
In normal times, it hosts everything from concerts to UFC fights to the PAC 12 basketball tournament, to the very popular Las Vegas Golden Knights NHL team. All of which is to say there is a huge demand for parking.
For people wanting to park at T-Mobile Arena, there are six different parking areas located in a total of five large parking garages.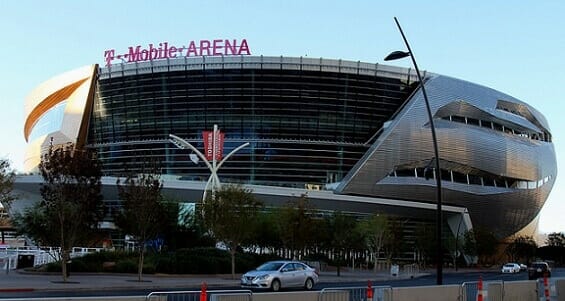 Here are the six different parking sections for T-Mobile Arena:
Aria Event Parking – "A" on map
Park MGM Parking – "P"
NY-NY Hotel Parking Garage – "N"
Excalibur Parking Garage – "E"
Luxor Parking Garage – "L"
MGM Grand – "M"
Three of the parking areas are located directly across from T-Mobile Arena and result in a very short walk to the venue. The fourth, the Excalibur garage, is located across busy Tropicana Boulevard, however there is an pedestrian-friendly underground walkway leading to T-Mobile arena. It's about a ten minute walk.
A fifth option is to park at the MGM Grand, across the Strip, however this would result in a .8 mile walk to the T-Mobile Arena.
The last option is to park at the Luxor, "L" on the map, for a discounted rate when available.
(A, P, M, N, E, and L represent the six different T-Mobile Arena Parking garages)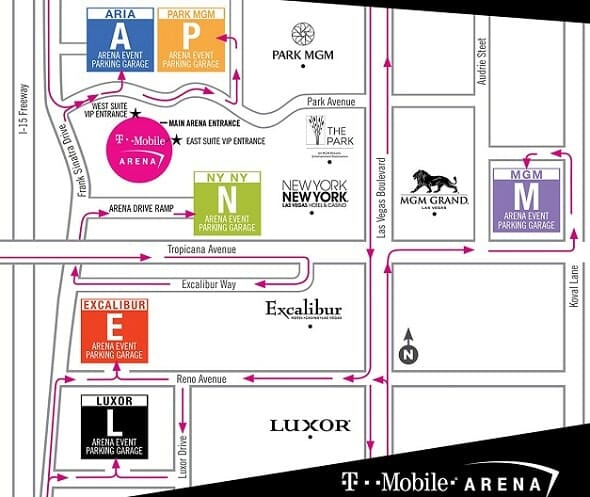 T-Mobile Arena Parking Fee
The short answer is $25.
For every event (other than Golden Knights Hockey games which we cover below), it costs $25 to park near T-Mobile Arena when the parking pass is bought online ahead of time. The $25 includes fees.
This $25 gets you parking at either parking garage A, P, or N on the map above. In some special areas of N, at the NY-NY, the fee is $30.
The T-Mobile Arena website says that pre-paid parking is not available on the night of the event, so be sure to purchase it ahead of time. The website says the cut-off time is 7 hours prior to the event.
If you don't have a pre-paid pass, you can still pay to park at the three sections, albeit at a higher rate (I believe it is $35 instead of $25).
You can get the $25 pre-paid parking pass by buying it online at a website called "Parkmobile." Here's the link to Parkmobile. It's not a spam or sketchy link, nor am I affiliate or anything:
As for the pre-paid parking rate: I've checked many events, and this $25 fee seems to the parking rate for every event at T-Mobile Arena other than Golden Knights games (see below).
It doesn't matter if it's Bruno Mars, George Strait, Ed Sheeran, Justin Beiber, the PBR World Finals, UFC fights, the Pac-12 Men's Basketball Tournament, or Justin Timberlake – the fee seems to always be $25 as of this early 2023 update.
T-Mobile Arena Parking Fee for Golden Knights Games
Short answer: $30 for from the two main parking garages next door.
Parking during Golden Knights games is higher than other events at T-Mobile Arena. This is likely due to the possibility that more Las Vegas locals drive to these games to support their team, whereas concerts and events draw more touristy crowd that is already on the Strip.
Either way, when bought in advance, (at least 7 hours prior to when the puck drops), game-day parking for Golden Knights games costs $30 at the two main garages, "A" and "P" on the map.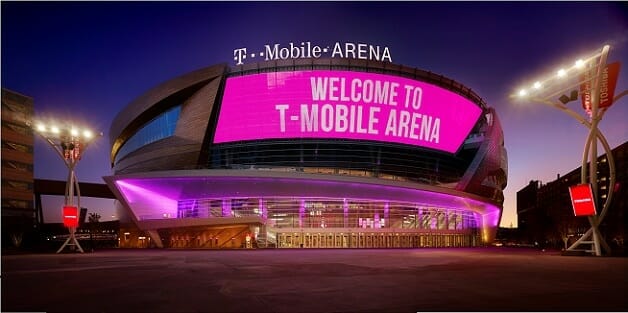 Pre-Paid Parking for Golden Knights Games at the "N" garage (the NY-NY Garage) is $40.
If you don't mind walking a little further you can save money by parking at the Excalibur garage (E on the map), for $25. Again, you purchase a parking pass ahead of time via the Las Vegas parkmobile site.
Please note you can also park at the MGM Grand's parking garage, well to the east of T-Mobile Arena and across the Strip. Advance purchase parking at the MGM Grand is $20.
If you do not purchase tickets on Parkmobile ahead of time, you can still drive up on game day and park for higher rates. These rates aren't posted, however in the past, they have been $5 to $10 higher than pre-paid rates. I heard of one lady who paid $45 at the gate at the "A" parking garage during the Golden Knights' magical Stanley Cup run in 2018.
Lastly, there there is a special "Gold" Lot with 100 spaces here that typically sell out. Previously they have been at $50. I haven't seen these personally, but I think the Gold Lot is the lower level of the N garage.
(T-Mobile Arena on the left, with the "A" and "P" garage on the right.)
Garages
Aria Event Parking Garage
Usually the home to employee parking, levels 5 and 6 of the Aria Casino parking garage are used during events at T-Mobile Arena.
The garage entrance is just to the north of T-Mobile Arena. You'll access it off of Frank Sinatra Drive to the west.
Park MGM Parking Garage
The parking area is in the same garage as the Aria Event parking, but has a different access point.
This garage section is used for guests staying at the Park MGM Hotel & Casino and the NoMad, however its 4th level is used for T-Mobile parking on nights when there is a concert or show.
(Related: Park MGM Parking Fee)
New York-New York Hotel & Casino Parking Garage
Although the New York – New York Las Vegas Hotel & Casino parking garage has nine levels, only levels 6, 7 and 8 are used for T-Mobile Area parking.
Access to this parking garage is via a special ramp up to the garage from Frank Sinatra Drive.
People using this parking garage will just take the elevator down to level 4 of the garage, where this is a pedestrian walkway that takes you right to T-Mobile arena.
Alternatively, you could go down to the 2nd level of the garage, and take an escalator down to the plaza out in front of T-Mobile area, and/or to "The Park" next door. The Park is an outdoor mall with bars and restaurants.
Excalibur Hotel Parking Garage
The newer $54 million dollar parking garage is right behind the Excalibur Hotel & Casino, just south of T-Mobile Arena, on the other side of Tropicana Avenue.
The parking garage holds up to 3,000 vehicles. The cost during events is $25, which is well-above the normal, Excalibur parking fee. There are sidewalks leading from this garage, underneath Tropicana Avenue, leading directly to T-Mobile Arena.
MGM Grand Hotel Parking Lot
Well to the east of the arena, these $20 passes seem to offer the worst value (in my view).
Luxor Hotel Parking Garage
The Luxor has sold parking spaces on their roof level of this garage for $15 in the past. I cannot find current availability for these, so perhaps there is less demand for these distant spots or just the opposite, and have sold out for the season.
Valet Parking at T-Mobile Arena
Actually, there is none.
Instead, people want to valet park their car before a concert or show will have to use the valet parking service at either Park MGM, or the New York – New York Hotel & Casino.
Valet parking rates for these two casinos are usually $24 for 2 to 4 hours, and $30 daily, however on nights when there are T-Mobile events, these are subject to change.
While the event-night valet prices are not listed anywhere, I've heard from people the valet charge was $35 (not including tip).
(By Steve Beauregard. Photo courtesy of Prayitno and via Flickr. Map courtesy of MGM Resorts)