New York-New York Las Vegas Parking Fee 2023, Map & Valet
With just over 2,000 hotel rooms, a shiny new 20,000 seat arena next door, and a location on the busiest intersection on the Las Vegas Strip, the need for parking spaces at the New York – New York Hotel & Casino Las Vegas is enormous.
To accommodate this need, the NY-NY Las Vegas has a nine story parking garage that can hold up to 5,000 cars.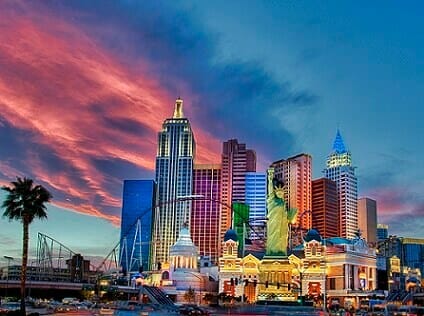 The garage is located directly behind (west) of the resort. There is an enclosed pedestrian bridge that leads guests from the parking garage into the hotel and casino.
There are elevators of course, and on level four, you'll find an outdoor walkway that will lead you right to the T-Mobile Arena.
On the second floor, there is an escalator that can take you down to "The Park" – a tree-lined promenade with restaurants and bars.
New York-New York Hotel & Casino Las Vegas Parking Fee
| | |
| --- | --- |
| 1st Hour | Free |
| 1 – 4 Hours | $15 |
| 4 – 24 Hours | $18 |
| Each Additional Day | $18 |
Whether you are a registered guest at the hotel, or simply visiting the property, you will be charged for both self parking, and valet parking services.
You will receive a ticket when entering the parking garage, and can pay via a kiosk on your way out the doors to your car.
Registered guests staying at the New York – New York have unlimited in and out privileges at this, and any other MGM Resorts property for that day. This does not apply to non-hotel parkers.
In other words, if you are just visiting NY-NY to gamble, then leave to drive over to, say, Mandalay Bay to have dinner, you will pay at NY-NY then pay a new parking fee at Mandalay Bay.
NY-NY Hotel & Casino Parking Map
The NY-NY Parking Garage entrance is the black star. Access is from either the Strip (Yellow star) or Tropicana Avenue (Dark Blue Star).
Other NY-NY Hotel/Casino Parking Considerations
There are some other caveats with the parking fee:
The first is that rates can go up during special events at the T-Mobile Arena next door. (Go here for information on the T-Mobile Arena parking fee). Levels 6 through 8 of the NY-NY parking garage are used for event parking during concerts, boxing matches, and shows at T-Mobile Arena.
Also, anyone with an MGM Rewards card who has reached the status of Pearl, Gold, Platinum, or NOIR receives complimentary self-parking privileges. Along those lines, anyone with an MGM Rewards MasterCard receives free self-parking. Residents of the state of Nevada receive free 3 hours of self-parking.
Lastly, be sure to keep a hold of your parking ticket. If lost, the NY-NY will charge you $30, unless they can verify the exact time you have parked.
New York-New York Las Vegas Valet Parking Fee
| | | |
| --- | --- | --- |
| Parking Time | Monday – Thursday | Friday – Sunday |
| 0 – 2 Hours | $18 | $20 |
| 2- 4 Hours | $22 | $24 |
| 4 – 24 Hours | $26 | $30 |
| Each Additional Day | $26 | $30 |
As with self-parking, anyone staying at the hotel who uses valet parking can valet park back at the hotel, or any other MGM Resorts hotel, without having to pay a new valet fee.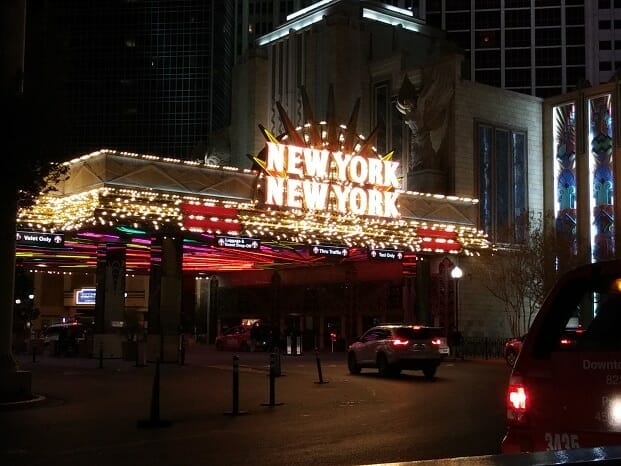 Also, MGM Rewards members at the Gold, Platinum, or NOIR status receive free valet parking. Sapphire and Pearl Rewards members still have to pay.
Lastly, these valet fees do not include the tip.
Directions to the Parking Garage & Valet at New York-New York Las Vegas
There are two main entrances to the parking garage, and third, back entrance:
From the Strip
When going south on the Strip, past the Cosmopolitan, you'll take the first right after you pass Park MGM.
This road is called "Park Avenue" and it will wind around and meander for a bit before signage points you to take a left in front of the T-Mobile Arena.
(RELATED: Park MGM Casino Parking Fee)
From there, you'll see the large New York – New York Hotel & Casino parking garage on your right.
From Tropicana Avenue
When going west on Tropicana Avenue (in other words, driving away from the Strip), you'll simply take a right at the green street sign that says, "New York New York."
The parking garage will be on your left, and signage will direct you to the exact entrance, just a little to the north.
Although not marked on the map above, a third access point can be had via Frank Sinatra Drive, west of the resort.
(Go here to find hotel/casinos with free parking on the Las Vegas Strip)
Directions to Valet Parking
The valet stand is on the south side of the resort. The road to the valet stand is an un-named street that runs parallel to Tropicana Avenue. You can get there from either the Park Avenue entrance or from Tropicana Avenue, (which is the shorter, easier entrance).
(By Steve Beauregard. Photos courtesy of John Fowler and Troy Goode via Flickr.)