Ross Las Vegas Strip – Hours, and Location of the Dress for Less Stores on Las Vegas Blvd
Whether you're looking for replacement clothes, a new belt to replace the one you forgot to pack, affordable shoes, or just some fun time-killing bargain shopping on your vacation, the Ross Dress for Less stores right on the Las Vegas Strip will have you covered, just so long as you don't mind the crowds and a sometimes less-than-tidy shopping environment.
There are a total of 24 Ross Dress for Less stores in the Las Vegas area (including Henderson). Two of those Ross stores are right on Las Vegas Boulevard: one on the south end by the MGM Grand, and another on the far north end of the Strip, by the Wynn.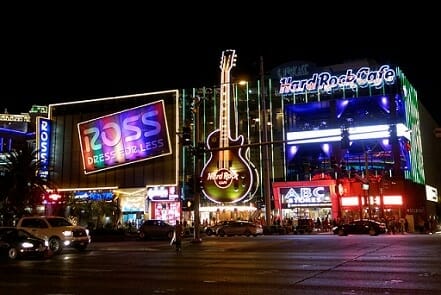 Ross Las Vegas Strip
Here's a quick breakdown of both, which we'll refer to here as the South store and North Store.
South Ross (MGM Grand)
This is the Ross store with the large flashy neon sign shown in the photo above. It's the closest Ross to Caesars Palace, and the Flamingo (at 1.1 miles away), and all other resorts south of the Flamingo (i.e. the Bellagio, Bally's, Paris, Aria, Planet Hollywood, NY-NY, Excalibur, Luxor, etc.)
The store is located just north of the Showcase Mall, close to the MGM Grand, and is tucked in between the Hard Rock Cafe restaurant and the new Target store.
While the photo doesn't show it, there is now a pedestrian bridge from the Park MGM Hotel & Casino right to this Ross store.
The store has a direct entrance from the Strip and is the largest Ross I've ever seen, with two different levels, and an escalator to take you up to the second level.
Here's a map showing you the two different Ross stores on Las Vegas Boulevard
This store is also usually very busy, with long check-out lines on occasion. There have been reports of half-hour waits, just to pay for your items. My wife went during the middle of a weekday and experienced a ten minute wait. But I imagine it gets crazier at night, when the Strip is packed.
Address:
3771 Las Vegas Blvd. South
Las Vegas, NV 89109
Phone Number: (702) 895-7201
Hours:
Sunday: 8 AM to 11 PM
Monday – Saturday: 8 AM to Midnight
North Ross (Wynn/Encore)
This two-story Ross store sits just north of the Wynn/Encore resorts and Circus Circus in a non-descript strip mall called the "Silver City Plaza." It's the store shown in the photo below.
The strip mall is home to a Denny's, a Walgreens, and is next door to the iconic Peppermill restaurant.
The store is just under a third of a mile from the Encore Hotel and Casino. It would take you about five to seven minutes to walk from there to Ross.
And yet while this Ross is in a section of the Strip that is not as busy pedestrian-wise, the store does stay very busy and has a constant security guard presence to prevent shoplifting.
The store will only get busier soon, as this Ross is directly across the street from the new Resorts World Hotel and Casino.
In addition to the future Resorts World and three other casinos mentioned above, this is the closest Ross Dress for Less store to the Sahara Las Vegas, Westgate, Stratosphere, Venetian/Palazzo, T.I., Harrah's and the Mirage.
Address:
3001 Las Vegas Blvd South
Las Vegas, NV. 89109
Phone number: (702) 731-3361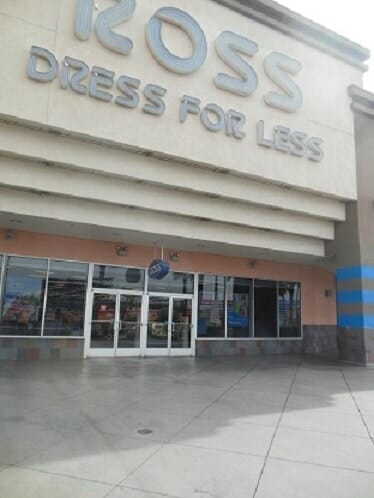 Hours:
Seven Days a Week: 8 AM to Midnight
When Las Vegas is really busy, on say a weekend or holiday, these stores can get extra busy, meaning you'll be fighting Black Friday type of crowds. With those crowds comes, (unfortunately), people who try clothes on then leave them in the dressing room, or even on the floor by the racks.
This is not uncommon at Ross stores in other areas to be sure, but you may find this to be more prevalent in the Sin City Ross stores. (Just a warning to you tidy freaks out there like me).
As we all know, Las Vegas can be expensive, especially when it comes to shopping. There are numerous stores where the outfit has a price tag that may rival the amount of your mortgage payment (and here I'm talking to you, Manolo Blahnik store at the Wynn).
However if you are fairly low-maintenance, you find a large selection of affordable clothes, shoes, and even some electronic accessories at the two different Ross Dress for Less stores located on the Las Vegas Strip.
Closest Ross Store to Downtown Las Vegas
A Ross Dress for Less store on E. Charleston Boulevard is the closest Ross to the hotels and casinos on Fremont Street in downtown Sin City. Being in a less tourist heavy area, store hours are more traditional, by which I mean, it closes earlier than the Strip Ross stores.
This store is located in a typical strip mall, 2 miles southeast of downtown. That equates to roughly a 10 minute drive. Its address and hours are as follows:
1720-A E. Charleston Blvd
Las Vegas, NV 89104-1903
Phone: (702) 386-0376
Hours:
Monday – Saturday: 8 AM to 11 PM
Sunday: 8 AM to 10 PM
(By Steve Beauregard. Photos courtesy of Daniel Ramirez (top) via Flickr and bottom from gamboool.com)