Denny's Las Vegas – Strip & Other Locations
In Las Vegas, everything is a little, well…different than in the normal world. Even something as simple and traditional as your classic Denny's restaurant gets bigger, and more adult in Sin City.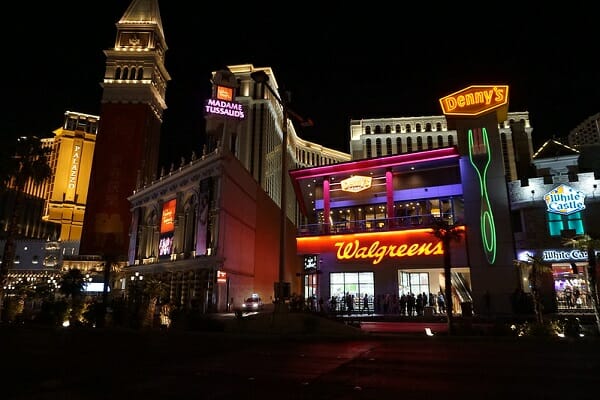 Whether it's the classic Grand Slam at breakfast, or a comfort food dinner, I like going to Denny's and knowing that I'll get exactly what I'm craving at prices that are typically well below most of the Las Vegas casino restaurants.
Denny's Las Vegas
There are twenty-four different Denny's restaurants in Las Vegas.
Four of the Las Vegas Denny's are on the Strip, with a another one downtown on Fremont Street. Nearly all have carry-out and delivery options.
Map of Denny's Restaurants in Las Vegas
(The red pins show you the four Denny's on the Las Vegas Strip, along with the other locations in Las Vegas)
Denny's Las Vegas Strip
The Big Kahuna of Denny's in Las Vegas is the enormous, flagship Denny's situated above the Casino Royale and Walgreens on the Las Vegas Strip. It's right next to the only White Castle on the Las Vegas Strip and is right across from the Mirage Hotel and Casino. It opened to packed crowds on November 21, 2014.
It's a complete remodel of a Denny's formerly inside the Casino Royale, which had been there since 1966. The old version closed in January of 2014 for the renovation.
Denny's says that this location is the highest grossing Denny's in the world. You might think that visitors on vacation would want to try something different than what they could find back home, yet Denny's reliable menu of quality food at very affordable prices continues to bring in Las Vegas crowds. Plus, prices for breakfast at most casino restaurants are pretty high. (Go here for the cheapest breakfast on the Las Vegas Strip).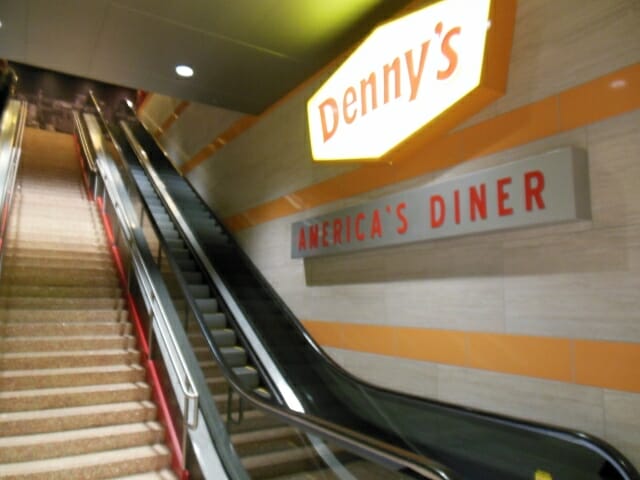 A 50 foot illuminated fork out front fights with the other neon on the Strip for your attention. And because it is on the second level, the restaurant is accessible via an escalator from the Strip sidewalk. There's even a sign at the bottom, letting you know of the wait time before you commit yourself to going upstairs.
Once upstairs, there's a little landing area, the entrance will be to your left. Because this location can get so busy, there are often rope lines on the upstairs landing with folks waiting in line.
Once inside, you'll find a sparking, spacious restaurant that holds up to 300 guests, including counter seating. There is also limited patio seating directly above the Strip that offers the wonderful views of the Mirage's exploding volcano.
Unlike your Denny's back home, this one has full bar service.
Las Vegas Strip Denny's Hours
| | |
| --- | --- |
| 7 Days a Week | 24 Hours a Day |
Las Vegas Strip Denny's Address & Phone
3397 S. Las Vegas Boulevard
Las Vegas, NV. 89109
Phone (702) 474-4417
Denny's Fremont Street
While a prominent location and 50 foot lighted fork ensures you can't miss the new Las Vegas Strip Denny's, the downtown version is also easily identifiable – this due to a yellow bird's nest type of exterior décor resembling a 3rd graders straw craft project.
This Denny's is located on the east end of the start of Fremont Street, specifically inside entertainment complex called Neonopolis, at the intersection of 4th Street and Fremont. It's across the street from (what else), another Walgreens.
Perhaps the most unusual Denny's in the world, this Denny's has a full bar (known for its Bloody Mary with bacon), a photo booth and even a wedding chapel.
The west facing outdoor patio offers a great vantage point for watching the freaks, drunks, walkers-of-shame and other assortment of odd balls found walking on Fremont Street.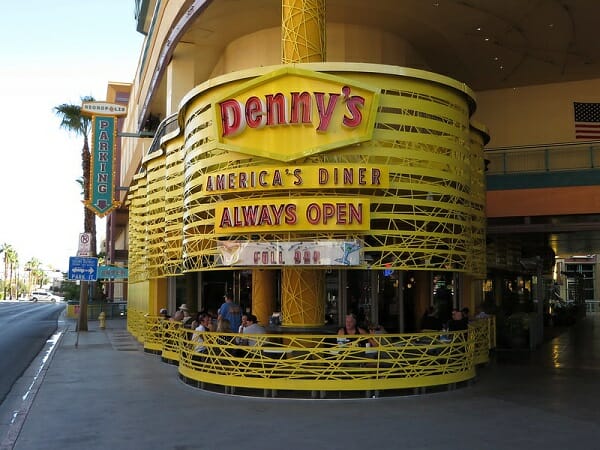 Speaking of oddities, you can get married inside this Denny's.

As I mentioned, the restaurant is home to a wedding chapel, and yes, they have had weddings there. In fact, Denny's sells wedding packages that includes the use of the chapel, pancake wedding cakes, t-shirts and everything else you could think of to help make this special day romantic.
It's open 24 Hours a day. It's address is:
450 Fremont Street
Las Vegas, NV. 89101
Phone (702) 471-0056
Other Denny's Locations on the Las Vegas Strip
Besides the flagship Denny's across from the Mirage Hotel & Casino, there are three others on the Strip.
Denny's by the Hard Rock Cafe
You'll find a Denny's on the South end of the Las Vegas Strip, right beneath a Hard Rock Cafe, and just north of the giant Coke bottle by M&M's World on the Strip. It's also right across the Street from the Park MGM Hotel and Casino.
Google Maps tells me it's just a five minute walk to this Denny's from the MGM Grand, and that seems about right. It's open 24 hours a day, seven days a week.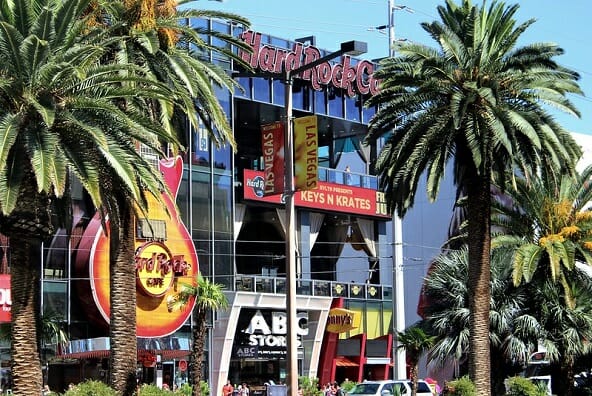 Denny's by the Wynn/Encore
This restaurant is located in a strip mall directly across the Las Vegas Strip from Resorts World Hotel & Casino.
I don't know how many guests of the upscale Wynn and Encore Hotel & Casino are trudging their way to strip mall for a cheap breakfast, but if they are, they'll find this Denny's to be roughly a 15 minute walk away. It's tucked in a strip mall to a Walgreens. It's address is:
3001 S Las Vegas Blvd
Las Vegas, NV 89109
This is open 24 hours a day, every day of the week.
Denny's by the Strat Hotel & Casino
The fourth Denny's on the Strip is technically not on the Strip, but it's close enough for our purposes. It's located 600 feet north of the Stratosphere Hotel and Casino, in the area of Las Vegas that starts to get a little shady.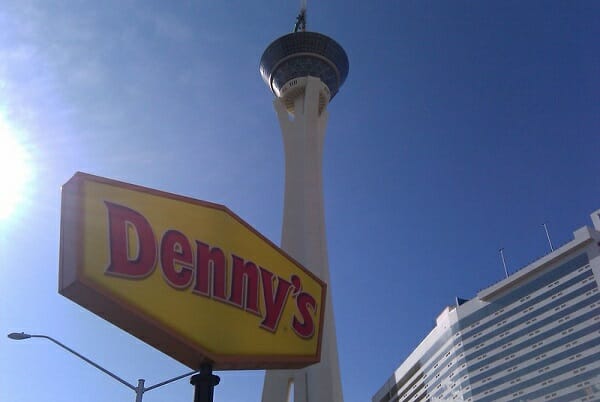 This location near the Strat is the the oldest Denny's in the state of Nevada, having opened in 1963. However this location underwent a $1.5 million full remodel in 2019, per KSNV News 3 Las Vegas.
Jim Kidwell, a Denny's district manager, told the station this particular Denny's location sees approximately 10,000 guests each week!
It's open 24 hours a day, everyday, and its address is:
1822 S Las Vegas Blvd.
Las Vegas, NV 89104
South Point Hotel & Casino Denny's
There's a fifth Denny's on Las Vegas Boulevard, however it is well south of what is generally considered to be the Las Vegas Strip.
This stand alone Denny's at 9840 South Las Vegas Blvd is directly across the street from the South Point Hotel Casino Spa.
List of Denny's Restaurants in Las Vegas
Here are the addresses of all 24 Las Vegas Denny's Restaurants.
1822 Las Vegas Blvd South
3001 S Las Vegas Blvd
3397 S Las Vegas Blvd
3771 S Las Vegas Blvd
7200 S Las Vegas Blvd
9840 South Las Vegas Blvd
169 E Tropicana Avenue
2380 E Tropicana Ave
3330 W TROPICANA AVENUE
5045 W Tropicana
3010 W Sahara Ave
8000 W Sahara Ave
3081 S. Maryland Park
3881 W Flamingo Road
450 Fremont Street
5175 Blue Diamond Road
5318 Boulder Highway
5585 Simmons St
5678 South Rainbow Boulevard
6300 W Charleston
7071 W Craig Rd
7341 W Lake Mead Blvd
9320 S Eastern Ave
310 N Nellis Blvd
Lastly, there used to be what's called a Denny's Fresh Express at the food court at Nellis Air Force Base in northeast Las Vegas, however I believe it has since closed. Either way, this Denny's was inaccessible to non Air Force personnel.
Las Vegas Denny's FAQ
(Steve Beauregard is a Las Vegas fanatic who visits Denny's restaurants waayy too much. Escalator photo copyright gamboool.com. Other photos courtesy of Graeme Maclean, Night strip view by Andrew Milligan sumo, Strat by aFicus, near the Hard Rock by Abi Skipp, and the Fremont Street lower photo from Ken Lund via Flickr)