White Castle Las Vegas Locations
They're small, square, tasty, and affordable. And in a city like Las Vegas, where the party never stops, they are the ultimate snack during, or immediately following, a night of drinking.
They are the iconic White Castle hamburgers, and they can be found in four different locations in and around Las Vegas, including right on the Strip.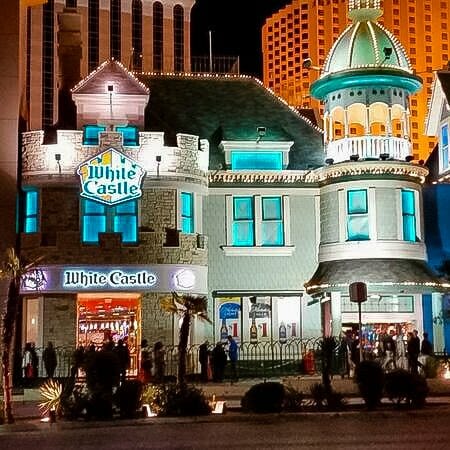 A cult-favorite for its fast, cheap burgers, the first White Castle opened in 1921 in Wichita, Kansas. Yet while there are now 420 White Castles across the country, there are none in Wichita. Nor are there any in Kansas.
In fact, the Las Vegas White Castle marks the first time the chain went west. Before the Strip White Castle, the nearest one to Las Vegas was a 1,664 mile drive to the east, in Cape Girardeau, Missouri.
White Castle Las Vegas Locations
All total, there are four White Castle restaurants in Las Vegas:
Fremont Street Downtown
Paradise Road
Henderson
White Castle Las Vegas Strip
The Strip Las Vegas White Castle is adjacent (and part of), the Casino Royale, and sits next door to the very busy Las Vegas Strip Denny's. I love this location and convenience as it makes for an affordable and tasty treat after a night at the tables. On our last visit, I had thirty sliders (according to my wife), but she's prone to exaggeration.
Either way, White Castle's north-center Strip location makes it an easy walk from the Venetian Hotel and Casino, Harrahs, the Linq, and even the Flamingo. The restaurant is right across the street from the Mirage.
Opened in 2015, the first White Castle in Las Vegas became a huge hit, with hundreds of hungry customers lined up outside the Strip sidewalk, enduring wait times of up to three hours on opening day. The Las Vegas Review Journal reports that for the first 12 hours of its opening, the restaurant went through 4,000 burgers per hour. The store isn't really that big, at just 5,600 square feet in size.
White Castle Las Vegas Strip Address, Phone Number & Hours
| | |
| --- | --- |
| 7 Days a Week | 11 AM – Midnight |
In normal times, when they were able to be fully staffed, the Las Vegas Strip White Castle was open 24 hours a day, seven days a week. These hours are likely to return soon.
As I mentioned, the store is accessible either via the Strip, or through the Casino Royal itself, as the restaurant and casino open to each other. This partnership, seems like a good fit, as both places cater to the fun loving, low-roller.
Should you want to take home a souvenir from your fast food run, a display case sells hats and t-shirts with the iconic White Castle logo.
3411 Las Vegas Boulevard South
Las Vegas, NV. 89109
(702) 227-8531
Fremont Street White Castle
This one is on the eastern end of Fremont Street in downtown Las Vegas, just steps from the D Hotel & Casino.
This location doesn't have a drive-through, but has a busy lobby that is open twenty-four hours a day, seven days a week.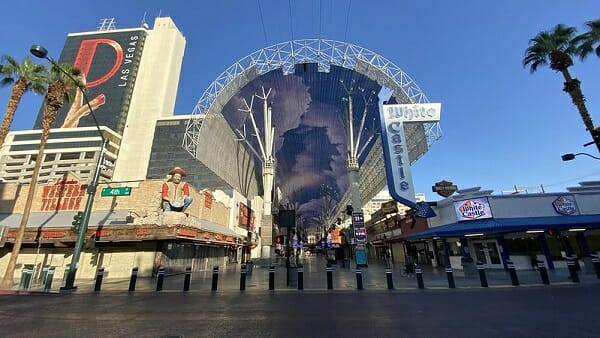 As you can see from the photo above, it's located right on the corner of 4th Street and Fremont. Those of you who have frequented downtown Las Vegas will notice the White Castle neon sign replaces the long-standing yellow Trader Bills sign that had been there seemingly forever. This White Castle's address is as follows:
107 N 4th St
Las Vegas, NV, 89101
White Castle Downtown Fremont Street Hours
| | |
| --- | --- |
| 7 Days a Week | 24 Hours a Day |
Paradise Road White Castle
Opened in November of 2021, this franchise is tucked into a little strip mall directly across the street from Virgin Las Vegas Hotel & Casino, on the corner of Paradise Road and E. Harmon Road. Its lobby is open 24 hours a day, seven days a week.
It's popular with students of the University of Nevada Las Vegas, as the campus boundary is just east of the restaurant. It's address is:
4501 Paradise Rd
Las Vegas, NV, 89169
In true Sin City style, it has a flashy bright neon sign atop, along with a rotating neon sign above the drive-through area. The lobby area is open and full of floor-to-ceiling windows.
White Castle Paradise Road Hours
| | |
| --- | --- |
| Lobby | 24 Hours a Day – 7 Days a Week |
| Drive-Through | |
| Sunday – Thursday | 10 AM – Midnight |
| Friday & Saturday | 10 AM – 1 AM |
Henderson, NV White Castle
The area's newest restaurant is a stand-alone restaurant that opened in mid-July 2022.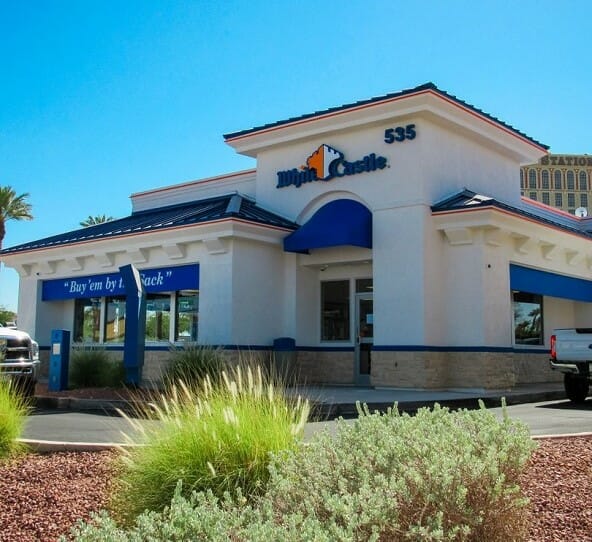 It sits in the shadow of the Sunset Station Hotel & Casino, a popular local's casino in the Vegas suburb of Henderson, Nevada. The restaurant is a converted Carl's Jr. that you'll find on the corner of Marks Street and Sunset Station Road. those of you who happen to be staying at the Sunset Station Hotel will find it to be a five minute walk away.
It's exact address is below:
535 Marks St
Henderson, NV, 89014
White Castle Henderson Hours
| | |
| --- | --- |
| Lobby | 7 AM to 10 PM, everyday |
| Drive Through | 24 Hours a day, everyday |
Lastly, there is also a White Casino in Jean, Nevada, south of Sin City off of Interstate 15.
(The black stars represent the four Las Vegas White Castle Restaurants)
White Castle Las Vegas Location Menu
Other than serving alcohol, (but not serving breakfast), the Las Vegas Strip White Castle at the Casino Royale features a menu similar to its other locations.
For those of you who have never indulged, the chain's signature burger is its beef slider, which consists of a steamed bun, pickles, onions, on a steam-cooked, 100% beef patty.
These signature sliders are two inches by two inches in length, so they are pretty small, which is why they sell them in bulk. In fact, the Las Vegas store hangs a large sign reading: "Buy em' by the sack."
If that's not enough, the Las Vegas Strip White Castle also offers a "Crave Case." This is what looks like a suitcase full of 30 sliders. Still hungry? The "Craver Crate" has 100 kind of any sliders.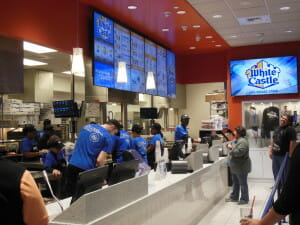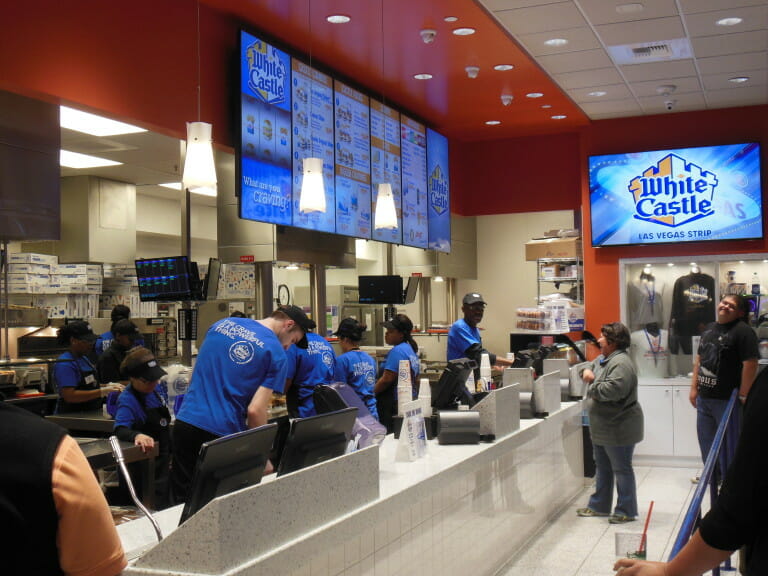 In addition to the standard burger, they also sell a double cheese slider, a chicken sandwich and fish sandwich and even now a veggie slider.
On the beverage front, they have a self-service pop stand serving Coke, Diet Coke, Sprite, Barq's Root Beer, Dr. Pepper, and Hi-C. There's also orange juice, apple juice, coffee, Monster Energy drink, milk, chocolate milk and a small beer selection (Bud, Bud light, Michelob and Shock Top).
The menu of "sides" features the standard crinkle fries, along with cheese fries, and the "loaded fries," which are the crinkle fries topped with ranch dressing, cheese, and bacon.
Other sides include "Fish Nibblers," which are like smaller chicken nuggets, only made out of Alaska pollock, onion rings and chicken rings, which are kind of like an onion ring, but with white chicken meat instead of onions.
For dessert, you'll find shakes, and both a brownie or cheesecake on a stick.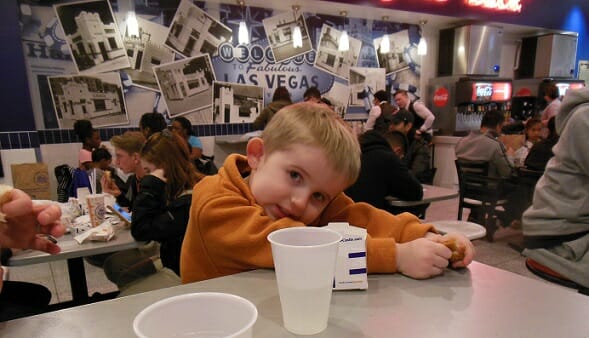 (Go here for the list of McDonalds on the Las Vegas Strip)
The website for the four different Las Vegas area White Castle Restaurants is here: WhiteCastle.com/LasVegas
White Castle Las Vegas FAQ
(By Steve Beauregard is a Vegas fanatic and recovering journalist. His writing has appeared in the DenverPost.com and PokerNews.com, among others, and he is a four-time winner of the "Best Humorous Column Writing" award from the Colorado Press Association. Top Strip photo and Henderson photo courtesy of White Castle's Twitter page. Interior photo from gamboool.com. Downtown White Castle photo courtesy of Ron Mader via Flickr.)