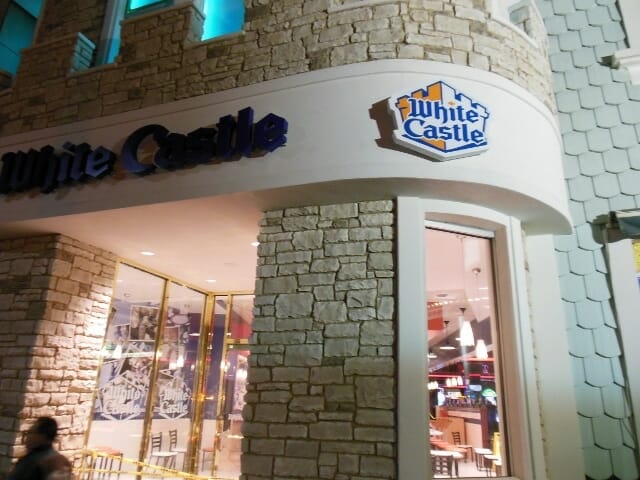 By Steve Beauregard
They're small, square, tasty, and affordable. And in a city like Las Vegas, where the party never stops, they are the ultimate snack during, or immediately following, a night of drinking.
They are the iconic White Castle hamburgers, and now they are in Las Vegas, right on the Strip.
Specifically, the new Las Vegas White Castle is adjacent (and part of), the Casino Royale, and sits next door to the very busy Las Vegas Strip Denny's.
Its north-center Strip location makes it an easy walk from the Venetian Hotel and Casino, Harrahs, the Linq, and even the Flamingo. The restaurant is right across the street from the Mirage.
Opening at 2 p.m. on January 27, 2015, the first White Castle in Las Vegas became a huge hit, with hundreds of hungry customers lined up outside the Strip sidewalk, enduring wait times of up to three hours. The Las Vegas Review Journal reports that for the first 12 hours of its opening, the restaurant went through 4,000 burgers per hour. The store isn't really that big, at just 5,600 square feet in size.
A cult-favorite for its fast, cheap burgers, the first White Castle opened in 1921 in Wichita, Kansas. Yet while there are now 420 White Castles across the country, there are none in Wichita. Nor are there any in Kansas.
(From the Las Vegas White Castle Twitter acccount)
Text WHITECASTLELV to 33733 and pick-up an order of #WhiteCastle today! pic.twitter.com/GhpiYHRMTr

— White Castle Vegas (@WhiteCastleLV) September 19, 2016
In fact, the Las Vegas White Castle marks the furthermost western outpost of the chain, as the next nearest restaurant is a 1,664 mile drive to the east, in Cape Girardeau, Missouri.
White Castle Las Vegas Location Menu
Other than serving alcohol, (but not serving breakfast), the Las Vegas White Castle at the Casino Royale features a menu similar to its other locations.
For those of you who have never indulged, the chain's signature burger is its beef slider, which consists of a steamed bun, pickles, onions, on a steam-cooked, 100% beef patty.
These signature sliders are two inches by two inches in length, so they are pretty small, which is why they sell them in bulk. In fact, the Las Vegas store hangs a large sign reading: "Buy em' by the sack."
For those of you taking the sign's advice, a bag of ten sliders goes for $11.99.
If that's not enough, the Las Vegas White Castle also offers a "Crave Case." For $34.99, you'll get what looks like a suitcase full of 30 sliders. Still hungry? The "Craver Crate" has 100 kind of any sliders for $109.99
In addition to the standard burger, they also sell a double cheese slider, a chicken sandwich and fish sandwich and even now a veggie slider.
On the beverage front, they have a self-service pop stand serving Coke, Diet Coke, Sprite, Barq's Root Beer, Dr. Pepper, and Hi-C. There's also orange juice, apple juice, coffee, Monster Energy drink, milk, chocolate milk and a small beer selection (Bud, Bud light, Michelob and Shock Top).
The menu of "sides" features the standard crinkle fries, along with cheese fries, and the "loaded fries," which are the crinkle fries topped with ranch dressing, cheese, and bacon.
Other sides include "Fish Nibblers," which are like smaller chicken nuggets, only made out of Alaska pollock, onion rings and chicken rings, which are kind of like an onion ring, but with white chicken meat instead of onions.
For dessert, you'll find shakes, and both a brownie or cheesecake on a stick.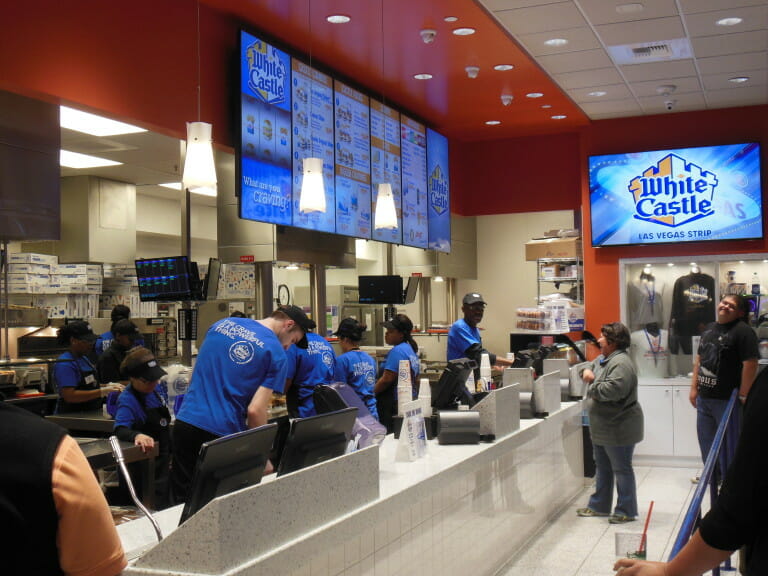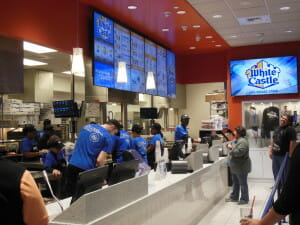 (Go here for the list of McDonalds on the Las Vegas Strip)
As I mentioned, the store is accessible either via the Strip, or through the Casino Royal itself, as the restaurant and casino open to each other. This partnership, seems like a good fit, as both places cater to the fun loving, low-roller.
Should you want to take home a souvenir from your fast food run, a display case sells hats and t-shirts with the iconic White Castle logo.
White Castle Las Vegas Address, Phone Number and Hours
3411 Las Vegas Boulevard South
Las Vegas, NV. 89109
1-800-The Crave
The Las Vegas White Castle is open 24 hours a day, seven days a week.