M&M's World on the Strip in Las Vegas – Hours & Parking
With 28,000 square feet of retail space, a 3-D movie theater, a wide selection of candies, a race car, and any type of M&M souvenir you could ever want, M&M's World in Las Vegas is fun stop for those of you with either kids, or just a desire to get away from the casino for awhile.
The M&M's World on the Las Vegas Strip is just one of five M&M's Worlds in the well, world. Other locations are London, Orlando, New York, and oddly enough, Henderson, which is a suburb of Las Vegas.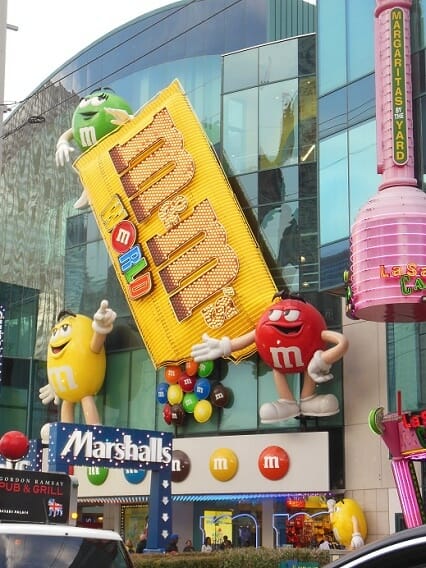 The one were talking about here though, is on the Las Vegas Strip, specifically in the Showcase Mall, just a few feet away from the MGM Grand. The exact address for M&M's World Las Vegas is:
3785 South Las Vegas Boulevard
Las Vegas, NV. 89109
Phone number: (702) 458-8864
M&M's World Las Vegas
The giant store fronts the strip, just north of the Grand Canyon Experience north of the MGM Grand, and directly across the street from the NY-NY Hotel and Casino.
It's a fun diversion, and my 4 year-old thoroughly enjoyed it. Here, you can either pick out M&M's with unusual colors and tastes (like coconut), or you can even make M&M's with a personal message on them.
(Go here to find Fun Things to Do With Kids on the Las Vegas Strip).
The large selection of M&M dispensers (seen in the photo below) with every color you could imagine dazzled my kids.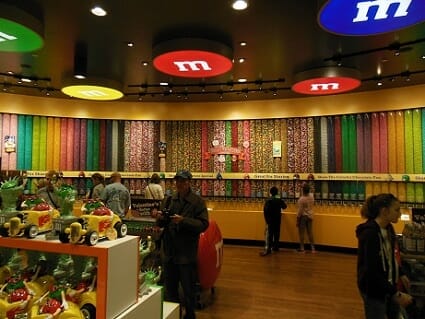 Of course, the prices here are a lot more expensive than getting just a regular old pack of M&M's at a grocery store, but my daughter thought getting special violet (not purple – violet), M&M's were worth it – especially since she didn't have to pay for them. If memory serves, the dispensed M&M's are in the $12 per pound range.
From t-shirts to pajamas, coffee mugs, shot glasses, dispensers, toy cars, towels to even underwear, anything you can imagine is sold here – all adorned with an M&M logo of course. I'm not sure why you'd want M&M underwear, but that's probably not the biggest way to blow money in Las Vegas. Personally, I bought a souvenir M&M poker chip.
There's also a full-sized NASCAR car you can check out. The number 18 car, driven by Kyle Busch, is sponsored by M&M's, and is thus, decked out in the logo.
M&M's World Free 3-D Move
On the 4th and top floor of the store is the 3-D movie, called "I Lost My "M" in Las Vegas."
This short film is free, kid-friendly of course, and very well done. It's very much worth the stop, especially considering the cost.
Shows start at 9 AM and run continuously throughout the day. It stops at 6 PM Tuesdays – Thursdays, and stops at 8 PM on Saturdays, Sundays, and Mondays.
Also on the 4th floor, next to the movie theater entrance is a nice photo opportunity, where you or your kids can have your picture taken next to M&M's and a replica of the famous, "Welcome to Fabulous Las Vegas" sign.
In addition to merchandise, the third level is home to some windows that offer great vantage points of the casinos and below on the Strip.
Speaking of which: down below on the street level, is where you can get a picture of your little one with one of the giant M&M characters. Often times, there are other characters popular with kids roaming nearby. These characters, like SpongeBob SquarePants, Dora the Explorer for example, are not part of M&M's World. Rather, they are private, enterprising individuals who hope to make a buck or two when your child inevitably wants to approach them and have a photo taken with the TV character.
M&M's World Las Vegas Store Hours
The M&M's World Las Vegas location is open seven days a week, from 9 AM to Midnight.
M&M's World Parking
(Here's a map showing you M&M's World in red, and the entrance to the parking garage in yellow).
Previously we recommended people driving in park at the nearby MGM Grand Hotel and Casino. It was a long walk (in the 1/3rd mile range from the start of the self-parking garage to the front door of M&M's World,) however it was totally free. However that is no longer the case.
If you plan on being away from your car for less than an hour, than you can still park at the MGM Grand for free. However if you are staying 61 minutes or longer, you will have to pay $10.
If you stay for over 4 hours, the MGM Grand Parking fee is $18 (up to 24 hours).
Instead, you can park in the Showcase Mall parking garage, which is located north of M&M's World, past the big Coke bottle, past the Hard Rock sign on your right, and right under the large "Ross" Dress for Less sign. Compared to the $10 MGM Grand parking fee, parking at the Showcase Mall was $3 per hour on our last visit.
Please note that there is a pedestrian walkway on the 5th floor of the parking garage that will connect you directly to the Showcase Mall.
So if you're looking for something different while on the Strip, give M&M's World a shot. And if you haven't satisfied your sweet tooth there, you can hop over a few feet next door, where there is a giant Coca-Cola store to assist you with your sugar needs.