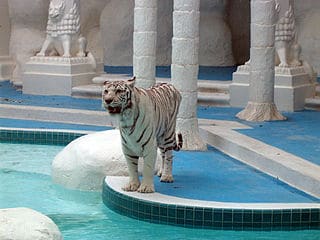 By Steve Beauregard
"They" say that there's not a lot of things to do with kids when staying on the Las Vegas Strip. Well I'm here to say: they're right.
Let's be honest: Las Vegas is designed to separate adults from their money. Until Nevada's legal age for gambling is lowered to, say, 4 years old, Sin City will always primarily be centered around attracting adults with disposable income.
Nevertheless, I've discovered from personal experience that a night or two on the Las Vegas Strip still offers a variety of family-friendly kid activities. These entertainment options vary from things suitable to your 1 year old to your 18 year -old, but in general, there's enough to do to keep your kids from being bored on the Strip. Starting with….
Shark Reef at Mandalay Bay
Maybe not a big deal for those of you in cities with large, professional aquariums built by civic and/or private industry leaders, but for those of you from locales without one, the Shark Reef at Mandalay Bay makes for a fun afternoon. On top of that, where else in Las Vegas are you going to participate in an educational activity (other than the craps lesson).
My kids thoroughly enjoyed this aquatic adventure. The highlight for my 4 year-old was the chance to touch the stingray. Watching the various sharks in the "window tunnel" (for lack of a better word), was another highlight.
M&M's World
Just a few steps away from the MGM Grand Hotel and Casino, M&M's World Las Vegas is a massive retail complex selling all kinds of (and here is a shocker) M & M's and M & M related apparel and souvenirs. Whatever item you could imagine, this store slaps an M & M logo on it and sells it.
Nevertheless, my 4 year-old had a blast choosing her very own M & M color (there are tons to choose from), and posing in front of the store with a large Orange M & M character. In addition, the store has a fun little 3D movie on the top level that is totally free and pretty entertaining.
Hershey's Chocolate World Las Vegas
While not as large as the M&M's store across the street, the 13,000 square foot, two story Hershey's Chocolate World Las Vegas provides another fun diversion for kids. There are mascot characters, a Statue of Liberty and Empire State Building made out of chocolate, a bakery, and Hershey's Kisses dispensers in every color and flavor imaginable. They sell non-chocolate candies like Twizzlers, along with lots of logo merchandise tool.
The Roller Coaster at New York – New York Hotel and Casino
Not an attraction for little ones (the minimum height to ride is 54 inches), the Big Apple Coaster inside (and outside) of the beautiful NY-NY Hotel and Casino is sure to keep your thrill-seeking teen from becoming bored.
Eiffel Tower
A little more tame than a roller coaster, a ride up the Eiffel Tower at the Paris Las Vegas (exactly 1/2 the size of the real one in Paris), is something out of the norm that your kids may enjoy. The top rests 460 feet above the Strip below, and as you can imagine, offers incredible views of the Las Vegas Valley.
And while a nice restaurant is available on the 11th floor, it's menu, locale, and prices is less on the kid-friendly side, and more on the "taking your wife to a romantic dinner while out of town" side.
Tournament of Kings at the Excalibur
A dinner show, similar to Medieval Times, you get to use your hands to tear into a feast while watching knights on horseback joust, strut, and well, do other things that knights do. The crowd gets into it, and if you can stand the price ($59 plus taxes and fees), it's definitely different than another night at Applebee's.
The Tournament of Kings takes place at what I consider to be the best hotel for families with kids: the Excalibur Hotel and Casino.
Bellagio Fountains
Free, easy to view, and a crowd pleaser for all ages. Who doesn't like a booming water fountain show? The breathtaking dancing fountains at the Bellagio have been drawing crowds since the resort's opening in 1998. Shows run every 1/2 hour in the afternoon and every 15 minutes at night, but you can go here to get the exact Bellagio water fountain show times.
Circus Circus
Probably your first thought when it comes to kids and the Las Vegas Strip, Circus Circus is a little worn and looks its age, yet is still the king when it comes to entertaining the under 21 set.
The hotel/casino's famous Carnival Midway still offers a ton of carnival games, along with an arcade featuring tons of video games from different eras.
Meanwhile, the famous free circus continues to entertain and draw a crowd. Starting at 11 a.m. each day, the free circus acts include jugglers, acrobats, trapeze artists, and even BMX bike jumpers.
AdventureDome
Part of Circus Circus, but large enough that it demands its own section. The AdventureDome is an enclosed amusement park of 5 acres offering 25 rides, ranging from slow moving rides suitable for the tiniest of tots (if they're accompanied by a parent) up to thrilling roller coaster rides.
Little ones can also enjoy the 4-D Theater that shows Dora the Explorer Adventure film rides, (Kids must be at least 32 inches to ride) along with other season film rides. A recent December movie-themed line-up included a Polar Express Ride and Happy Feet ride.
The Wildlife Habitat at the Flamingo
And by "wildlife," we do not mean the bachelor party from Houston. This free garden at the Flamingo Hotel and Casino is a peaceful walk where you may spot flamingos, turtles, pelicans, ducks and other birds and fish. Maybe not as impressive as the nearest zoo, but it's free.
High Roller Ferris Wheel
At 550 feet high, the highest Ferris Wheel in the world sits between the Flamingo Hotel and the Quad, just off of the Las Vegas Strip.
The High Roller Ferris Wheel is part of the expansive retail and entertainment project called "The Linq." The observation wheel has 28 cabins – each of which can hold up to 40 people.
Madame Tussauds Wax Museum
Not really my thing, (especially with an entry fee of $28 for adults), this famous chain showing fake celebrities has over 100 wax figures in its Las Vegas location, which is attached to the Venetian Hotel and Casino.
Mirage Volcano
Free and a Las Vegas landmark since 1989, the Mirage Volcano eruptions occur at 8 and 9 p.m., Sundays through Thursdays, and at 8, 9 and 10 p.m. on Friday and Saturday nights. Below is some video of the eruption:
Siegfried & Roy's Secret Garden and Dolphin Habitat
Located inside the Mirage Hotel and Casino, here you can check out the famous magicians' stable of lions, tigers, panthers, and of course, dolphins. Entry fee is $20 for adults, and $15 for kids. Your child 3 and under is free.
Mac King
Since 2000, Mac King has been dazzling audiences at Harrah's Hotel and Casino with an amazing, entertaining blend of comedy and magic. Unlike most Vegas shows, these 1 and 3 p.m. shows (Tuesday – Saturday) are family friendly. And, at about $30 per seat (or less if you find one of the many discounts), they're a bargain, considering you get 75 minutes of magic and laughs.
Not too many performers last in Vegas for over a decade in Las Vegas. Go see why Mac King is one of them, and why he is the "king" of kid-friendly magic shows in Las Vegas.
Pool
The last, and most obvious kid-friendly activity in Las Vegas is using your hotel's swimming pool! The top ones for kids are the pools at Mandalay Bay and the Flamingo.