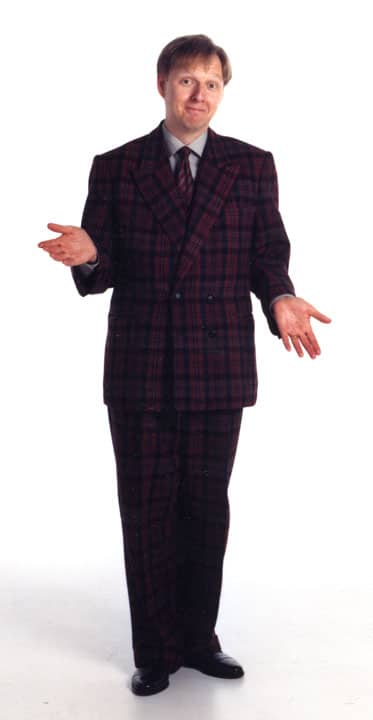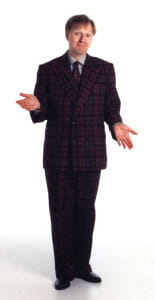 By Steve Beauregard
There always plenty of entertaining magic shows going on in Las Vegas. The entertainment capital of the world is home to performances by David Copperfield, Penn & Teller, Criss Angel, Nathan Burton, Dirk Arthur, and many others.
However in terms of the most kid friendly magic show in Las Vegas, there is one king. Mac King.
I have two kids under seven. And while I don't want them to see the risqué moving billboards driving up and down the strip, I had no problem taking them to see Mac King's fun show.
Mac King has been performing his family-friendly show at Harrah's Hotel and Casino in Las Vegas since 2000. You don't get to stick around as a headliner on the Las Vegas Strip for that long without being wildly entertaining.
A Kentucky native, King, has a multi-generational appeal that may be more of a comedy performance than magic show. With a combination of kid-friendly shows, daytime performances, and very affordable ticket prices (especially by Las Vegas standards), it's easy to see why Mac King has nearly 6,000 shows under his belt, which is partially covered by his signature ratty plaid jacket.
(Here's a short snippet of Mac King's show in Las Vegas)
Showtimes
Mac King's shows at Harrah's are on Tuesdays through Saturdays. There are two performances daily, at 1 p.m. and 3 p.m.
Per King's website, the show is billed as being appropriate for all ages, and runs about 75 minutes in length. We all felt the show was well worth the very affordable price of admission. (More on that below).
(Related: Harrah's Las Vegas parking garage directions and information.)
Part of King's appeal is the simplicity of his act. Other than the props, it's a bare bones production that works. There are no flashy lights, no showgirls, and no special effects. Just a man in a worn plaid suit telling jokes and performing dazzling acts of magic.
Due to all of the spontaneity in the act, every show is a little bit different. There can be the occasional joke containing some sexual innuendo. But it's likely to be joke that goes way over the kids' heads.
Mac King Ticket Prices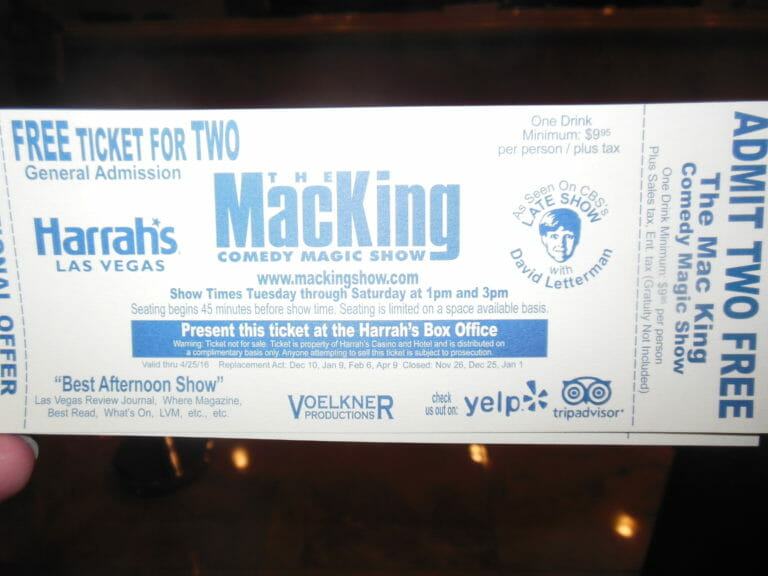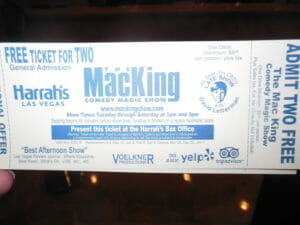 As for those affordable ticket prices?
While the official ticket price is advertised as $31.95 before taxes and fees, anyone with a Caesars Entertainment Total Rewards card can get tickets for just $9.95 before taxes and fees.
Including taxes and fees, a single ticket is just $14.73. And that includes a free drink too! For our family of four, it cost us a total of $58.92 to see a fantastic magic show with four drinks included.
In case you're not familiar with it, a Total Rewards card is simply a player's card. You get them for free by showing your driver's license at any Total Rewards desk, such as the one at Harrah's.
To get the $14.73 ticket, just follow these instructions:
1) Sign up for a Total Rewards player's club card at the Total Rewards desk at Harrah's (if you don't have one already). The desk is towards the back of the casino.
2) Ask the person at the Total Rewards desk that you would like the voucher for the Mac King Show. I was by myself, and requested four for my family, and was given four vouchers.
3) A little further back in the casino, by the hotel registration desk, is Harrah's concierge desk. Go to the concierge, show the employee your voucher, and pay your $14.73 per ticket. He or she will hand you tickets for each voucher.
4) Take the escalator upstairs to the showroom, and wait in line to be seated.
5) After you have your seats, take your ticket, (or tickets), to the one bar in the showroom to redeem your completely free drink (bartender tip not included). My wife and I got rum and Cokes, and we got Shirley Temples for the kids, who thought getting a fancy drink in a Vegas showroom was a special treat. (It was).
6) Enjoy the show.
I can emphasize enough how it's impossible to find a better entertainment deal on or off the Las Vegas Strip. The show was so enjoyable that looking back on it, I would have been satisfied paying the $31.95 ticket price, which is before taxes and fees and does not include a free drink.
Should you so desire, you can also upgrade to VIP for $5 extra per ticket, however it really isn't necessary as the Harrah's showroom is not all that large to start with. It may be worth it, however, if you're one of those who actually want to volunteer to be on stage. King will call for volunteers during the show, and your front seats will improve your chances of being part of the show.
We got there fairly early and were seated in the middle of the showroom. We were plenty close enough to fully see and immerse ourselves in the tricks, jokes, and magic of the show.
Other Kid-Friendly Magic Shows in Las Vegas
Here are some other kid-friendly magic shows in Las Vegas, (along with a mention of a couple of not-so kid-friendly shows).
Mat Franco
You may have seen him on America's Got Talent, but now he appears six days a week at the Linq, in his "Magic Re-invented Nightly" show.
Franco's show is in a smaller theater, and there aren't a lot of special effects here. It's more a combination of comedy and slight-of-hand tricks.
Franco often starts his 90 minute or so show talking about his roots in magic, specifically about his grandma. The show is funny, and wholesome, and appropriate for the entire family.
Nathan Burton's Comedy Magic
This show at Planet Hollywood gets mixed reviews in terms of being kid-friendly. On one hand, the humor is generally clean, and Burton has been known to bring his newborn baby out on stage to show off.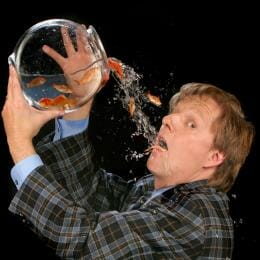 On the other hand, there are some scantily-clad showgirls dancing in some provocative poses, and a reoccurring skirt in which Burton jokes with a young volunteer about whether or not the volunteer's dad would like to leave with the showgirl.
These are affordable shows, and run in the afternoon, but the combination of a short performance and promotional selling of Burton's DVD put this down on my personal list of shows to see.
David Copperfield
Perhaps the most famous magician alive, Copperfield's frequent appearances at the MGM Grand are not offensive, and have a minimum age requirement of five years old.
The shows aren't designed for kids, but they are family friendly, if you don't consider the cost of the ticket prices, which start at a family unfriendly $70 before tax.
Criss Angel "Believe"
According to the show's website: "Due to the show's production and language content, CRISS ANGEL® Believe™ may not be suitable for children under 12 years of age."
Penn & Teller
While I haven't personally seen this show, (Jillette is a little too anti-God for my tastes), reviews are mixed.
Not mixed in terms of the quality of the magic, but mixed as to whether or not this show is family friendly. There are reviewers who have said the F-bomb is dropped, and that there is some political talk. Do what you want with your own family, however by all accounts, this show isn't really designed for kids.