Hershey's Chocolate World Las Vegas – Hours, Parking & Review
By Steve Beauregard
One of the sweetest additions to the pleasant, pedestrian-friendly expanded plaza outside of the New York – New York Hotel and Casino is the fun and delicious Hershey's Chocolate World Las Vegas.
Opened in June of 2014, this candy-lover's delight has 13,000 square feet of retail space covering two stories. While it can certainly get crowded, Hershey's Chocolate World is spacious, clean, and modern, with mouth-watering smells inside, and tall windows offering great views of the Las Vegas Strip outside.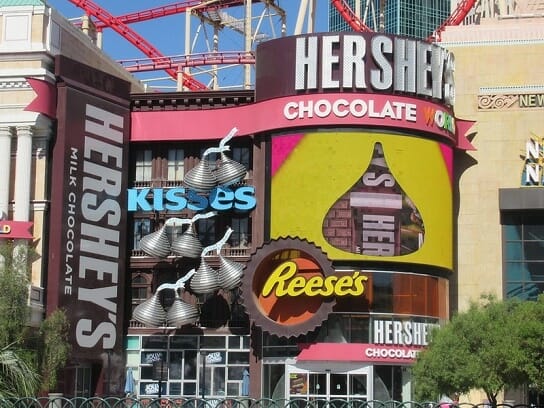 Oh, and it has chocolate too.
You enter the store either from an entrance from the Strip sidewalk, or from inside the New York – New York casino. Guests on the Strip will easily spot the store's enormous 64 foot tall giant Hershey's chocolate bar sign out front.
Visitors entering from the casino will be greeted by an 11 foot tall replica of the Statue of Liberty (made out of chocolate naturally). It weighs 800 pounds, which means it's even more chocolate than I can eat in one setting. (It may take me three days to devour chocolate Lady Liberty).
Often times, you'll be greeted at this entrance by one of the store's mascots: a tall walking Hershey's bar-costumed character, or by an equally large Hershey's kiss. Either way, please be nice to the mascot. Can you imagine how many obnoxious drunks trying to lick them they have to deal with each day?
Hershey's Las Vegas Store
It won't surprise you to learn they sell Hershey's bars inside. But the store is so much more.
For example, there's a large bakery counter that will tempt even the most self-disciplined of dieters.
Behind the bakery glass are shelves full of cookies, fudge, chocolate dripped Rice Krispie treats (on a stick to boot!), chocolate covered strawberries, homemade S'mores (pricey but very big), large cupcakes, cinnamon rolls, and chocolate pastries of all kinds, including a delicious-looking chocolate chip cookie sandwich and York Peppermint Brownie sandwich.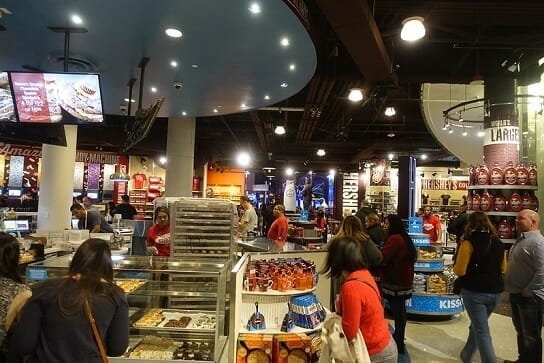 Lower prices can also be found if you're looking to bargain hunt. We opted for the small chocolate-covered pretzels.
In addition to the variety of chocolate bars and offerings, you'll find Hershey's logo-adorned T-shirts, sweatshirts, coffee mugs, Christmas ornaments – even Hershey's kisses jewelry. And what at first appears to be giant bottles of Hershey's chocolate and strawberry syrup (the kind you pour over ice cream or use to make chocolate milk), are actually large piggy banks.
You'll also find an area where you can personalize a Hershey's bar, with your own colors, message and even your own photo if you wish.
The popular wall of Hershey's Kisses is a self-serve dispenser allowing you to purchase Kisses in many different colors and flavors in bulk. There's the regular milk chocolate of course, along with Dark Chocolate, Caramel, Almond, Cookies n' Cream, Candy Cane, Mint Truffle, and Cherry Cordial. If memory serves, all of these kisses go for $10.95 per pound.
Among the unique chocolates are the packages of Mana Loa Hershey's Kisses. These rare chocolates are Hawaiian themed, with macadamia nuts.
In addition to its signature brand, Hershey's sells Whoopers, Almond Joys, along with lessor known chocolate brands, such as Lancaster, Cadbury, and Scharffen Berger as well.
What caught my eye was the huge five pound Hershey's bar, (labeled as "The world's largest Hershey's bar") which goes for fifty dollars (at the time of my visit), and which – once I win the Powerball – I will give out to trick-or-treaters at Halloween.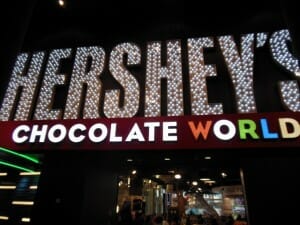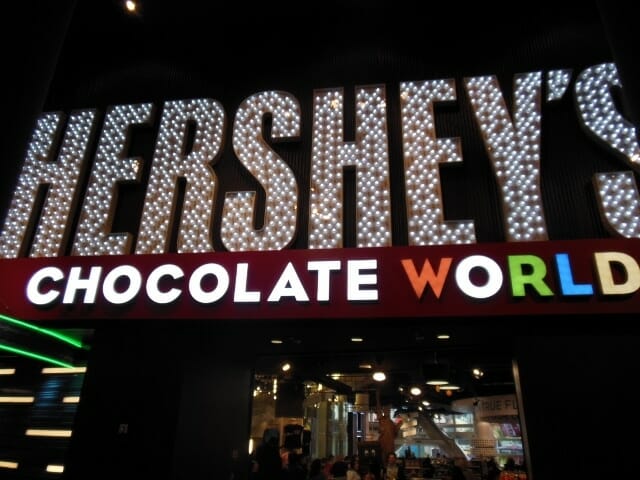 Stairs or an elevator will take you to the second story, where Reese's Peanut Butter dominates. There are Reese's Pieces and Peanut Butter Cup themed candies, souvenirs, clothes, and even flip flops – all in an orange-tinted area under lighting fixtures that look like Reese's Peanut Butter Cups. Speaking of which: they sell a giant package of Reese's signature Peanut Butter Cups that have two half-pound cups.
There's also a S'mores station upstairs, and workers will even melt the marshmallows for you.
Those of you tired of the chocolate can hit up the Jolly Rancher dispensers where you can fill your own bag to your heart's content with up to five different flavors. There are other non-chocolate offerings, such as Twizzlers (even chocolate flavored Twizzlers), and Ice Breaker and Bubble Yum brand candies. Each candy also has and logo-branded products. For example, they sell things like Bubble Yum pillows and Jolly rancher scented candles.
On the second floor is where you'll also see the replica Empire State Building made out of chocolate. No, you cannot eat it.
The Chocolate Bar
Back down on the main level, just near the entrance on the casino side, you'll find the "Chocolate Bar," which is a real bar, bar (the kind that serves alcohol).
There are a variety of chocolate martinis that go for $15, including the Hershey's Kisses Chocolate Signature Martini. It's made with chocolate vodka, three olives, Absolut Vanilla vodka, and White Crème de Cacao.
The Jolly Rancher inspired "Jolly-Tinis" with Skyy Vodka go for $13.
Hershey's Chocolate World Las Vegas Hours
Sunday – Thursday: 9 AM to Midnight
Friday & Saturday: 9 AM to 1 AM
Hershey's Chocolate World Address, Phone Number & Website
3790 S. Las Vegas Blvd.
Las Vegas, NV 89109
(702) 740-6969
Website: Hershey's Chocolate World Las Vegas
Parking at Hershey's Chocolate World Las Vegas is very simple (albeit with a fee), as you would just use the large, easy-to-use NY NY Casino Parking Garage behind the hotel and casino. It is a little bit of a walk from the parking to the store, but you'll need to pre-burn calories anyways, right?
Like its candy competition across the street, M&M's World Las Vegas, Hershey's Chocolate World on the Las Vegas Strip is nice diversion while providing families with another fun thing to do with kids on the Las Vegas Strip.
(Photos courtesy of Alex Liivet, and Jeremy Thompson via Flickr, and from gamboool.com)