Shark Reef Aquarium at Mandalay Bay: Ticket Prices & Hours 2023
Updated January 1st, 2023
The poker tables aren't the only places you'll find sharks on the Las Vegas Strip.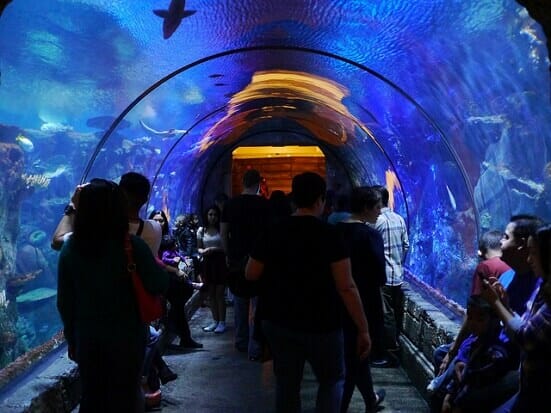 For tucked away in the a corner of a busy casino in the Mojave Desert, lies a fun and informative world-class aquarium, that offers a quiet, peaceful reprieve form the action-packed noise and excitement of the Las Vegas Strip just outside its doors.
Since its opening in the summer of 2000, the Shark Reef at Mandalay Bay has been a hit for both families looking for fun things to do with kids on the Las Vegas Strip, as well as regular gambling visitors just looking for something different than the typical shows, bars, games, and nightclubs of Sin City. In fact, the aquarium receives around 1 million visitors a year.
Undersea Explorer VR Theater
In the summer of 2020, the aquarium added to the experience, with the opening of the Ocean Explorer Virtual Reality Theater, since renamed the Undersea Explorer VR Theater.
This is a 36-seat motion-platform theater with 360 degree 3-D views that takes you under the sea to virtually swim with sharks, humpback whales, and other sea life. The theater is included with the ticket price.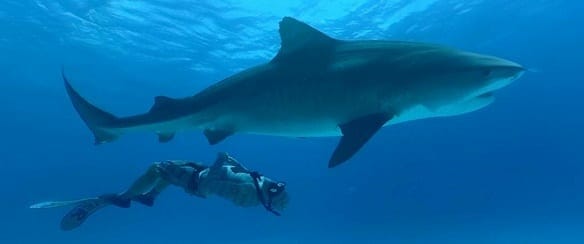 The popular Shark Reef attraction is situated on the far south end of Mandalay Bay, near the convention center. It's a long walk from the casino floor, past the walkway to the events center, and past the Border Grill and the wedding chapel.
Shark Reef at Mandalay Bay Ticket Prices 2023
Prices below include entry into the Undersea Explorer Virtual Realty Theater. Here are prices from the resort itself:
| | |
| --- | --- |
| Adult | $29 |
| Senior (65+) | $27 |
| Child (5 – 12) | $24 |
| Kids Under 5 | Free |
Tickets can be bought online from Mandalay Bay's site here: Shark Reef Aquarium official site.
The website Vegas.com will sometimes have discounted general admission tickets here: Vegas.com Shark Reef Tickets
(I'm a Vegas.com affiliate and may receive a commission from them).
You should also know that the red Tix4Tonight booths found prominently on the Las Vegas Strip do not sell discounted tickets for the Shark Reef.
Starting last year, Shark Reef has begun requiring you to reserve a specific time to enter the attraction. Previously you could purchase a ticket and enter anytime. Now, you must enter the attraction within 1 hour of your reserved time.
Shark Reef Anytime Tickets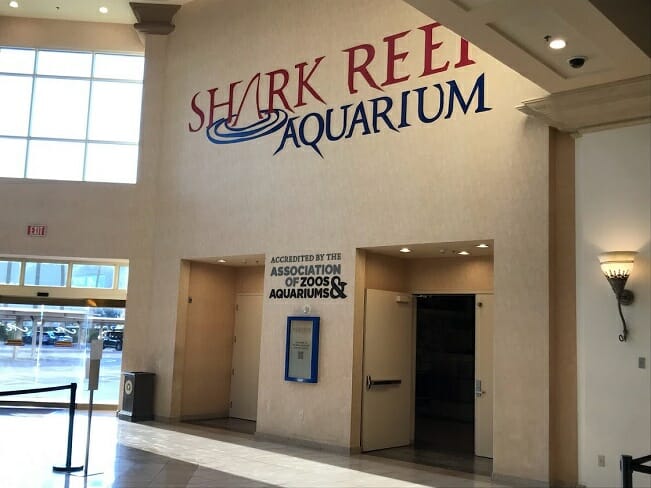 If you don't want to arrive at specific date and time, you can choose to purchase what they call, "Anytime Tickets."
As the name implies, it allows you to show up "anytime" during attraction hours. These tickets cost exactly $7 more per ticket than the prices listed above.
Other Shark Reef Experiences
In addition to the tour, you can extend your stay by paying extra for some smaller, more in-depth experiences with your underwater friends, by actually going underwater with them.
(Here's a video walk-through of the Aquarium)
These include the "Stingray Feed" program. Costing $65 for adults, ($50 for kids), you get special early entry into the aquarium, with a VIP tour.
The "Shark Feed" and/or "Sea Turtle Feed" programs cost $99 per person each, and gets you entry into the Shark Reef Aquarium, along with an "intimate, interactive feeding session" with either animal. (They may not be available as of this update however).
Combo Package Deals
Previously, Mandalay Bay offered combo package deals that includes your entry into Shark Reef, along with a 6 by 9 inch souvenir photo and a gift from the gift shop. This package costs $41 for adults, and $36 for kids 5-12 years of age. However this package appears to have been discontinued as of this update.
Nevada Resident & Military Discounts at Shark Reef
Nevada residents receive a $3 discount, but only when purchasing tickets in person. It appears a military discount is no longer offered.
Self-Tour
Once in, it's a self-guided tour, where you can stroll by the exhibits at your own pace. Inquisitive minds will be entertained by the numerous displays offering up informative tidbits about each of the exhibits – unless you're like me, in which case you'll spend your time making sure your 2 year old doesn't accidentally climb into the piranha tank.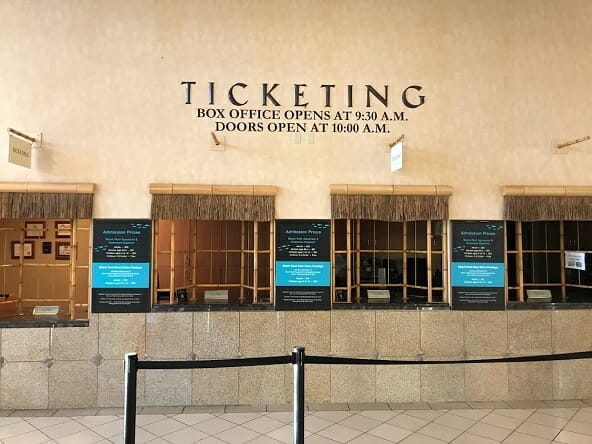 For most guests however, a normal walk through the entire aquarium will take anywhere from 1/2 hour to an hour – depending on how you sit and watch the sharks at the end.
Speaking of which…the sharks are, of course, both the namesake and highlight of this undersea adventure. The aquarium has 15 different species and boasts of having 100 sharks swimming in its giant tanks. In total, the Shark Reef has over 1.6 million gallons of water, not including the bottled Fiji sold in the gift shop.
The self-guided walking tour ends with a stroll through a glass enclosed tunnel, where sharks are swimming both above and below you. It can get crowded, but if you find a spot on the bench, sit there and be mesmerized by these beautiful killers all around you.
The highlight for my 4 year-old was the touching pool, which is sort of like a petting zoo. On this particular day, we got to touch the sting rays.
Other fish and animals at the aquarium (none of whom you can touch), include a golden crocodile, octopuses, jelly fish, sea turtles and a komodo dragon.
While prices for tickets to the Shark Reef may appear to be steep, they're still reasonable for Las Vegas standards. For me, time spent at the Shark Reef is very affordable. It's financially beneficial for me to be away from the tables as much as possible.
Shark Reef at Mandalay Bay Aquarium Hours:
(These are new hours. Before the shutdown, the aquarium was open until 9 PM on weekends. We'll update this if and when there are any changes).
Sunday – Saturday: 10 AM to 7 PM
Please note: the 7 PM closing time above reflects the last admission into the aquarium. They actually close and have you leave an hour (8 PM), after the last admission time.
The box office to purchase tickets opens at 9:30 a.m. every day of the week.
The Shark Reef's phone number is: (702) 632-4555.
Is Parking at Shark Reef at Mandalay Bay Free?
It is for locals. Nevada residents with a state driver's license receive free self-parking.
All others will have to pay the standard Mandalay Bay parking fee, unless you are staying less than an hour, in which case it's free.
The massive Mandalay Bay Convention Center parking garage offers convenient parking fairly close to Shark Reef on the extreme south end of the resort, however this parking garage isn't always open. In that case, you'll have to use the Delano parking garage and make the long walk.
If you're just dropping off folks, there is an easy-to-find drop-off area right outside the Shark Reef doors. And, if you get hungry after your visit to the aquarium, the Mandalay Bay Food Court is just to the right of the entrance.
All-in-all, the Shark Reef at Mandalay Bay is beyond just a way to kill time away from the tables or slots. It's an enjoyable diversion giving you two things you usually won't experience on the Strip: education and quietness.
(Photos courtesy of MGM Resorts, gamboool.com, and kennejima via Flickr.)