Wynn Plaza Shops & Esplanade Mall in Las Vegas
By Steve Beauregard
High, bright ceilings, wide hallways, towering curtains, luxurious shops, red carpeting complimenting beautiful tile in a eye-pleasing decor.
Welcome to shopping at the Wynn Las Vegas.
The spacious luxurious resort is home to three different shopping areas, the Wynn Esplanade, Encore Esplanade, and the new Wynn Plaza.
Wynn Plaza Shopping Directory
Opened in October 2018, Wynn Plaza is a sparkling 70,000 square foot two story retail addition fronting the Las Vegas Strip.
When arriving from the resort side, you're greeted by the quirky, 16 foot-tall "Smiling King Bear" sculpture by an incredibly famous artist whom I've never head of.
Nevertheless the luxurious shopping mall is done in typical Wynn fashion; which is to say it's gorgeous. Here is a directory of shops at the Wynn Plaza. (Wynn & Encore Esplanade shops are located further down).
Balmain  *  Bottega Veneta  *   Breitling  *  Celine  * Chrome Hearts * Cotton Citizen * Diptyque  *  Feature  *  James Perse  *  Kenzo  *  Kiton  *  Kwiat *  Le Labo  *  Loewe * Louis Vuitton Men's  *  Marie France Van Damme  *  Off White * Omega  * October's Very Own * Rimowa  *  RtA  *  Saint Laurent  *  Stefano Ricci *  Stella McCartney  *  Vitra Eyewear  *  Want Apothecary  *  Yosemite by James Perse  *  Zimmermann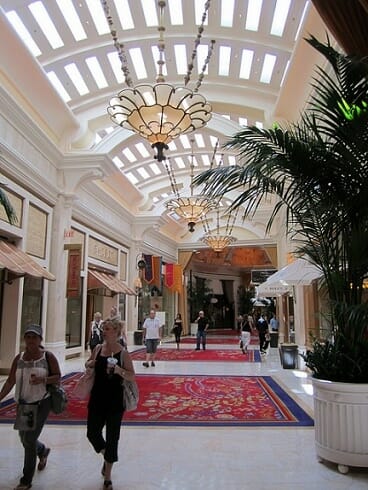 Although not a traditional retailer, Wynn Plaza is also home to a SoulCycle, which is a 3,000 square foot-plus indoor cycling studio with 62 bikes.
Wynn Esplanade Shops
The Wynn Esplanade is the walkway that leads you from the Strip into the Wynn resort, when entering from the property's south Strip corner. Here is a list of stores at the Wynn Esplanade, along with a brief description of some the stores.
Alexander McQueen – McQueen was the famous designer from England, whose reputation has only escalated since his suicide in 2010.
The four time winner of the prestigious "British Designer of Year" launched a company that is now famous for dressing the stars – many of whom wear the McQueen label at big time gala award shows, including the Academy Awards.
Bijan – House of Bijan
Brioni – This upscale Italian men's wear retailer is just one of six Brionis in the United States.
Brioni is the designer of the official suit for James Bond. (Yes he's fictional, but it's still incredibly cool).
Other, more real clientele have included everyone from Clark Gable to John Wayne, to former President George W. Bush. Former mob boss John Gotti's "dapper don" nickname came in part from his love of Brioni suits.
Cartier – The French luxury goods retailer specializes in jewelry and watches.
Chanel – You know the name, and the Wynn website says this retailer, "continues to inspire women of all ages around the world with its timeless modernity."
Chloe – A French apparel and handbag designer.
Chopard – A Swiss retailer offering high-end watches and jewelry.
Dior – Christian Dior's Wynn boutique offers "ready-to-wear pieces and accessories" with "Parisian luxury and elegance on your doorstep."
Givenchy – This 3,100 square foot store represents the French retailers first store in the Unites States. Givenchy is an upscale men & women's clothing retailer that sells luxury accessories as well.
Louis Vuitton – You're undoubtedly familiar with Louis Vuitton's outstanding reputation for quality handbags, watches, jewelry, sunglasses and more.
Moncler – "French designed, Italian crafted" jackets, clothes and fashionable ski wear.
Philipp Plein
Prada – Luxurious shoes, their iconic handbags of course, along with fashions for men and women.
Rolex – It's said this location is home to the world's largest selection of Rolex watches.
Salvatore Ferragamo – The Italian fashion house sells men and women's clothes, along with shoes and handbags.
Tom Ford
Watches of Switzerland
Wynn Collection – This 7,000 square foot store offers apparel for both men and women, along with accessories and cosmetics.
Encore Esplande Shops
The Encore Esplanade, is the equally beautiful hallway connecting the Wynn to the Encore. It's home to uber-hip nightclub XS as well as the very red Le Reve Theater.

Brunello Cucinelli

Chanel – Yes there is also a Chanel store at Wynn Esplande.

Christian Louboutin

Golden Goose – The Italian high fasihon sneaker retailer.

Hermès – The iconic French high-end retailer offers "Classic, yet ever-popular fashion and accessories."

Loro Piana – A luxury Italian clothing company that specializes in wool and cashmere.

Rene Caovilla – Luxury Italian shoes.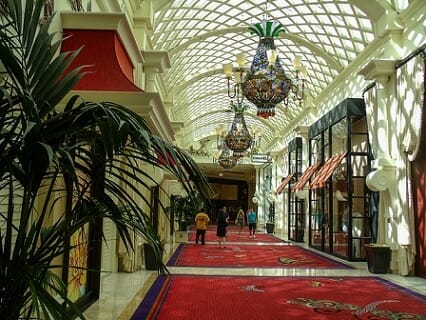 Wynn Plaza Restaurants
Cipriani – The Italian eatery, with 150 seats, and where portraits of supermodels decorate the walls.

Urth Caffé – Coffees, teas and a menu full of organic, vegan and gluten-free dishes.

Wynn Plaza Shopping Hours

Sunday – Thursday: 10 AM to 11 PM

Friday and Saturday: 10 AM to Midnight

Stores Formerly at the Wynn

Here's a list of former retail shops (along with their original write-ups), that have since closed.

* Aquazzura

(Was at the Encore Esplanade)

* Graff – This luxury diamond and jewelry retailer at the Wynn Esplanade specialized in "fine gems and stones."

* IWC Schaffhausen – a Swiss watch maker. (The "IWC" stands for International Watch Company).

* Jaeger-LeCoultre – Based in Switzerland, Jaeger-LeCoultre is another upscale clock and watch manufacturer.

* Piaget – Luxurious Swiss-made designer of both jewelry and watches.

* Rene Caovilla

* Tiny Treasures – The rare (and only) children's toy store. They also offer educational games, children's clothes, and gifts.

* Vertu – This British retailer sells very high-end, elegantly designed and crafted cell phones. Some of their phones are priced for over $300,000.

* Wynn & Company Watches – "Unique timepieces" from a variety of high-end watch designers.

* Wynn LVNV – Luxury home goods and furnishings. The limited apparel items include robes and house slippers designed by Steve Wynn's daughter.

* Wynn Homestore – Located in the Encore Esplanade, this store sells the same high-quality mattresses, and 100% cotton, 507 thread-count bed sheets found in the suites upstairs. The store's inventory also includes home furnishings, and artwork.

* More notably, previously the Wynn/Encore was home to that very rare store: a Ferrari dealership, (the only one in Nevada at the time). Guests were charged $10 to browse the 10,000 square foot showroom. The dealership closed in late 2015.

(Photos courtesy of La Citta Vita, billy kerr, and Barbara Craft via the Wynn Pressroom page).