Taco Bell on the Las Vegas Strip & Fremont Street
While Sin City is known for its fine cuisine, sometimes – especially when your drunk and short on cash – you need to make a run for the border. With fast, tasty food at prices affordable to people who have had a bad run on the slots or craps table, Taco Bell fits the bill perfectly.
The Las Vegas area is home to 44 different Taco Bell restaurants, including a large, unique one right on the Las Vegas Strip. The 44 Vegas-area Taco Bells include ones in the suburban towns of Henderson and Summerlin, as well as one on Nellis Air Force Base.
In Las Vegas itself, including downtown and the Strip, the official Taco Bell store locator map shows 36 different restaurants to choose from.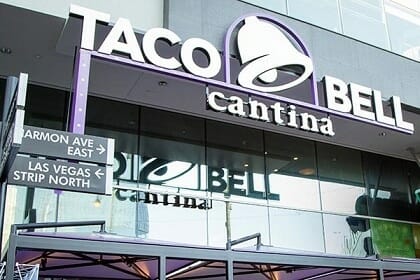 While you won't find Taco Bell in any of the hotel/casino food courts, there is one of the Las Vegas Strip.
Taco Bell Las Vegas Strip
The one Taco Bell on the entire Las Vegas Strip is located in Harmon Corner, the shopping and restaurant plaza next to Planet Hollywood and across from the Cosmopolitan. You'll find it on the ground, or Strip level, in between the Walgreens and the Subway restaurant. It's the only two story Taco Bell in Las Vegas, (or perhaps anywhere else).
Opened in November 2016, this restaurant is actually a Taco Bell Cantina, and is unlike any of the regular Taco Bells you experience back home. Taco Bell announced that this Las Vegas Strip location was "Taco Bell's busiest location."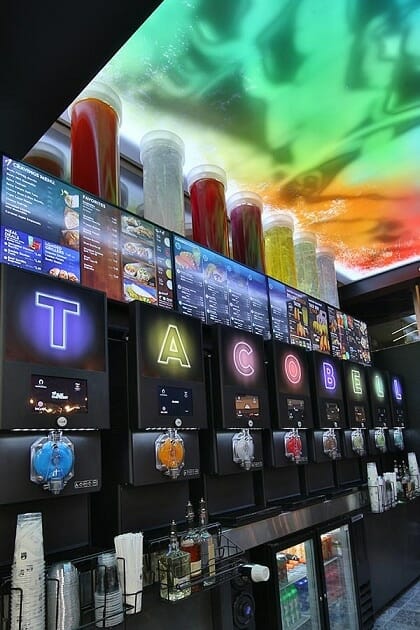 This Las Vegas Strip Taco Bell is just the 17th cantina in the world. The Taco Bell Cantina concept is far different than normal Taco Bells, both in terms of menu items and atmosphere.
For example, you can get married here. (More on that below.). This location also has has two stories, not to mention its own D.J. spinning records!
There's also a retail store located inside the restaurant, with Taco Bell branded shirts, hats, and the like, (just in case you were dying to have a shirt with tacos on it).
The décor is very contemporary, with digital menu boards and 16 video screens showing sports, shows, and music videos.
Taco Bell Las Vegas Strip Hours
Previously this location was open 24 hours. However current hours are as follows:
| | |
| --- | --- |
| 7 Days a Week | 10 AM – 5 AM |
Alcohol at Taco Bell Cantina Las Vegas
For many, the greatest feature of this Taco Bell is that there is alcohol served here.
One of the unique features you'll find here is the Freeze Wall, – an area where you'll get to choose from among 8 different flavors of frozen drinks.
Drinks will come in either a 16 ounce, or 32 ounce cup. You can get these with our without alcohol. Flavor options include: margarita, Cola, Pina Colada, Cherry, Lemonade, Orange, Baja Blast, and Blue Raspberry.
Once you have your flavor, you can choose to add one of five different alcohols to the drink: Rum, Spiced Rum, Vodka, Whiskey, or Tequila. The long "twisted" 32 ounce yard was $14.99 recently. This includes alcohol of course, and to get an extra shot would run you $4.99.
Compared to many other places on the Strip, a 32 ounce frozen drink for $15 bucks is a pretty good bargain.
In addition to the frozen drinks, there is also sangria available, along with several beers on tap, including Dos Equis and Coors Light.
Taco Bell Las Vegas Wedding
Yes, you can actually get married at the Las Vegas Strip Taco Bell!
It may sound like a joke, but actually the wedding package is pretty reasonable, (at least compared to my wedding).
For $600, you get:
A wedding officiant
Access to the wedding chapel upstaris overlooking the Strip for 30 minutes
Up to 25 guests
Taco Bell shirts and swag
A taco party pack.
There's even a special Taco Bell sauce packet bouquet You have to bring in the marriage license, but their website says you just need to give them at least four hours notice before the ceremony.
In their first year offering the wedding package, the company says sixty couples got married at the Las Vegas Strip Taco Bell Cantina.
Las Vegas Strip Taco Bell Menu
Along with the standard menu items you'll find at any Taco Bell in the United States, you'll find here some expanded items on occasion. A current menu can be found on the official store website here: TacoBell.com/Lasvegasblvd
Although this Taco Bell is frequently packed, there is plenty of seating on both levels, with great views of Harmon Corner and the Strip from the second story. There's also seating on the 500 square foot patio out front. The patio has misters in hot weather, and heaters in cooler weather to help keep you comfortable.
Its exact address is:
3717 S. Las Vegas Boulevard, Suite 140-A
Las Vegas, NV. 89109
Phone: (702) 272-2422
Parking
Parking for guest to the Taco Bell Cantina on the Las Vegas Strip can be found at the Planet Hollywood/Miracle Mile parking garage right behind Harmon Corner. There is a fee to park here. It's a little bit of a walk, but almost all indoors and air conditioned.
Alternatively, a slightly closer walk can be found by parking across the street (across Harmon) at a 4-story parking garage called the Harmon Parking Garage. You'd then walk to the Strip a little, and cross over the pedestrian bridge onto Harmon Corner. The last I checked, this garage charged a flat $10 fee.
Taco Bell on Fremont Street in downtown Las Vegas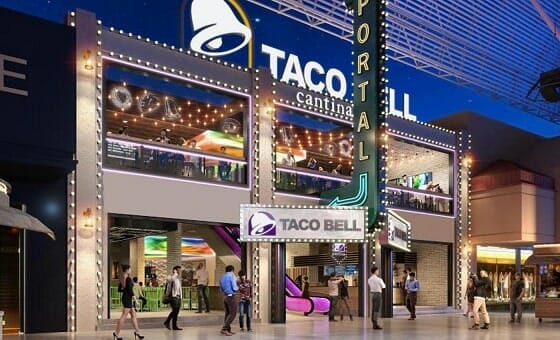 For several years now, a new Taco Bell has been planned for Fremont Street, in a location across from The D Hotel and Casino. (Previously the closest Taco Bell to downtown was one on S. Maryland Parkway – 2 1/2 miles away).
We don't know if plans are permanently scuttled, but drawings and everything were released in anticipation of construction. It was to be located in the space of the historic El Portal theater, taking over a retail spot that sold Indian arts and crafts.
According to a Taco Bell press release, this location will have 6,000 square feet of space, with an open-air design and patio dining. Guests will take an escalator to the entrance on the second floor of the building.
Map of Taco Bells in Las Vegas
Other
There are six Taco Bells in Henderson, Nevada.
(By Steve Beauregard. Photos courtesy of the Taco Bell press room)