The Layne Flack Story – The Poker's Gunslinger's Life of Drugs, Drinks and Dragging Pots
By Steve Beauregard
In a televised poker era in which the little bit of poker you can find on TV is dominated by sunglass-wearing, hoodie-attired emotionless, personality-devoid online twenty-some European online pros, the always colorful and fun Layne Flack stood out, while giving poker fans a reason to stay tuned into any final table of which he was a member.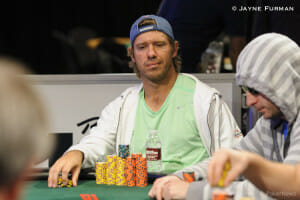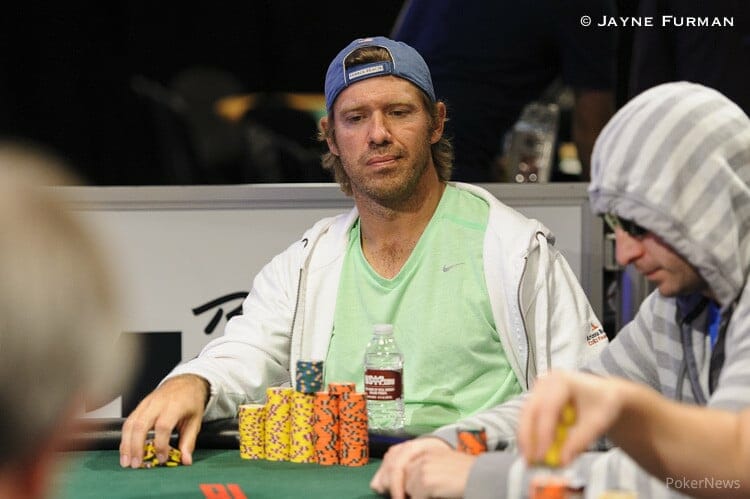 A small town boy from South Dakota, then Montana, Flack was an Old West style gunslinger at the poker table, firing off mountains of chips in a wild, but successful style. While his style was hyper-aggressive, Flack always seemed to maintain a cheerful, likable demeanor at the table. Sometimes he appeared to be the only one at the table who was having fun.
During those times when Flack was able to keep a step ahead of his demons (more on that in a second), he was a friendly, but much feared force on the felt. You know how you often hear online hotshots talk about their bracelet (singular), or promising that "number two" is right around the corner?
Layne Flack had 6 bracelets.
Of course, this being Layne Flack, there's always an interesting story behind it. In this case, one of the bracelets was stolen in a 2007 home invasion, while the other one was, amazingly, lost when he left it at Ted Forrest's house.
Personal Background
Layne was born in Rapid City, South Dakota on May 18th, 1969, but mostly raised in Montana. He wasn't married.
He did have one daughter, Hailey Flack, who was born in 1995, and seemed to be a great inspiration for Layne.
Layne graduated from high school in 1987, and attended college, but quit to pursue poker.
Cards were in his blood early. In the days before online poker, Flack, then 18, played a lot in Billings, Montana, where he managed a very small card room.
He later dealt poker games in Deadwood, South Dakota and in Reno, before making his way back to Montana, where he played and dealt seemingly non-stop in the state's small poker rooms.
According to a story in PokerNews.com, former WSOP champion Huck Seed, (also from Montana) took notice of Flack's playing skills, and encouraged him to jump up to the big leagues in Las Vegas.
Flack moved to Sin City in 1997.
For a small town kid from the Mountain West, Las Vegas can be a city that temps you with all variations of vices, Flack seemed to try them all.
Back in 2004, Phil Hellmuth wrote that Layne, "spots the field by drinking a couple of six packs of beers while he plays," but also noted that he had a healthy respect for "drunk Layne's" game. He must have respect for his game. Hellmuth staked Flack in tournaments in 2008.
For his part, Flack also says his heavy drinking didn't hurt his game. He told PokerNews.com, ""I could literally be next to passing out at the table and still know everything that was going on."
Layne Flack & Drugs
In the nineties and early 2000's drug use in the poker world was pretty common.
Mike Matusow's drug use during that period has been well documented, and unfortunately, Layne Flack followed a similar path to that of the Mouth's.
In a lengthy profile of Flack, Poker Player Magazine stated that Flack began taking ecstasy in 2001, then progressed to crystal meth.
In the book, "Deal Me In," Flack wrote:
"I was enjoying good success at the tables in 2002 and 2003, but the lifestyle I was living was rapidly catching up to me. In 2004, things really started to go downhill. I was living in a one-bedroom apartment with my girlfriend, Paulette. I couldn't pay the rent. I wasn't eating. The drug use had nearly consumed me."
In 2004, his girlfriend Paulette and his brother staged an intervention. On a downswing, and unable to pay for costly rehab costs, Daniel Negreanu stepped up and paid $60,000 to cover the cost of Flack's recovery.
However like most recovering addicts, the road to recovery isn't always smooth.
"I managed to stay off drugs long enough to win my fifth bracelet in 2004, but soon after the dark side of the Vegas lifestyle sucked me back in, and I found myself right back where I started."
While Layne seemed to be free of drugs, the drinks seemed to keep flowing. YouTube is full of videos in which Flack looks to have had one or two or twelve.
In 2009, Flack was pulled over and arrested on suspicion of D.U.I. A horrible night was made even worse by the fact that it happened to occur the night before the NBC Heads-Up Championships. The arrest cost Flack his spot in the tournament.
On July 19th, 2021, Flack died in Las Vegas. The website Gambling911 reported that it was due to a drug overdose.
Despite his personal demons, Flack is remembered as one of the most successful and popular tournament poker professionals of all time. His career tournament winnings are just over $5 million. As mentioned before, he has 6 WSOP bracelets. Only nine other people in the world have more of poker's most prestigious hardware.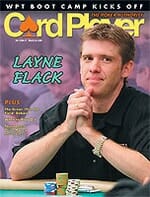 Random Layne Flack Tidbits
He was a sponsored pro for online poker site, FullTiltPoker.com.
He was obsessed with golf, and played a lot at the TPC Summerlin course in Las Vegas. He caught the ire of many poker players when he was seen after a round of golf with Russ Hamilton, who is likely the most hated man in poker, due to numerous cheating allegations in the Ultimate Bet scandal.
He participated in many different charity events.
Besides ESPN's coverage of the WSOP and WPT appearances, Layne's TV gigs include stints on "Poker night in America" and a short-lived TV pilot called "Life in the Fast Layne."
Layne was an ambassador for Crux Cigars and is somehow involved with a Bitcoin type of digital currency called "Breakout Coin."
He loved the Seattle Seahawks, (but don't hold that against him says this die-hard Broncos fan), the Sapphire Strip Club in Las Vegas, and performances by uber-DJ Steve Aoki.
Top photo courtesy of the media photos link from the World Series of Poker press room webpage.