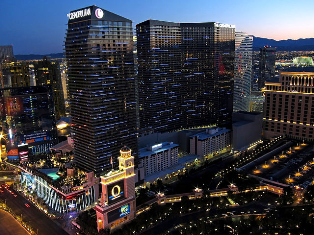 By Steve Beauregard – Although they are about as opposite of casinos as you can get in terms of themes and demographics, the Treasure Island Hotel and Casino and The Cosmopolitan in Las Vegas are fairly close geographically. In fact, it's only one 1.1 miles from the T.I. to the Cosmopolitan. It would take you about twenty minutes to walk it, if you stay on the Strip sidewalk. However you can cut that down a bit by taking a free tram. More on that in a second.
First, the 1.1 mile walking distance is calculated from the bridge leading to the entrance of Treasure Island (right next to Gilley's) where the Sirens of T.I. perform, all the way down the strip to the Cosmopolitan's first entrance, which is on the northeast corner of the resort, just south of the Bellagio.
To start out, just leave the T.I. and go south on sidewalk. You'll pass the Mirage volcano, the Caesars Colosseum, the entrance to the Forum Shops, and finally, Caesars Palace itself, with all of its pretty fountains and gardens in view.
At the southernmost end of Caesars Palace, you'll approach Flamingo Road. To cross Flamingo, you'll follow the pedestrian bridge, taking the escalators or stairs up, which leads you over to the Bellagio. Once inside the Bellagio, you can either take a left an go down the escalator leading you back to the Strip sidewalk, or head right, and stroll through the lovely, shopping area, then air conditioned casino.
For those of you who decide to walk through the Bellagio, you'll eventually end up near the hotel's registration desk (be sure to check out the beautiful conservatory while you're there).
When going outside the front door of the resort, you'll see people in line for taxis, limos, etc. Take a right, and follow the covered pathway which leads you back down to the Strip. You'll end up directly under the enormous "Bellagio" sign, and from there, The Cosmopolitan is just 120 feet away (give or take a few feet).
For those of you who bypassed the inside of the Bellagio for the sidewalk, you'll likely be treated to the magical fountains of Bellagio show. The Cosmopolitan will be visible from your vantage point at the lake, as the resort is just a few feet south of the Bellagio.