WSOP Ladies Tournament History & How They've Managed to Keep Men From Entering
By Steve Beauregard
The WSOP Ladies Tournament is, as you may have guessed, a tournament only for women.
Actually, that's not entirely true. A new rule begun in 2013 stated that men would be allowed to play the tournament, however they would be required to pay a $10,000 entry fee, versus the female entry fee of $1,000.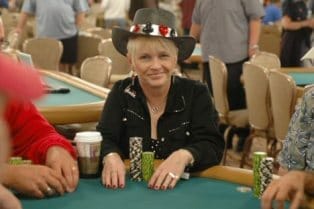 This move was designed to ensure that Caesar's Entertainment – the owner of the Rio and of the WSOP – would be able to hold the ladies tournament while still complying with all gender discrimination laws in the state of Nevada. That's why this $1,000 entry fee tournament is officially called the "$10,000 Ladies No-Limit Hold'em Championship."
Professional poker player Shaun Deeb (a man), played the event in 2010, but was roundly criticized for it. Similarly, in 2011, a man named Jonathan Epstein was booed loudly on every hand when he managed to make the final table of the ladies event. (Fortunately he busted out in 9th).
Because of the new entry fee requirement for men, the 2013 WSOP Women's Tournament, (which featured 954 participants), was the first in awhile in which there weren't any male participants.
WSOP Ladies Championship History
The ladies championship tournament started in 1977, with a buy-in of $100. Ninety-three women played in the first event, with a resulting first place prize of $5,580. I'm pretty sure that this is the lowest first place prize ever awarded to a bracelet winner.
Up to that point, a woman had not won a regular, open event at the WSOP, meaning the winner of that first ladies tourney, Jackie McDaniels, became the first woman to have won a World Series of Poker bracelet.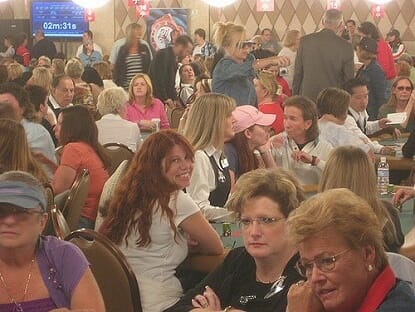 Interestingly enough, the tournament was actually a 7 card Stud tournament, and they played this discipline of poker every year until 2000. From 2001 and on, the tournament has been No-Limit Texas Hold'em.
Since that inaugural 1977 event, the tournament has grown significantly, both in terms of entry fee, entrants, and prize pool. The tournament's biggest year was 2007, when 1,286 players paid their $1,000 entry fee, creating a first place prize of $262,077, which was won by Park City, Utah resident Sally Boyer. Interestingly enough, Boyer had just been playing poker for about a year at the time of her win.
Jennifer Tilly's Win
Most notably, and during the height of the poker boom in 2005, Academy Award winner Jennifer Tilly took down the tournament, which had a then-record 601 entrants. Tilly is the girlfriend of professional poker player Phil Laak.
Jennifer Tilly, who has starred in films such as "Liar, Liar," "The Doors" and the "Chucky" series, and who has had TV appearances in everything from "Cheers" to "Modern Family" has been frequently seen on the poker tournament circuit and in televised cash games, such as "Poker After Dark."
She also used to be married to one of the creators of "The Simpsons," Sam Simon, however they divorced in 1991. Interestingly enough, Sam Simon and Phil Laak have squared off against each other on GSN's high-stakes cash game show, "High Stakes Poker."
Other Winners
Susie Isaacs, who I had the privilege of playing against once in a $1/$2 No-limit game at the Oasis Casino in Mesquite, Nevada, is one just one of two people to have ever won the WSOP ladies' championship in back-to-back years (1996 and 1997).
Isaacs, who has written poker books, Card Player articles, and who has appeared in poker videos, is a Las Vegas based professional originally from Nashville, Tennessee. A very friendly southern gal, she's known for wearing her signature black and gold cowboy hat at the table, and has over $400,000 in career tournament earnings.
Nani Dollison is the only other player to win back-to-back WSOP Ladies Championships, during a great run in the 2000 and 2001 series, when she collected three bracelets. Dollison, a native of South Korea who came to the United States in 1972, also had a deep run in the 2005 WSOP Main Event, where she finished in 115th place, good for $54,965.
Seoul, South Korea's Jiyoung Kim tops a 968-entry field to win the 2019 @WSOP Ladies Event. Kim earns $167,308 and the bracelet in her first-ever WSOP cash. https://t.co/ShSFUm91y7 pic.twitter.com/jm5zKhzSfh

— WSOP (@WSOP) June 24, 2019
Women Who Have Had Deep Runs in The WSOP Ladies Event
So there have been three women to have won the Ladies Event twice, including Susie Isaacs and Nani Dollison.
The only other woman to have won this event twice (although not in consecutive years), is Poker Hall of Fame member Barbara Enright. Enright won this tournament both in 1986, and in 1994.
As a side note, Enright is one of the few women to have won a WSOP open event (meaning a regular event full of both men and women). She's also the only woman to have made it to the final table in the WSOP Main Event. The aforementioned Susie Isaacs made it oh-so-close in 1998, when she finished in 10th place – just one spot away from a seat at the WSOP Main Event's final table.
More recently, a Realtor from Bozeman, Montana had a great two year run in this event.
Jill Pike finished second in this tournament in 2018, which was good for $80,444. Then, the next year, she was able to outlast almost all of the field of 968 players to finish a little shy of the final table for 12th place.
Lastly, American Julie Dang has also made it to two final tables in this tournament, albeit a decade apart.
In 2007, (the biggest field in this event's history), Dang finished in 9th place, for a payday of over fourteen thousand dollars. Ten years later, she finished 4th in the 2017 Ladies No-Limit Hold'em Championship, which was good for just over $40K in winnings.
Other
The late wife of highly respected former WSOP tournament director Jack McClelland, Alma McClelland, won the event in 1989, when the entry fee was $500. Jack McClelland, who started working the World Series of Poker back at Binion's Horseshoe in 1984, was the tournament director at the Bellagio and a legend in Las Vegas poker circles.
With the increasing popularity of poker and the increase of women into the sport, the World Series of Poker's Ladies Tournament is here for the long term. And with a structured buy-in that penalizes any slimeball guys who want to play, it looks to remain truly a ladies-only event for years to come.
(Photos courtesy of Wikipedia and fhwrdh via Flickr.)