Best Craps in Las Vegas – A Look at the Casinos Offering Cheap Minimums, Lessons & the Best Odds & Rules on Fremont Street & the Strip
The best gambling city in the world also has some of the best craps games. For beginners, there are free lessons, and plenty of tables (even if the minimums have shot up lately).
In fact, between the Las Vegas Strip and downtown, as of January 1st, 2022, there were 46 casinos with a total of over 200 craps tables in Las Vegas, per the Nevada Gaming Control Board.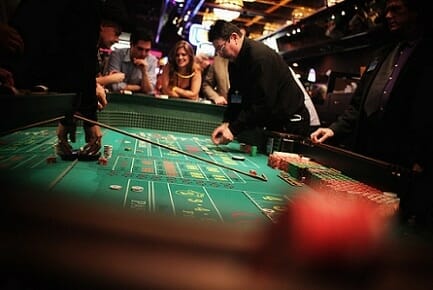 For the more advanced player, shooting dice in Sin City not only offers you some of the highest odds you'll find, but an array of tempting side bets that you shouldn't take advantage of, but probably will. Here are the best craps games on the Las Vegas Strip, on Fremont Street downtown, and even a couple of suggestions off the Strip.
Best Craps on the Las Vegas Strip
The best craps in Las Vegas is the casino you win at, right?
But if you're looking for the best Las Vegas craps game (in terms of low minimums and best odds at a tourist-area casino), it may be now at the Strat Hotel & Casino on the northern end of the Las Vegas Strip.
While there are other casinos with lower minimums (the Strat apparently never goes lower than $15), they seem to be the only Strip-area casino with 10x odds.
Please know that this can change. In fact, table conditions are changing so fast in this regard, it's hard to catch up. Between forum postings, casino website searches, my own personal experience, and a helpful Reddit poster named necrochaos, we can say the five dollar games are pretty much gone.
Just a few years ago, Casino Royal had the best craps game on the Strip, if not in all of Sin City. With $5 minimums and 100x odds, it was the king of Las Vegas craps.
Now they don't even have live craps.
The Cromwell Hotel & Casino overtook Casino Royale, and became the only Strip casino to have 100x odds on craps. But that's a thing of the past, as they have gone back to 3x/4x/5x odds. Oh, and on busy weekend nights, table minimums are often $50.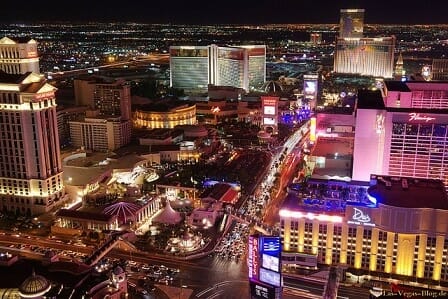 $5 Craps Games in Las Vegas
As for other Strip properties? The $5 craps tables are pretty much a thing of the past. Heck, even $10 games are becoming extinct.
In fact, the only $5 craps game you will find on the Las Vegas Strip is at the OYO, which is steps east of the Strip, right across from the MGM Grand. The OYO still had $5 craps during weekdays very recently.
I personally checked out the Luxor (one of the last $5 holdouts), during a slow early January weekday, and only found $10 tables.
Other than that, all Strip casinos have (at the lowest) $10 minimum tables during the day, and bump that to $15, or even $25 during the evening. Recently at the Aria, there weren't any craps tables below $25 (day or night). Places like the Wynn, Caesars, and even Mandalay Bay have been posting $50 minimums on weekend nights (sigh).
Keep in mind, if you happen to be playing on a $10 table, and the minimum is raised while you're playing, you are typically grandfathered in and allowed to keep playing at the $10 level until you leave.
As for other Strip casinos, I've heard first hand that minimums at the Flamingo and Linq are $15 with it going to $25 at most nights and weekends.
As for lessons, you'll be able to find free craps lessons at many of the major casinos on the Strip. Places like the Linq, Flamingo, Luxor, New-York New York, and Palazzo all offer free craps lessons.
(Go here for a beginner's guide on how to play craps)
$5 Craps Games Off the Strip
Ellis Island (just behind Bally's) offers $5 craps games, as does the popular South Point, and locals casinos such as the Cannery. Again, this is during the weekday. Those can and will be bumped on busier nights and weekends.
Other locals and Stations casinos (Red Rock Resort, Palace Station, the Orleans, Green Valley Ranch, etc.) seem to only spread $10 minimum craps games.
Casino Royale for Craps?
The unheralded, sometimes forgotten Casino Royale used to be casino craps leader of the Las Vegas Strip, with limits as low as $3 and 100x odds. Unfortunately however, the casino got rid of all table games in the summer of 2020.
Best Craps on the Las Vegas Strip for Low Rollers?
Besides the weekday $5 game at OYO, the next lowest-minimum craps casinos on the Las Vegas Strip offering $10 games include:
Excalibur
Linq (and its attached sister casino O'Sheas)
Sahara
Stratosphere
Tropicana
Planet Hollywood may also be in the $10 weekday craps club as well.
Please note: these are weekday morning minimums. In many cases, the $10 game will be gone at night and on weekends. Also, I cannot say it enough: conditions are constantly changing, so we make no promises.
Also, some of this information (I was unaware of Sahara's $10 games for example), comes from the excellent website VegasAdvantage.com
Highest Minimum Craps Table in Las Vegas
From what I've seen personally, (and heard from others), is that on weekend nights, you may find only $100 craps tables at the Cosmo.
Best Craps on Fremont Street Downtown
As you might imagine, most of the low limit craps tables in Las Vegas will be found at casinos in downtown Las Vegas – either right on Fremont Street, or just off of it.
The Downtown Grand Hotel & Casino just off Fremont Street seems to have the best craps in downtown Las Vegas. Recent reports had them still spreading a $5 minimum game (daytime only) with 10x odds.
Main Street Station, a block north of the Plaza, is where you'll find the best odds downtown: 20x.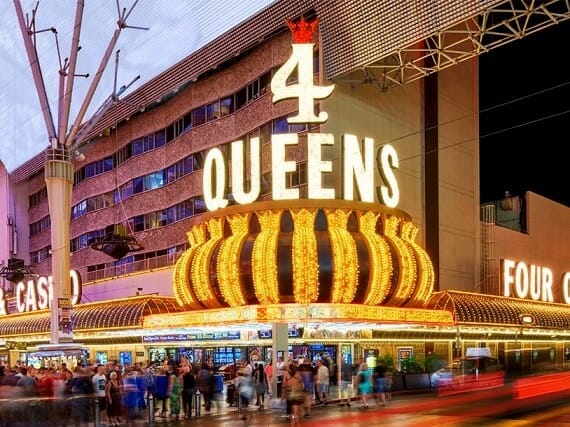 Nearly all of the downtown area casinos have $10 minimums during the day, with that being bumped up to $15 at night.
The minimums at the El Cortez are up from the 25 cent games they offered as recently as the mid-2000s, as now they are $10. However this Las Vegas stalwart still has 10x odds.
The The D Las Vegas Hotel and Casino is a fun, rollicking joint that has helped make Fremont Street fun again is on the higher end now, with $15 minimum tables (even during the day). It can be up to $25 on weekend nights. The D offers 10x odds. They also have free lessons at noon.
The D's sister property down the street, Golden Gate, has a $10 day game however, which bumps to $15 at night. Like at the D, you can have 10x odds.
Other Fremont Street casinos, such as the Plaza, Golden Nugget, and Fremont Hotel and Casino, have $10 minimums.
Of course, the world famous craps joint, the Cal downtown, is a must stop for any craps player wanting to have some of that famous golden arm's luck rub off on you. It too only has $10 games, however I played in a $5 game there as recently as the summer of 2021. Probably the last time.
The newest hotel on Fremont Street, Circa, has $15 minimums during the day, and $25 at night. Circa Las Vegas only offers 3/4/5 x odds.
Lowest Minimum Craps Game in Las Vegas
And here we mean the lowest live table craps game. At nearly every casino, you'll be able to find the "Shoot To Win" electronic bubble craps game, with minimums as low as $1.
As for the lowest live craps limits? The Club Fortune Casino on the Boulder Highway in Henderson, 17 miles southeast of the Strip, has $3 craps. Their website actually says, "$3 -$5 craps." The tables do not open until 4 PM on weekdays, and 3 PM on weekends.
Also in Henderson, the Jokers Wild Casino is another locals place that used to (and may again) have probably the lowest craps minimums in the world.
When open, they recently spread a $1 minimum craps table (on weekdays). It got twice as expensive, Friday – Sundays ($2 tables:). They also offered 10x odds. Tables are currently closed however, as of this February 2022 update.
Craps in Las Vegas Hold
We've all heard or read about how craps is one of the best games for the player, due to its low house edge when playing optimally, (odds behind your bets, avoiding the prop bets, etc.). The house edge on pass line bets alone is just 1.41%.
Interestingly enough (at least to me), the casino win percentage on craps games in the state of Nevada, is 15.37% (per latest figures from the Nevada Gaming Control Board).
Why? Because people like me, with my hard-way bets, are playing less than optimally. Oh well, at least we're getting some good entertainment and stories out of that 15.73% house edge.
((Photos courtesy of Evan Blaser, Visit Las Vegas, and Las Vegas Blog via Flickr.).