Casinos in Colorado Springs
It's home to Pike's Peak, the US Olympic Training Center, the Pro Rodeo Hall of Fame and the United States Air Force Academy. What it's not home to, is a casino.
I'm talking about Colorado Springs, of course, and while there aren't any casinos in town, there is a small mountain gambling town, full of charm and casinos, just a fairly short drive away.
It's called Cripple Creek, and it's a fun little town with wide streets, old west buildings, and a lot of mining history. There are nine casinos in Cripple Creek.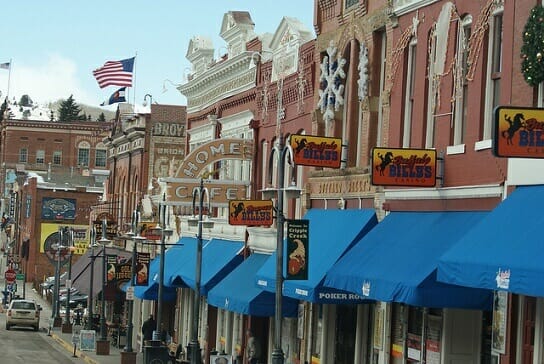 Roughly 10,000 people visit Cripple Creek each day. (Not the same 10,000 people, I mean they get 10,000 visitors a day). From Colorado Springs, Cripple Creek is just an hour's drive up the mountain towards Pike's Peak. There are casino shuttles that take passengers (for a fee) up the hill from various spots in Colorado Springs.
The only other area with casinos near Colorado Springs is the Central City/Blackhawk area. It's the largest casino area in Colorado, attracting thousands of gamblers from nearby Denver. The distance to Blackhawk from Colorado Springs is 107 miles, or roughly an hour and 50 minute drive.
Games offered are all the usual slot machines, video poker games, as well as table games such as blackjack, craps, roulette, Texas hold'em, and now sportsbooks.
(Go here for distance and directions from Colorado Springs to Cripple Creek).
There are no Indian casinos near Colorado Springs either. In fact, other than in the extreme south west corner of the state, near the four corners area, Colorado does not have Indian casinos.
Colorado Springs Horse Racing Tracks
There is not a horse racing track in Colorado Springs. The nearest one is an hour's drive up the road, in Denver, at a facility called Arapahoe Park. It's technically in an eastern Denver suburb called Aurora.
(Go here to read about casinos in Denver.)
But while Colorado Springs doesn't have live horse racing betting opportunities, it does have three OTB (Off Track Betting) parlors in the area.
Post Time is the oldest one, in the northeast part of town at 3570 N. Academy Boulevard in Colorado Springs. Please note that due to a quirk in the city's liquor licensing laws, this facility does not serve alcohol.
The owners of Post Time have another facility just down the road, called Post Time at Rawkus, however this betting parlor only opens for special events, such as parties, and the Kentucky Derby.
Lastly, there is a OTB parlor just inside a bar called the Country Bar in the small town of Fountain, Colorado, which is about a 15 minute drive south of Colorado Springs. This location at 606 S. Santa Fe Avenue, is also owned by the Post Time group, and does serve booze at this location.
As for the puppies? There are no greyhound race tracks in Denver either, as the state has outlawed live greyhound racing.
Colorado Springs Bingo Parlors
I'm not a big bingo player, and cannot vogue for the games in town, but the two main Colorado Springs bingo halls are as follows:
Bingo World – 272 S. Academy Boulevard, on the eastern side of downtown. Operates games seven days a week, with the first game at 12:30 p.m.
Carefree Bingo – 3440 N. Carefree Circle, in the northeast part of town. Claims to give away more money than any other bingo hall in Colorado Springs.
If you really want to get your gambling fix, but are too lazy to drive to Cripple Creek, to an OTB betting parlor, or bingo hall, you can always drop into the nearest convenience store and pick up a Colorado Lottery scratch off ticket. Most stores also sell the three different lotteries offered in the state: the Colorado Lotto, Mega Millions, and Powerball.
(By Steve Beauregard. Photo courtesy of Bradley Gordon via Flickr).