Massachusetts Casinos – Best Places to Gamble in MA
There are three casinos in Massachusetts.
Although the Bay State was a latecomer to the gaming industry (it was the 40th state to allow casinos), it's now home to a thriving casino market.
In fact, the Commonwealth's three casinos bring in roughly $80 million dollars in gambling revenue each month.
Massachusetts' three casinos include one in the western part of the state, one south near the Rhode Island border, and one right in Boston.
Two of them, Encore Boston Harbor and MGM Springfield, are full scale casinos, complete with both slot machines and table games, while the third, Plainridge Park is a slot parlor (although they do have electronic table games).
List of Top Gambling Venues in Massachusetts
Related reading: Massachusetts online casinos
Massachusetts Casino Map
(The Encore is marked by the red star. MGM Springfield is black, while Plainridge Park is marked by the brown star.)
Here's a look at the state's three casinos.
Encore Boston Harbor
Encore Boston Harbor isn't like one of those fancy, luxurious Las Vegas casinos.
It's better.
Other than Las Vegas having more of a party vibe, and a more comfortable environment for low rollers, this new casino from Wynn Resorts seems to make the long expensive flight to Las Vegas less worth the hassle.
Opened in June of 2019, Encore Boston Harbor is the newest casino in Massachusetts. It's also the state's largest. In fact, with over 210,000 square feet of casino floor space, Encore Boston is one of the biggest casinos in the United States.
As you might imagine, it's far and away the Commonwealth's busiest casino. Just over 60% of all money gambled in the state takes place here, per casino revenue figures from the Massachusetts Gaming Commission.
Encore Boston Harbor Casino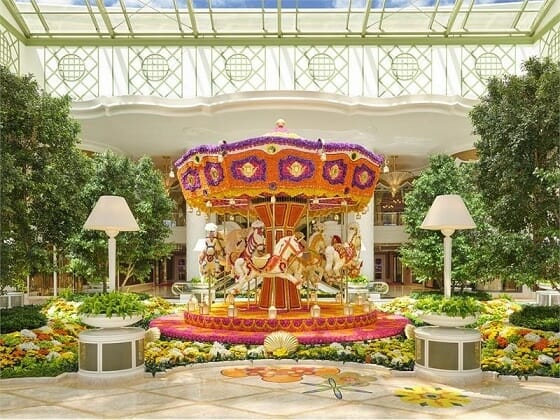 This beautiful hotel/casino resort fronts a six acre waterfront park along the Mystic River in Everett, just four miles north of downtown Boston.
Built at a cost of $2.6 billion dollars, the contemporary spacious décor includes chandeliers, 40 foot ceilings, an atrium with a carousel, curved escalators, an abundance of light, and floral arrangements – along with all of the whimsical, elegant touches Wynn Resorts is known for.
Slots and Table Games
The two levels of smoke-free gaming boasts over 2,700 different slot machines and video poker machines.
They include reel machines and video machines, progressives and more. Limits run the gamut, but start at penny machines.
The resort's 185 table games (not including poker), aren't exactly for low rollers. While there are all the casino favorites, blackjack, craps, roulette, 3-card Poker, baccarat, etc., table minimums usually start at $25.

I say "usually" because recently you could find some $15 blackjack tables during the day. I've also heard of minimums being jumped up to $50 on busy nights.
The tables have phone chargers at them, and as with playing slots, there is free drink service.
Poker
On the poker side, the gorgeous 74 table poker room is located upstairs. Limits start at $1/3 No-Limit Hold'em and $4/8 for limit.
You'll also find Omaha, Stud and Mix games here, as well as a high-hand promotions and a variety of tournaments.
There's free drink service, table-side food service (at a charge), 75 TVs, free Wifi, and one of the prettiest poker room experiences you'll find.
Encore Boston Harbor Hotel & Resort
The distinctive, curved bronze hotel tower is home to 671 hotel rooms, a 19,000 square foot spa, salon, fitness center (with sweeping views of the harbor below), and 50,000 square feet of meeting and convention space.
In addition to specialty retail shops, there are four bars, and twelve restaurants, ranging from a buffet, to an upscale steakhouse, to a Dunkin Donuts.
The resort offers a variety of free (and some paid) shuttles from around the area to the resort, including a yacht service. The Encore Boston Harbor parking garage has room for 2,900 vehicles, and self-parking is free.
Encore Boston Harbor Address, Phone & Website
1 Broadway
Everett, MA 02149
Phone: (857) 770-7000
Website: EncoreBostonHarbor.com
MGM Springfield Casino
The state's only other full-service casino, MGM Springfield, opened in August of 2018.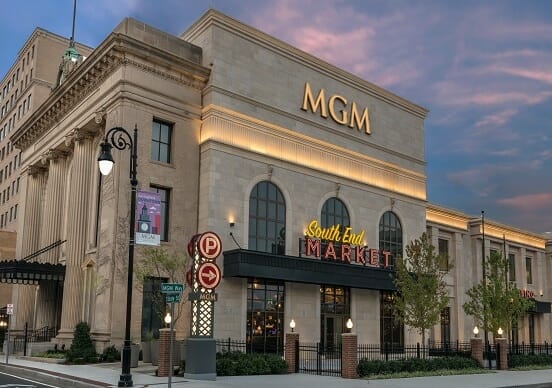 Built at a cost of $960 million, the casino/hotel/entertainment complex is an urban revitalization project that occupies a three block area right in the heart of downtown Springfield.
It's the casino of seconds: 2nd busiest, 2nd largest, and 2nd to open in the state.
And while it hasn't lived up to revenue projections, but is still busy enough, with $20 million in gaming revenue per month.
Casino
The 125,000 square foot casino floor is home to 2,500 slot machines and 93 table games.
Table games limits have been $15 in the past, however that may have changed as casino executives hope to increase revenues.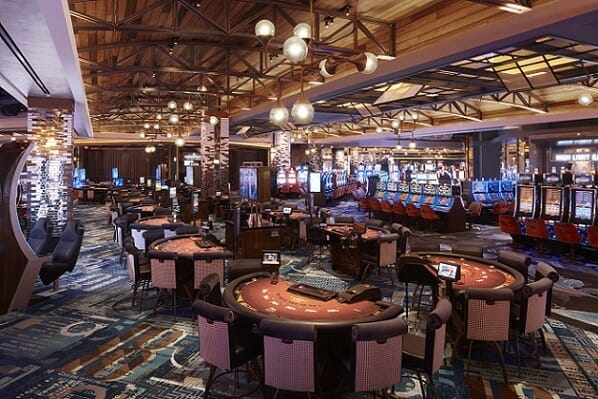 The 23 table poker room spreads the usual games and offers high-hand bonuses while hosting tournaments every day of the week.
Hotel & Restaurants
MGM Springfield also has a 240 room and eight restaurants. These range from an upscale Italian restaurant to a sports bar, to a Wahlburgers.
The resort's Plaza, is the pretty, open-air dining and entertainment area, with free concerts. There's also bowling and a Regal 7 screen movie theater.
There is free parking at MGM Springfield, in their attached 8-story parking garage with room for 3,400 vehicles.
MGM Springfield Address, Phone & Website
One MGM Way
Springfield, MA. 01103
Phone: (413) 273-5000
Website: MGMSpringfield.com
Plainridge Park Casino
Although they have had horse racing and betting since 1999, the Plainridge Park Casino became the first casino in Massachusetts when it opened on June 24, 2015.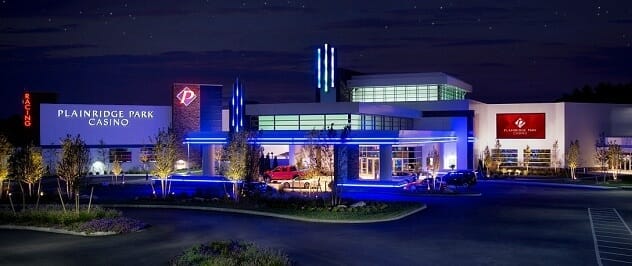 Located off of I-495 in Plainview, MA, a few miles south of Foxborough, the casino is home to 1,200 slot machines, video poker machines, and electronic table games.
Slots go from penny machines to $100 pull games, and include all the favorites, like Double Diamond, Buffalo Grand, Lightening Link with progressives, etc.
You won't find a live table games here, nor is there a poker room. You can, however play electronic versions of blackjack, craps and roulette.
Dining options here include Flutie's Sports Pub, (after the Boston College quarterback hero), the Oyster House & Grill, and a food court.
There's also a lounge, and the Loft, which hosts comedians, magicians, and other entertainment. There is not a hotel here.
Plainridge Park is home to the state's only horse race track, and offers live racing from April until November.
Of course, you can also bet on horses and dogs at other tracks from around the country. Simulcast wagering is available every day except Tuesdays.
More on Plainridge Park
Located just ten minutes south of Foxborough, Plainridge Park immediately siphoned off a lot of Boston-area gamblers headed to the larger Bally's Twin River Casino, 18 miles away in Lincoln, Rhode Island.
Of course, turnabout is fair play as now the Encore Boston Harbor is siphoning off area gamblers who no longer have to drive an hour to Plainridge to get their gambling fix.
You have to be 21 or older to gamble here.
Massachusetts Casino Tidbits
For residents in the southeast part of Massachusetts, the closest casino isn't any of the state's three casinos. Instead, it's Bally's Casino & Hotel in Tiverton, Rhode Island. The 33,600 square foot casino is just 750 feet of the state line, south of Fall River. It's the closest casino option for residents of cities like New Bedford, and Fall River of course.
While millions of people visit the three casinos in Massachusetts each year, casinos aren't even the most popular form of gambling in the state. The $80 million in monthly casino gaming revenue comes out to just under $1 billion a year. That sounds impressive until you realize the Massachusetts Lottery has revenues of $5 billion a year.
(Related Massachusetts Lottery Second Chance drawings)
For most major casino in the United States, including those in Las Vegas, slot machines are the primary source of gaming revenue, far outpacing revenue from table games, poker rooms, bingo and sports books. However at the Encore Boston, gaming revenue is nearly an even split between slot machines and table games.
(By Steve Beauregard. Photos courtesy of Wynn Resorts, MGM Springfield, and Plainridge Park Casino)