Deuce Las Vegas Strip 2023 Bus Pass Prices
It's quick, convenient, affordable, and found everywhere along the Las Vegas Strip. I'm talking about the Las Vegas Strip bus system, or more commonly known as the "Deuce."
The Deuce is the popular and low-cost Las Vegas bus system that is excellent in taking folks up and down the length of Las Vegas Boulevard.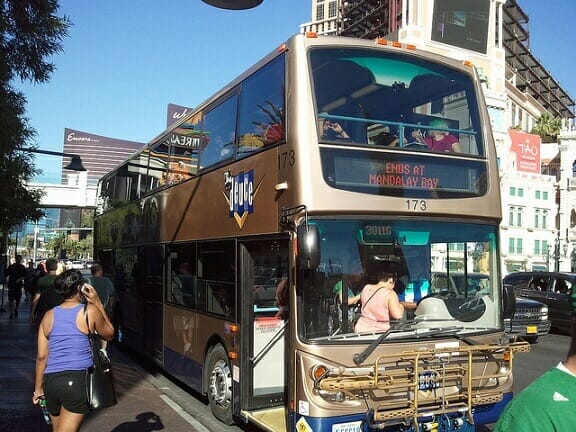 Actually the Deuce goes beyond just the Strip, since most people consider the Strip to start at the Sahara/Stratosphere area and end at Mandalay Bay.
Either way, it's usually just a short walk to a Deuce bus stop from nearly every casino on the Strip. And because buses arrive every 15 minutes or so, you'll never have to wait too long for one.
(Go here for a list and map of the Deuce bus stops.)
The main advantage of the Deuce of course, is the fact you'll save a ton of money when taking the bus, rather than a taxi, Uber or Lyft. However if you're wanting to get to a different casino, and you're with a party of say, three or more people, you're better off getting a taxi/Uber/Lyft.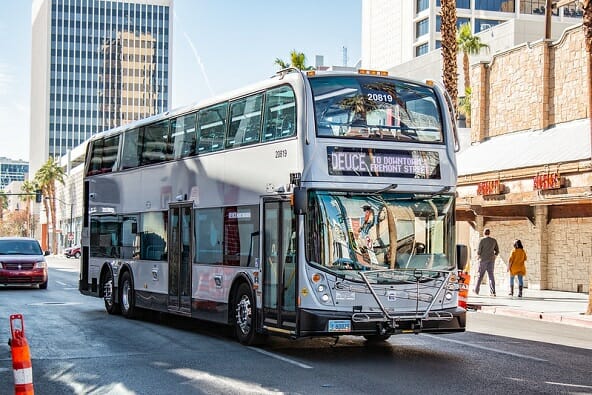 For the most part a ride on the Deuce is comfortable and safe. I've rode it while it was full, on a 110 degree July day, but didn't find unreasonable.
If you are going to be on the bus for awhile, traveling from one end of the Strip to another, you may want to head upstairs for a better view. (The Deuce buses are double-deckers). It's usually less crowded up there, and the views of both the Strip and the people walking it provide some entertainment during the ride.
Las Vegas Deuce Bus Prices 2023
There are no longer single ride tickets offered, so to ride the Deuce, you'll be purchasing tickets that give you unlimited access in increments of 2 hours, 24 hours, or 3 days.
Kids five years of age and under can ride the Deuce for free, so long as they are accompanied by a paying adult.
The prices below are for unlimited rides during the designated time frame. But please note that if you purchase a 2 hour pass at say 1 PM, you will not be able to get on a bus after 3 PM with that same pass.
| | |
| --- | --- |
| 2 Hour Pass | $6 |
| 24 Hour Pass | $8 |
| 3 Day Pass | $20 |
Where to Buy Las Vegas Deuce Bus Tickets
Tickets can be purchased at vending machines found at (I believe) every Deuce stop. At least, every Deuce stop I've been at has had a ticket vending machine. Some (not all), take cash, but that ones that do will only accept exact change. Every machine takes credit and debit cards. Currently no machine takes $5 chips from Circus Circus that you forgot to cash in.
You can also purchase tickets from your phone (and get updated bus wait times), by downloading the official rideRTC app from the Apple App Store or Google Play.
You can order your bus passes online, and download them from home via the free app. Here is the site for ordering tickets for the Deuce: www.rtcsnv.com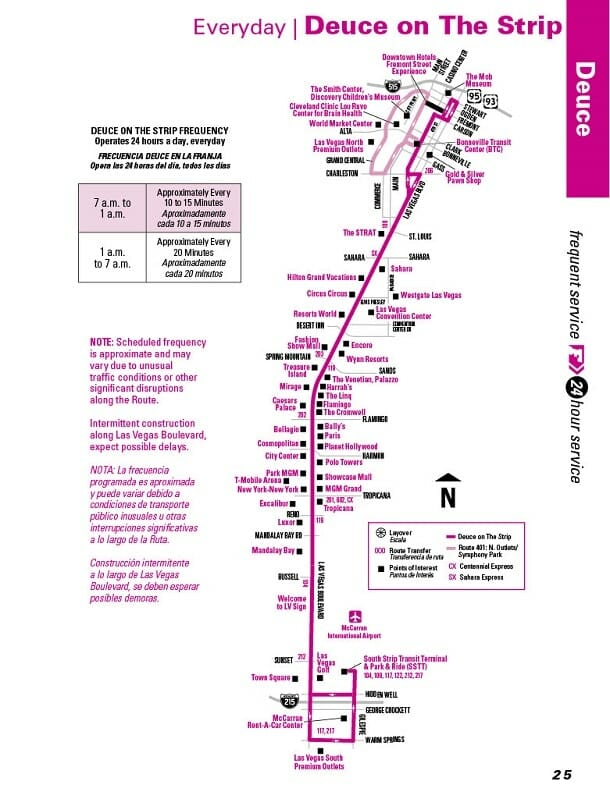 This gives you access to all the major casinos and tourist attractions. Whether you're wanting to visit the Town Square mall south of Mandalay Bay, the Bellagio fountains, or the Fremont Street Experience Light Show to the north in old downtown Las Vegas, the Deuce pass will cover all your transportation needs.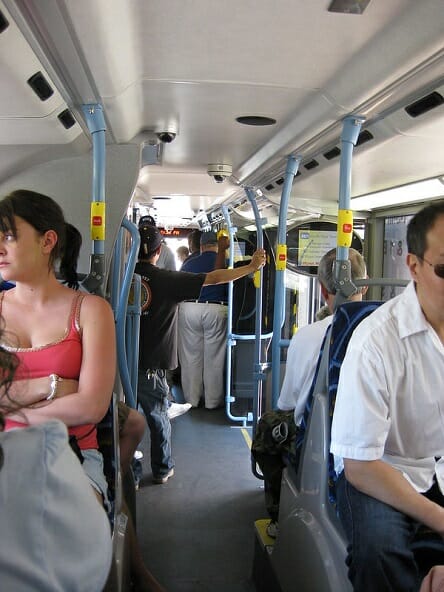 On top of that, all three pass options shown above allow you to ride the residential buses into other areas of Las Vegas should you wish. In other words, it's an "all access" bus pass.
Las Vegas Deuce Bus Hours
You can catch the Deuce 24 hours a day, every day of the week.
During the prime hours, (defined as 7 AM to 1 AM), buses depart from each stop approximately every 15 minutes.
In the slower hours, (1 AM to 7 AM), the Deuce arrives every twenty minutes.
Deuce Bus Las Vegas FAQ
(By Steve Beauregard. Photo courtesy of Justin N, Eric Fredericks, and Han Zheng via Flickr.)