Distance from Las Vegas to Moab, UT & Arches National Park
It has beautiful red rock formations, a surreal landscape used as the backdrop for numerous movies, beautiful canyons, countless biking and hiking trails, and over 2,000 natural arches. However the Moab area, including nearby Arches National Park and Canyonlands National Park is not a close drive from Las Vegas.
In fact, the distance from Las Vegas to Moab, Utah is 461 miles (742 kilometers).
It would take you about 6 and ½ hours to drive it, even though all but 32 miles of the road trip is easy interstate driving.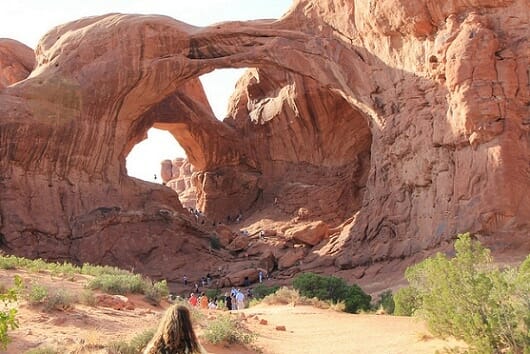 The long drive has you traversing east across the entire state of Utah.
Although very pretty in spots, (some have called the eastern Utah part of I-70 the most scenic freeway in the United States), there are hours of driving spent looking at nothing but sagebrush. However if you're up to it, you're in for a treat, as the Moab area is surrounded by vistas and landscapes you probably won't find back home.
At 457 miles away, Arches National Park is only a few miles slightly closer to Las Vegas, while Canyonlands is a little longer drive, but more on that below.
Distance, Directions and Driving Time From Las Vegas to Moab
Situated on the far eastern edge of the state, the drive from Las Vegas to Moab has you cutting across the entire southern and central parts of the state of Utah.
Fortunately the drive is easy, as 93% of the miles driven are on interstates (Interstate 15 and Interstate 70).
As mentioned above, it's 461 miles from the center of the Las Vegas Strip to downtown Moab. Google maps estimates it would take 6 and ½ hours, or 6 hours and 6 minutes without traffic.
In reality, the only traffic you'll encounter is in Las Vegas, and perhaps in the Virgin Gorge canyon area in between Mesquite, Nevada and St. George, Utah.
(The map below shows you to fastest route from Las Vegas "A" to Moab "B")
Directions from Las Vegas to Moab
You'll simply want to head out of Las Vegas going east on Interstate 15. You'll stay on I-15 for 247 miles, as it takes you out of the state of Nevada, into Arizona for a small stretch, then up into Utah.
You'll pass the towns of St. George, Utah, Cedar City, and Beaver before signs point you to merge to Interstate 70 east.
Once on I-70, you'll dive east for 181 miles with not much in terms of cities. You'll go over two passes, and pass by the towns of Richfield, Salina, and Green River for 181 miles, before signage will point you to go south on US Highway 191. This is the only non-interstate portion of the drive, and it's just 31 and ½ more miles on this highway to get to downtown Moab.
Overall, this long road from Vegas to Moab is mostly wide open, and (having personally driven in close to 50 times), typically not very busy. Another nice thing is that the speed limit is 80 miles per hour in many spots.
The only caveat I'd add is that the estimated 6 ½ hour estimated driving time is completely thrown out the window if there are snowstorms. The drive from Las Vegas to Moab has you traversing over two passes, one at 7,000 feet in elevation and the other, in Fishlake National Forrest, at just under 8,000 feet above sea level (7,980 to be exact).
I've personally gotten stuck in one of these whiteout snowstorms (near Salina, Utah) that rivaled anything you'd see at the top of 10,000 foot Vail Pass. And in fact, snowstorms along this stretch can occur any time between early October and May, although the peak times are between November and April, so you may want to check conditions before heading out.
Another warning: the drive from Salina, Utah to Green River, Utah is 110 miles. Wikipedia claims this stretch of road marks the longest stretch of interstate in the United States without any services. And trust me when I say there are no signs of civilization between the two points. No gas stations, no McDonalds, no services or indoor plumbing. There are, however seven Starbucks. (Just kidding).
My point is to make sure you have plenty of gas before heading east of Salina, Utah as there is nothing until you get to the town of Green River.
Distance from Las Vegas to Arches National Park
It's 458 miles (737 kilometers), from Las Vegas to Arches National Park Visitors Center. You'll take the same exact route as mentioned above, only you'll turn into Arches before getting into Moab, which is another 5.5 miles away.
(This shows you the town of Moab "A", along with the entrance to Arches "B" and Canyonlands "C.")
Under normal circumstances it will take you between six and six and half hours to drive from Las Vegas to the entrance into Arches National Park.
Distance from Las Vegas to Canyonlands National Park
Although not as popular as it's more famous Arches cousin, Canyonlands National Park gets its fair share of yearly visitors. Over a half million a year, (compared to Arches at 1.4 million per year).
It's 471 miles, (or 759 kilometers) from the center of the Las Vegas Strip to Canyonlands National Park. Specifically I'm talking about the Island in the Sky Visitor Center at Canyonlands.
(Related: Distance from Las Vegas to Zion National Park)
Like Arches National Park, the entrance to Canyonlands is just off of Highway 191. The directions are the same, with the exception being that you'll turn off of Highway 191 a little before you get to the turn-off to Arches. However due to the fact you have to drive on this side road a lot further to get to Canyonlands, Arches is actually closer to Las Vegas.
It would take you around 6 ½ hours to 6 hours and 45 minutes to drive from Las Vegas to Canyonlands National Park, under normal conditions.
Besides Arches National Park and Canyonlands, there are fourteen National Parks near Las Vegas.
(By Steve Beauregard. Photos courtesy of Daveynin and G. Lamar via Flickr.)