Distance from Las Vegas to the Grand Canyon Skywalk – Map & Directions
It has incredible views yet mixed reviews. Some call it a defacement of a wonder of the world while others praise the economic impact it's brought to a poverty-stricken Indian tribe. It's the Grand Canyon Skywalk – just about 60 miles east of Las Vegas (as the crow flies).
Set on the Hualapai Indian Reservation on the far western end of the Grand Canyon, the Grand Canyon Skywalk is a dramatic glass pedestrian bridge that allows you to walk 4,000 feet above the bottom of the canyon below.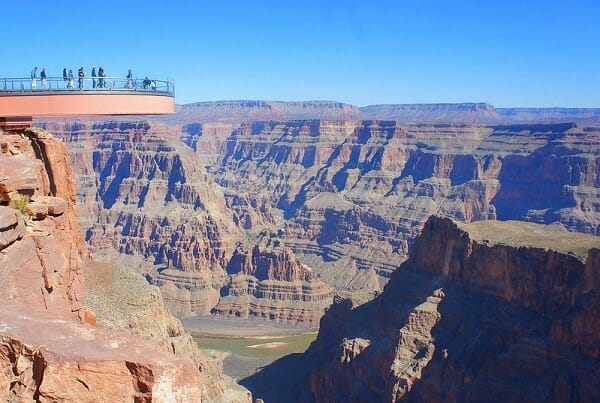 The Skywalk is 126 miles, or 203 kilometers from the center of the Las Vegas Strip. Under normal traffic conditions, it would take you between 2 and 2 ½ hours to get there by driving.
About the Skywalk
Opened in March of 2007, the horseshoe shaped glass floored walkway protrudes 70 feet (or 21 meters) away from the rim.
Reports indicated the attraction receives between 300,000 and 400,000 visitors each year. In addition to the protruding glass bridge, the base of the Skywalk is home to a Visitors Center, cafeteria, zipline and requisite gift shop.
Grand Canyon Skywalk Ticket Prices and Entry Fee
Most of the mixed reviews I mentioned above come from the high cost of visiting the Skywalk.
The official Skywalk website advertises a general admission fee of $49 per adult during normal times and $55 during busier days, or what they call "Peak" times. Either way, those prices are just to get into the Grand Canyon West area. It does not include the Skywalk attraction
The $49 starting price just covers entrance fee into the Indian reservation, along with shuttle service to the site, along with stops at a couple of other viewpoints.
To actually walk onto the Skywalk, you have to pay $26 more, or $29 more during peak times.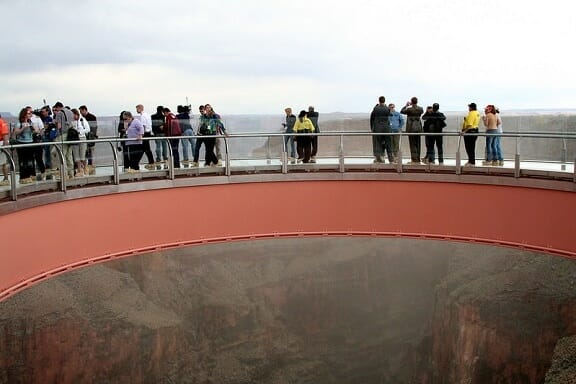 In other words, the total price is $75 for standard dates, and $84 for peak times.
This gets you onto the reservation, provides you with shuttle service to different attractions and viewpoints, and gets you a ticket to go onto the Skywalk. Kids 2 and under are free.
Please note, these prices I've quoted above are online prices. My understanding is that prices are a little more if bought in person, so be sure to get these online instead. The official website for ticketing is posted further down below.
Photo Policy
Another one of the main gripes from visitors to the Grand Canyon Skywalk is the attractions rule stating you cannot have phones or cameras out on the Skywalk
Yes, you read that correctly. No cameras. No phones. No kidding.
I know. You're at one of the most picturesque places you'll ever visit, have paid an expensive entry fee, and you're not even allowed to take a selfie.
Presumably, the reasoning is that people may drop their photos down into the canyon, or worse, drop them on the Skywalk floor, chipping the glass.
You can, however, have the attraction's approved photographers take your photo, which of course, will be available for purchase. Most recent prices were $17 per print or $69 for a digital photo package.
In case you think they're joking, visitors to the Skywalk have to go through a metal detector before being admitted.
Las Vegas to Grand Canyon Skywalk Map
Other Tidbits
* It should also be noted that the Skywalk is on an Indian reservation, and not on government land, meaning National Park passes will not work to gain entry.
* All private cars will have to stop and park two miles away from the Skywalk, at the Grand Canyon West Airport. From there, shuttles run every 15 minutes to the Skywalk and other points of interest.
* For many, the highlight of the trip is the shuttle stop at Guano Point, where an easy-to-walk, relatively flat trail leads you to a small point offering some of the most incredible 360 degree views of the canyon anywhere. (Including in the National Park land itself).
The Guano Point stop also has a cafeteria and restrooms.
* There is a zipline about a mile away from the Skywalk, at Hualapai Ranch. Tickets for the zipline can be bought online when you purchase your general admission and Skywalk tickets.
Directions from Las Vegas to the Grand Canyon Skywalk
As mentioned earlier, it's just over a two hour drive from Las Vegas to the Skywalk.
From the Strip
First get on southbound I-15, then go east on I-215 (the intersection of I-215 is about 1 and ½ miles south of Mandalay Bay).
Stay on I-215 as it winds its way to Henderson, (where it turns into I-515), before it magically turns into Highway 93 near Boulder City, Nevada.
Highway 93 to Grand Canyon Skywalk:
You'll continue to stay on Highway 93 as you go past the Hoover Dam and into Arizona.
In fact, you'll stay on the combination of I-215/Highway 93 for 74 miles, at which point you'll reach Pierce Ferry Road, where you'll go left.
Please note that the signage isn't very good. Every other tourist attraction has big, bold signs pointing you in the right direction. Here, there's only a big billboard on the opposite side of the road. Keep your eye out for it.
Once you're on Pierce Ferry Road, you'll drive a very desolate 28 miles before taking a right (signs will lead you the way) on Diamond Bar Road.
Previously just a dirt road, it is now paved. Still, it's twenty-one more miles on Diamond Bar Road, at which point you'll reach the required parking area at the Grand Canyon West Airport.
You will have to stop here, and leave your car, as private vehicles are not allowed to drive right up to the Skywalk. The parking is free.
Here, at the airport, is also where you'll purchase your ticket or admission fee to get on the reservation. From here, you'll hop on a shuttle to get to the Skywalk and other points of interest.
From Fremont Street in downtown Las Vegas
Get on N. Las Vegas Boulevard going north, and turn right onto I-515.
Stay on I-515 forever, as it turns into Highway 93.
From here, read the directions above, where it says, Highway 93 to Grand Canyon Skywalk.
(Related: Distance & directions from Las Vegas to the Grand Canyon)
Grand Canyon Skywalk Address, Phone, Website and GPS Coordinates:
Address:
5001 Buck n Doe Road
Grand Canyon West, Arizona (No Zip code – Indian land)

Phone: (800) 868-WEST

Website: GrandCanyonWest.com

Latitude and longitude: Latitude: 36d0'43.55″N Longitude: 113d48'40.50″W
(By Steve Beauregard. Photos courtesy of Richard Jones, Leonardo Stabile, and Viator.com via Flickr.