Driving Distance and Time from Las Vegas to the Grand Canyon (South Rim)
By Steve Beauregard
It's beautiful, spacious, can take your breath away, and is often considered to be one of the Seven Wonders of the World.
I am of course, talking about the Las Vegas Strip.
But I could also be talking about the Grand Canyon.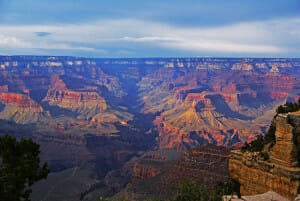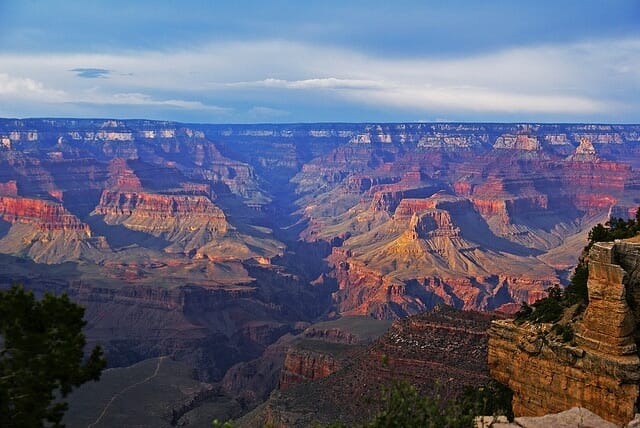 This natural wonder contains over a million acres of land and reaches depths of a mile down. As for its size, it's 277 miles long, or roughly 273 miles longer than the Las Vegas Strip.
Because it's relatively close to Las Vegas, a trip to the Grand Canyon is fairly convenient for the visitor to Sin City. There are of course, many different outfitters offering helicopter or airplane tours available out of Las Vegas. There are also more affordable bus tours available that can pick you up from your hotel at around 7:30 a.m. and take you the Grand Canyon and back. These tours are typically 15 hours long and often stop at the Hoover Dam as well.
This however, makes for a long day, and gives you only limited time at this natural marvel. Which is why many visitors to Las Vegas make it a point to add a few days to their itinerary by driving (getting a rental car if necessary) to check out this once-in-a-lifetime experience.
Distance to Grand Canyon from Las Vegas
What surprises many people is that fact that the Grand Canyon is less than 50 miles from Las Vegas. However this is as "the crow flies," meaning a straight line from the Strip to the westernmost part of the Grand Canyon.
In reality, it's a much farther drive, due the fact you won't be going to closest part of the canyon to Las Vegas due to accessibility issues. The roads taking you there are located south of the national park. In addition, you will likely be driving to The Grand Canyon Village, which is on the eastern end of the Grand Canyon.
This South Rim area is where the vast majority of visitors see the park, as it's convenient, offers amenities and views and access to the canyon. The village is the home of the visitors' center, as well as several lodges and overlooks of the deep red canyon walls below.
The South Rim entrance is open year round. There is a North Rim entrance, however it's only open from Mid-may to Mid-October.
The North Rim is closed during the winter months due to heavy snowfall it receives. Even during good weather, it is much less accessible than the South Rim. For our purposes here, we'll be talking about driving times and distances from Las Vegas to the South Rim of the Grand Canyon.
(Related: Distance from Las Vegas to the Grand Canyon Skywalk)
Approximately five million people visit the Grand Canyon each year, a good deal of them making a side trip while on a stay in Las Vegas. And why not? This natural marvel is just a half a day's drive from the center of the Las Vegas Strip.
Driving Distance
When driving, it's 277 miles (or 446 kilometers) from the Las Vegas Strip to the South Rim of the Grand Canyon. Under normal traffic and road conditions, it would take you between 4 and 4 and 1/2 hours to drive there.
Here we're measuring from the Flamingo Hotel and Casino in the center of the Las Vegas Strip, to the Grand Canyon Village.
Driving Directions from Las Vegas to the Grand Canyon
From the Strip
Get on southbound Interstate 15. You can get on I-15 South by going west on Flamingo Road or on Tropicana Avenue.
Just about a mile south of Mandalay Bay, you'll want to get on Interstate 215 (called the Las Vegas Beltway), by taking Exit 34 to Henderson, Nevada.
At Henderson, I-215 will merge right into I-515, which will take you to Boulder City, where it will become Highway 93. Shortly after Boulder City, you'll reach the Hoover Dam.
Hwy 93 will then lead you south in Arizona to the town of Kingman. It's 76 miles from the Hoover Dam to Kingman. Once you are in Kingman, you'll want to take Interstate 40 east for 113 miles to the small town of Williams, Arizona.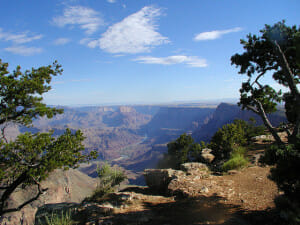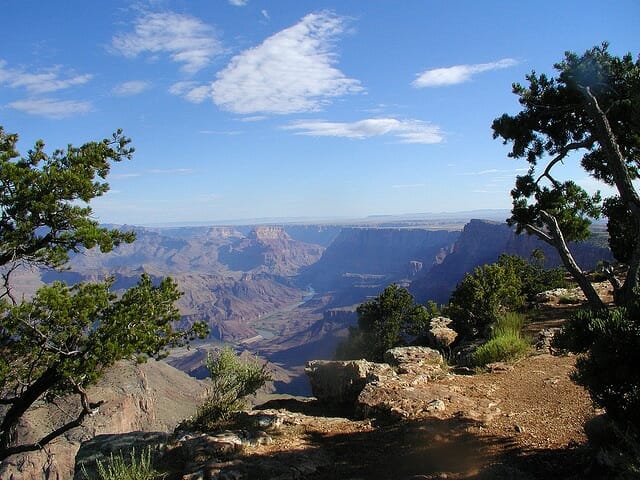 At Williams, you'll see the large signage, pointing you to exit at Exit 165. This will take you to Arizona State Highway 64, going north.
From Williams, it's just 59 miles, or about an hour, to the Grand Canyon Visitor's Center.
From Downtown Fremont Street in Las Vegas
From the hotels and casinos on Fremont Street, you'll want to get on Las Vegas Boulevard going north.
Just three blocks north of Fremont Street, you'll want to get into the right lane and turn right at the sign for Interstate 515 south. (The sign will read "Phoenix/Needles.")
From there, it's pretty easy, as you'll just stay on I-515 as it goes to Boulder City, eventually turning into Highway 93. At this point, you'll just stay on 93 to Kingman, Arizona, then take I-40 West to Williams, Arizona, then Highway 64 North.
The distance from downtown Las Vegas to the South Rim of the Grand Canyon is 276 miles, or 444 kilometers. It would take you 4 hours and 19 minutes to get there, according to several mapping sources.
(Photos courtesy of Paul Falardeau and urbanfeel and NPCA Photos via Flickr).