By Steve Beauregard
It's a little over 3 miles, or 4.9 kilometers from the Luxor to the Circus Circus Hotel and Casino. You're basically going from the far southernmost portion of the Las Vegas Strip to close to its northernmost point.
Walking this on the Strip sidewalk would take you about an hour without stops.
To do it, just simply head out of the Luxor and head North (towards the Excalibur), following the sidewalk on Las Vegas all the way to Circus Circus. It will veer off a tad here and there for pedestrian bridges over busy cross streets, but the path is clear, always busy, and always full of interesting sights (and people) to see to help pass the time.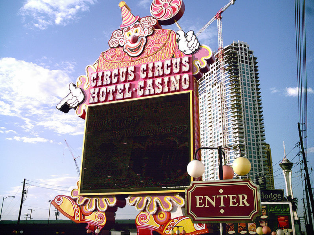 Of course, there are some options to cut back on your walking time. Fortunately there are three free Las Vegas Strip trams that reduce time spent on your feet.
The first one is inside the Luxor. It goes north, to the Excalibur. Technically it also goes South to Mandalay Bay, but I don't mention it here because the southbound tram does not stop at the Luxor.
(Go here to read more about the free tram from Excalibur to Mandalay Bay).