Fatburger, started in 1952, has become popular by serving good ol'fashioned hamburgers in big, juicy, mouth-watering sizes. The self-described "Last Great Hamburger Stand" has thirteen Las Vegas locations, including one busy Fatburger restaurant right in the heart of the Las Vegas Strip.
The only Fatburger on the Strip is the one at 3763 S. Las Vegas Blvd. It's right across the street from the Park MGM Hotel and Casino and just next door to a Las Vegas Strip Walgreens.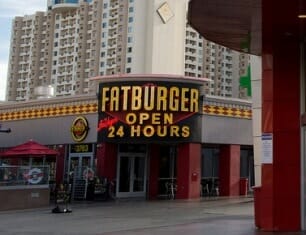 If you do the long walk between the MGM Grand and Planet Hollywood, you'll pass right by it.
It's open 24 hours a day (naturally), and has lots of both indoor and outdoor seating. The seating on the patio can be particularly interesting.
The Fatburger patio is home to the FatBar, a fairly new remodeled and expanded 3,000 square foot space that can seat 220 customers. It has heat lamps during cooler months and misters for those brutal, sunny Sin City days.
Besides the bar, it has shade, music and twenty TVs. And being right on the Las Vegas Strip, the view provides plenty of entertaining people watching opportunities – especially at night when seemingly everyone walking by is inebriated.
You may even have a celebrity sighting or two. Or better yet, even a celebrity fight! This Fat Burger Las Vegas Strip location was home to the widely-reported brawl between rapper T.I. and boxing champion Floyd Mayweather Jr. over Memorial Day weekend in May of 2014.
Fatburger Las Vegas Strip Menu
First off, breakfast (yes breakfast), is served from 5 a.m. to 11 a.m. Fatburger's Las Vegas breakfast menu included the eggs Benedict, a breakfast burrito, omelets, egg sandwiches, pancakes and French toast, and sides like cereal, oatmeal, bacon, etc.
The regular, non-breakfast menu has your four basic burgers: Medium, Large, XXL and the XXXL (called the "triple Kingsburger" for around $14).They also offer a chicken sandwich (like the Hawaiian Pineapple Sweet Teriyaki chicken sandwich), a couple of different salads (but who gets a salad at Fatburger?), a turkey burger and a veggie burger. There are also hot dogs, chicken wings, and chili dogs. There is also a small selection of "extras" you can add on to your burger, including an egg.
Sides include Fat fries, skinny fries, chili cheese fries and "homemade onion rings," although I doubt anyone really made them at "home" and brought them into the restaurant.
Fatburger on the Las Vegas Strip carries Coke products, and also has real ice cream milkshakes in the $4 to $5 range. As mentioned earlier, you can of course, choose from a variety of beer and cocktails here as well, including the yard-long 50 ounce frozen drinks, similar to what you find at the various Big Chill Bars around Las Vegas.
Adding to its uniqueness, this Fatburger on the Las Vegas Strip is, reportedly, the only one of the franchise to serve breakfast and have a Fatbar.
Other Las Vegas Fatburger Locations
Besides the flagship Fatburger on the Strip, there are eleven other of the franchises in Las Vegas. Many of these are in locals casinos.
Fatburger has restaurants inside the following casinos:
Texas Station Gambling Hall and Casino
Santa Fe Station Hotel and Casino
Red Rock Hotel and Casino
Sunset Station Casino (in Henderson)
Green Valley Ranch (Henderson)
Fiesta Rancho Hotel and Casino
The other Las Vegas Fatburger locations are shown below:
6775 W. Flamingo Road. (Spring Valley Town Center, about 4 miles west of the Strip)
2845 S. Nellis Blvd (On the far east end of town)
4199 S. Fort Apache Road (In a strip mall far east of the Strip)
4663 E. Sunset Road (Around three miles south and east of McCarran International Airport)
4525 N. Rancho Drive. (Just about a ½ mile south of the Fatburger at the Santa Fe Station Casino).
(By Steve Beauregard. Photo courtesy of MsSaraKelly via Flickr).