Big Drinks in Las Vegas – Price for the Giant 100 OZ Drinks at Big Chill Bar & Others
By Steve Beauregard
Admit it: at some point you've said to yourself: "Gosh, I sure wish I had 8 and 1/3rd beers right now."
Well you're in luck, as there are several different bars on the Las Vegas Strip that offers thirsty gamblers the chance to order a cocktail full of 100 ounces of beer or frozen slushy goodness.
Enjoying our 3 day weekend with a PBR Rock Bar "Porch Pounder" and we got one waiting for you! #LaborDayWeekend
📷:@victoriaa_longoriaag pic.twitter.com/vauU1RqEpq

— PBR Rock Bar & Grill (@PBRRockBar) September 3, 2019
These include the PBR Rock Bar at Planet Hollywood, Fat Tuesday locations, and at the Big Chill – a chain of counter-style walk-up bars in several Las Vegas casinos.
100 Ounce Drinks at PBR RockBar Las Vegas
This spacious and fun country-themed bar fronts the Las Vegas Strip at the Miracle Mile Shops at Planet Hollywood.
PBR Rockbar and Grill offers seven different giant 100 ounce drinks, called "Porch Pounders" in giant bowls. All of them cost $65.
Flavors include the "Real Deal Margarita", Caribbean Sunset (includes Barcardi, Malibu and Myers Rums), and the "Gone Fishin'", which consists of New Amsterdam Vodka, Malibu rum, sweet and sour, Blue Curacao, pineapple juice, and Sierra Mist. The "fishin'" part of the drink are the Swedish Fish and sour octopos candies in the drink.
Other 100 ounce cocktails include the "Wild Thing," (Stoli pineapple vodka, with orange and lime juice with Malibu rum), and the "Vegas Vacation" – New Amsterdam Pineapple Vodka, Sierra Mist, lemonade, Apple Pucker, Blue Curacao, lemons, limes and garnished with flamingo lolliop.
If you don't want the 100 ounce drink, you can "settle" for the 50 ounce versions of any of these for $35. The more traditional 15 ounce drinks are $15.
They have a bar facing the Miracle Mile shops inside, meaning you don't have to go inside the bar to get your drink on. This curb-side bar has daiquiri machines, and you can get your frozen drink in glasses shaped like a cowboy boot.
They do not have a 100 ounce beer option, however they do have a great Strip-side patio that's great for people-watching.
Fat Tuesday
You're probably familiar with this frozen drink stand, and there are nine Fat Tuesdays in Las Vegas. All of them are on the Las Vegas Strip. Going from North to South:
The Stratosphere, The Venetian, Casino Royale, Caesars Palace, Planet Hollywood, Harmon Corner, Hawaiian Marketplace, MGM Grand, and Mandalay Bay.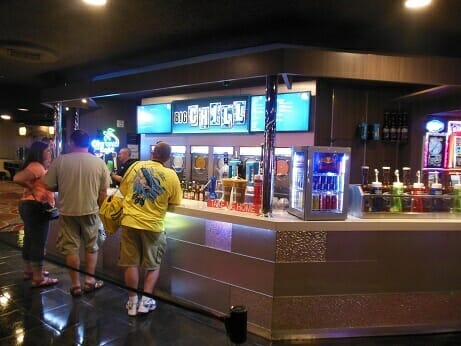 Recently, the 100 ounce mugs were priced at $38. Extra shots are just $1 extra. You can sit at the small bar or get these to-go. You do have the option of a refill for $28.
Flavors included their signature 190 Octane, Electric Lemonade, Mudslide, Bellini, and of course, a 100 ounce Margarita.
Big Chill Bar Las Vegas
There are Big Chill locations at the following Las Vegas Strip locations: Excalibur Hotel and Casino, New York – New York Hotel and Casino, Mandalay Bay, and Circus Circus.
However please note that locations at Mandalay Bay and the New York – New York Hotel & Casino do not serve the 100 ounce drinks.
The Big Chill Las Vegas bars are similar to the Fat Tuesday chain of walk-up frozen drink bars.
Bill Chill Prices
The Big Chill bars do serve drinks in quantities less than 100 ounces of course, but it's the outrageously large drink cups they're known for, including the 100 ounce cup and one shaped like a guitar.
The electrical guitar shaped cup (and the word "cup" does not do it justice), really does play music. It holds 100 ounces of either beer, or frozen drinks. I'm unsure as to current prices. The last visit was priced at $29.95.
That included both the drink and the souvenir guitar cup, which you will never use again, but which is fun to wear strapped to your chest on the flight home. (You won't look like a tourist or anything).
As of this writing a 22 ounce frozen drink would set you back $14.
Yard Long Drinks
You've seen the long, colorful yard-long plastic glasses of beer and margaritas being carried around the Strip. (And by the way, you can walk around the Las Vegas Strip with an alcoholic drink in your hand). Many of these huge drinks are sold at one of the Las Vegas Big Chill locations.
This yard long, 100 ounce cup comes with a shoulder strap and cost $24.95 fairly recently. As with the guitar, you can fill it with either draft beer or one of the pre-made slushy drinks. Also like the guitar drink, refills were $15.
A 44 ounce football shaped mug filled with beer or frozen drink runs just $9.95. Refills of it are six bucks, meaning you could get 88 ounces of beer (7 and 1/3rd beers) for just $16 bucks before tip.
The 50 ounce "Super Pilsner" cup filled with beer or slushy drink is $16.95. Refills of the Super Pilsner are $9.
They also have regular drinks, jello shots, and beer in other quantities. I recall seeing a special for a 67 ounce Bud Light for $14.99. A decent, if not spectacular deal, considering you're getting just over 5 and 1/2 beers for $15 bucks.
The smaller drinks are inexpensive (by Las Vegas standards). My 16 ounce Mango daiquiri cost $9.
A nice touch offered by the Big Chill is that you can get a sample taste of a drink before making a 16 ounce or 100 ounce commitment.
Big Chill Bar Las Vegas Menu and Frozen Drink Flavors
Although they may go by slightly different names, depending on the location, the basic flavors offered are: Margarita, Tropical Mojito, Mango, Strawberry Daiquiri, Pina Colada, Blue Ice, Pink Lemonade, and even "Non-alcoholic" for some reason.
I've also seen Green Apple and Hurricane flavors at the Mandalay Bay version.
Also, the hours for Big Chill bars vary. The Big Chill at the NY-NY is near the bar at Times Square. It's hours are 11 AM to 2 AM daily.
At Circus Circus, the Big Chill Bar is by the walkway when you want to get to Slots Circus Circus. It's open Monday – Friday: 11 AM to 1:30 AM, every day of the week.
The Excalibur version of the Big Chill is in the Excalibur's restaurant section, called the Castle Walk Food Court. It's upstairs from the main casino floor. Hours are from 11 AM to 11:30 PM, 7 days a week.
Lastly, the Mandalay Bay Big Chill Bar is located near the Shoppes at Mandalay Bay entrance. It's the one for you late night partiers, as it doesn't close until 4 AM.
Previously there was a Big Chill Bar inside the Street of Dreams shopping area at the Monte Carlo Hotel and Casino, however when the resort remodeled and re-branded into the now Park MGM, the bar was closed permanently.
(Photo of Big Chill Bar courtesy of Circus Circus)