Can you Drink Alcohol on the Streets in Public in Las Vegas?
By Steve Beauregard
Yes. In fact, the Las Vegas area is one of the few places in the United States without an open container law. (The French Quarter in New Orleans is another famous example).
To quote Las Vegas Metro Police spokesman Larry Hadfield in recent Las Vegas Sun interview: "We have no issues with people drinking out in the open."
However there are some caveats.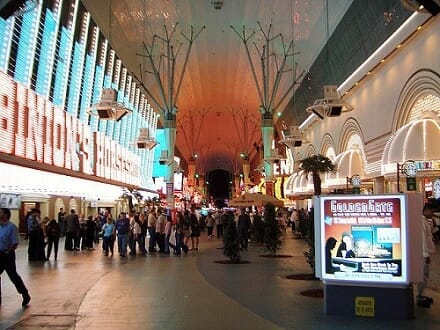 Open Containers on the Strip
First, let's talk about the Strip, because from my reading of the rules, the Strip and downtown have just slightly different rules.
The Las Vegas Strip is not part of the official city of Las Vegas. Rather, parts of it stretch cross the unincorporated towns of Paradise and Winchester, Nevada. What this means, is that casinos along the strip are subject to the laws of Clark County, Nevada and not necessarily those of the city of Las Vegas proper.
It is perfectly legal to have an open container of alcohol when walking along the Las Vegas Strip, so long as it is not in a glass container.
It used to be "no rules" at all for the Strip, however in September of 2014, the Clark County board of commissioners passed a new law prohibiting people from carrying drinks in glass containers on the Strip. This applies to both alcoholic and non-alcoholic drinks.
You can still carry your beer in an aluminum can around, and plastic cups, including those football shaped beers, or daiquiris in the a plastic mug shaped like a guitar or the Stratosphere, are fine. They just cannot be in a glass.

Secondly, you still have to be 21 years old to legally consume alcohol in the state of Nevada. Thirdly, by "on the streets" we mean, "walking around on the sidewalks." Open containers of alcohol are not allowed when you're driving around, or taking public transportation.
It also appears that Nevada state law prohibits you from bringing your drink with you when riding in an Uber/Lyft or taxi. Out of ignorance of this rule, I've had drinks in a cab before, so I'm not sure how strict taxi drivers are about that.
(Read more: How many casinos are on the Las Vegas Strip?)
Where the law is more clearly defined is with regards to charters. You are allowed to have open containers when your mode of transportation is a chartered service. That's how those Las Vegas party bus outfits and limo rides can get away with it.
You are not allowed to carry your rum and coke with you on to the Deuce or other Las Vegas city bus routes. Open containers are also prohibited on the Las Vegas Monorail.
Also, oddly enough, you're not allowed to drink "In any parking lot." (per Clark County Code of Ordinances), nor are you allowed to drink in, or on a liquor store's property.
Please also keep in mind, that although you can take your vodka tonic with you outside on the Strip sidewalk, normal rules of society still apply. Las Vegas Boulevard has an incredibly strong police presence, (not to mention wide security camera coverage), and you can still be cited or arrested for offenses like being a public nuisance or acting disorderly.
Can you carry a drink around outside on Freemont Street?
So long as you bought it at a bar, restaurant, or at one of the casinos on Fremont Street, and it is in a plastic container, the answer is: absolutely yes.
Part of the reason why is because the "Fremont Street Experience" is privately owned. By which I mean, the entire area under the large, lighted canopy downtown can be considered to be all part of one bar – a giant outdoor bar, but a bar nonetheless.
So if you play the nickel slots at say, the Golden Nugget, where you were given a free Jack and Coke, and want to take it out and walk across to the Four Queens, you're good to go. However you're not allowed to have an open container in which the alcohol was not purchased from either a bar, restaurant or casino on Fremont Street.
In addition, drinks in glass containers or aluminum are prohibited on Fremont Street. This is unlike the Strip, where you can carry around a Coors Light can. On Fremont Street, the beer would have to be in a plastic cup.
This was designed to encourage people to get their drinks at casinos, and casino bars, rather than purchasing bottles and 12 packs at the numerous gift shops and convenience stores. In fact, alcohol purchases at such stores on Fremont Street now have to be put in a bag and stapled. (So much for the "anything-goes in Las Vegas" of old).
So now, carrying around a strong triple shot of whiskey outside that you got at Binions is fine, but carrying a 12 ounce Keystone Light you bought earlier at a Liquor store and brought down from your hotel room is prohibited. Granted, the odds of you getting in trouble for carrying a drink not purchased on Fremont Street is miniscule, but that is technically the rule. It is, however, a rule that by all accounts, is rarely enforced for anyone not making a complete drunken jerk of themselves.
(Go here to find out when the Fremont Street light show starts).
The one area of the city of Las Vegas where open containers are prohibited, (according to Chapter 10.76 of the city code – and yes, I've read it), is ironically at a liquor store. Like the rules on the Strip, you are not allowed to consume alcohol purchased in the parking lot of a liquor store, or within 1,000 feet from the point of purchase.
Additionally, in the city of Las Vegas, you're not allowed to have an open container within 1,000 feet of a school, church or hospital, (unless you're in a residence).
So in general, so long as you're drinking something where you didn't twist off a cap, pop a top, or uncork a bottle yourself, it's legal. And as long as you're staying in the main tourist area of downtown, and don't plan on wandering off to drink near an elementary school, you should be fine.
So bottoms up! Grab your drink, wander the Strip, and enjoy one of the few places in the United States where you're free to carry a beer or cocktail around out in public on the streets.