Fremont Street Attractions: Fun Things to Do in Downtown Las Vegas
Fremont Street in downtown Las Vegas used by known as just a place with smoky casinos. That has all changed, as it's now become a place with smoky casinos and a zipline.
Actually, Fremont Street in downtown Las Vegas is a tightly compacted, action-packed blast of fun that is significantly more laid back and affordable than its fancy Las Vegas Strip cousin to the South. Between people-watching and all of the crazy street performers (some with genuine talent), the pedestrian area is a feast for the senses.
Although downtown has been traditionally known as simply a place to gamble, improvements and additions in recent years has brought new energy to Fremont Street. Consequently, there are a number of fun things do on Fremont Street and in the walkable surrounding downtown area.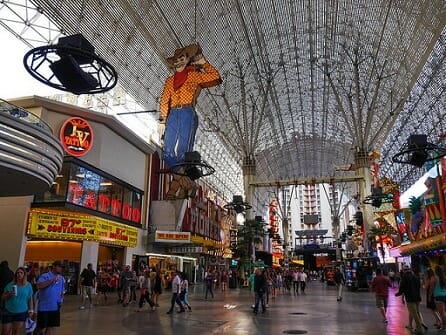 Fremont Street Attractions
Zip Line
Soaring 77 feet over the tourists below on Fremont Street, downtown's new zipline, called "Slotzilla," has been a hit since it's April 2014 opening. Unlike most zip lines in the world, Slotzilla does it Vegas style by shooting riders out of a giant replica of a slot machine.
The Slotzilla zipline sends riders flying high above the casinos on Fremont Street, and below the Fremont Street lighted canopy, giving riders an electric, light-filled birds eye view of the action below (and above) them.
In case a 77 foot tall zip line ride above Fremont Street is not thrilling enough for you, there's a taller, even more exciting option at Slotzilla. In August of 2014, the zoomline opened, taking riders 114 feet above Fremont (10 stories high).
Unlike the zipline, where you sit as you ride, the zoomline has riders lying facedown, flying "super hero" style 1,750 down the length of Fremont Street.
Mob Museum
Opened on February 14, 2012, the Mob Museum in downtown Las Vegas is a treasure trove of artifacts, documents, records, photos and interactive exhibits detailing the workings of the powerful mafia organizations in the United States, as well as law enforcement's efforts to stop them.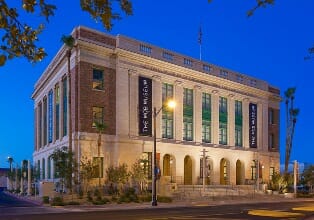 Even the museum's location is historic, as it's situated in the very building that held meetings of the Kefauver committee – a U.S. Senate special committee formed in the 1950's to investigate organized crime.
Tickets for adults are $29.95 (or save $10 when you go after 5 PM). The Mob Museum is open seven days a week, from 9 AM to 9 PM.
$20 Challenge
For this you'll need $200 and a whole day. But don't worry, you will only lose $100 (at the maximum).
The $20 challenge has you going to ten of Fremont Street Casinos downtown. At each place you'll pick a small stakes game, such as quarter or nickel poker, the $1 Shoot To Win Craps, nickel slots, quarter slots, etc.
At each of the ten casinos, you'll put one twenty dollar bill into the machine. You'll proceed to play until you either (A) Double your money, or (B) Lose half of it ($10).
It's a good way to have fun while making your money last, and seeing every casino downtown. At the end of the challenge, you'll have between $100 minimum, or $400 maximum, assuming you don't hit a big jackpot, and assuming assuming you strictly follow the rules of the challenge, (i.e. walking away if you lose $10).
You can add to the challenge by having a drink at each of the ten casinos. In that case, bring along an extra $20 for tips.
Bar Hopping
Drinkers and more specifically, cocktail connoisseurs will find the Fremont Street area to be their alcohol nirvana, as the area is home to numerous bars, ranging from modern brew pus, to classic old school dive bars.
Some of the more popular and well-reviewed bars along the Fremont Street (other than casino bars) include Banger Brewing, Nacho Daddy, The Commonwealth, Downtown Cocktail Room, The Griffin, The Laundry Room, and the Triple George.
Not only that, you can carry a drink around with you. Which will make some of numerous street performers up and down Fremont, seem better than they are!
Light Show
Installed in 1995 as a way to bring more visitors to downtown, the Fremont Street light show, (officially called "Viva Vision") continues to be a big draw for downtown. It's also the number one source of neck injuries in Nevada, as wide-eyed tourists like myself can't help but crane our necks looking up to stare, every time a new show begins.
Speaking of which, the Fremont Street Experience light show times are nightly, beginning after dusk and running every hour, on the hour, until midnight (or until 1 AM during weekends and summer weekdays).
The light show and music collaboration are constantly changing and rotating – making almost sure you'll have a new visual and audio experience every time you visit Fremont Street. After a $32 million dollar upgrade, the bigger, brighter light show debuted January 1st, 2020.
Live Music
Every night on Fremont Street, there are either DJs and/or bands performing – usually on two different stages: the main stage, and the state of 1st Street. Often there will a bigger name act, such as Bret Michaels, Cheap Trick, Nelly, Good Charlotte, etc. And it's completely free!
DJ's and cover bands play until either midnight or 1 AM typically.
Souvenir Shops
There are many places in Las Vegas where one may purchase, beautiful, classy souvenirs. Fremont Street is not such a place.
What it is home to, are numerous fun, cheap, and tacky souvenir stands, where you can purchase clothes you'll never wear again, and items you'll never use. I mean, are you really going to bring out those "Viva Las Vegas" salt and pepper shakers when company arrives?
Nevertheless, we also stop at these souvenir stands to bargain shop for fun mementos of our visit to Sin City. The Fremont Street souvenir shops are great places to find cheap coffee mugs, shot glasses, Las Vegas themed t-shirts, etc.
Sigma Derby/Fortune Cup
The second floor level of the newly remodeled D Las Vegas Hotel and Casino on Fremont Street, is called "Vintage Vegas." It's home to numerous old-school coin slot machines. You know, the kind that make that beautiful clanking noise when you hit a payoff.
By far the most popular of all the old school Vintage Vegas machines is the fun, old-time arcade style horse racing game, Sigma Derby.
It's where a crowd of people are seated or gathered around a small replica of a horse racing track, on which are small mechanical horses and jockeys. Betters drop quarters into the machine and pick a combination of horses they feel will finish in first and second places.
The game is cheap, fun, and probably the very best way in Las Vegas to spend 25 cents. You, and your fellow players will find yourselves really getting into the action and the crowd enthusiasm helps feed the fun vibe of the game. And plus, who knows? You may even win some money.
Neon Museum
Ok, so not actual ON Fremont Street, but this quirky, only-in-Vegas attraction is close enough to downtown and definitely worth a mention.
Just a mile northeast of Fremont Street, the Neon Museum is a graveyard of all the old school Las Vegas casino signs and billboards that have since been retired.
If you're a Vegas veteran, (or just like the history of Sin City), you'll enjoy this walk through the classic casino signs of yore.
The Berlin Wall
Main Street Station Hotel and Casino has an actual, real-live chunk of the Berlin Wall…in the men's restroom.
However even ladies can visit it. You just have to ask security to escort you in.
There are other fun activities to do downtown on Fremont Street, including eating too much, gambling all of your money away, but I wouldn't know anything about those topics so I'll leave those experiences to you:)
Attractions That Have Since Closed
Fear the Walking Dead
Inspired by the popular A&E zombie show, "Fear the Walking Dead" was an interactive experience.
Part maze, part haunted house, it transported participants onto sets resembling a zombie apocalypse for 18 minutes. Tickets were $28 for adults after a processing fee.
Only opened for a few years, Fear The Walking Dead closed in May of 2019.
(By Steve Beauregard. Photos courtesy of Anna Irene, daryl_mitchell, Tom Hilton, and Bob n Renee via Flickr.)