Slotzilla Zipline Ticket Prices & Hours 2023
(Updated January 1st, 2023)
As if the fun and excitement of being on Fremont Street in downtown Las Vegas weren't already enough, there's an even better way to get "high" downtown.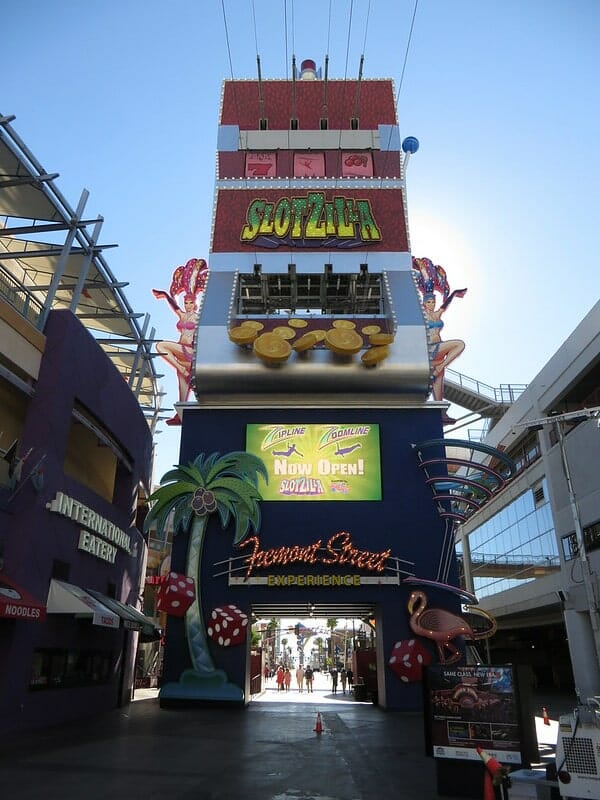 It's called the Slotzilla zip line and zoomline, where you can soar at speeds approaching 40 miles per hour high above the Fremont Street casinos and your fellow tourists below on the ground.
Ziplines are very popular now of course, (there are three ziplines in Las Vegas), however the Fremont Street's Slotzilla zip line may be one of the most unique on the planet, as it puts riders directly under the massive, bright and flashing Fremont Street Experience light show, and above one of the most iconic and famous streets in the entire world.
Then there is the start of the ride itself, a 12 story replica of (what else?) an enormous slot machine. Let's just say you won't have a hard time finding it when you are downtown.
(Go here for a list of fun things to do on Fremont Street)
The lower Slotzilla zipline opened on April 27, 2014, (at a cost of $12 million), and immediately became a big hit. The upper line opened a few months later, in August. There are two different ways you can choose to ride the zipline: (1) The typical zipline sit down style, where you hang on to the rope, or (2) the flying-with-hands-out, "Superman" style type ride.
Please note that there are different hours for each style of ride. (More on that below).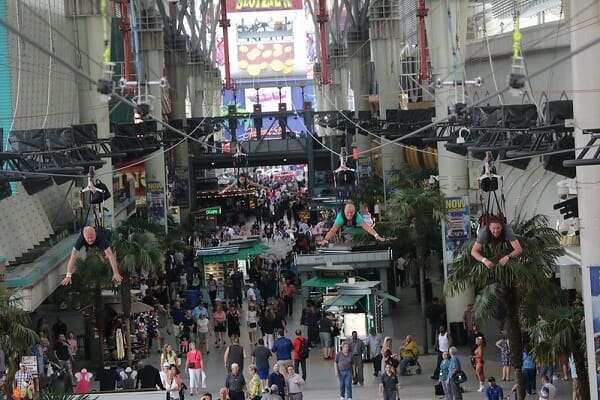 Sitting down style
Sometimes referred to as the "Zipzilla," this is the more traditional zip line method and is the lower, and shorter of the two options.
You'll start at the Slotzilla platform on Fremont Street. The ride is about 850 feet (or 794 feet says the builder), and lasts around a half minute. According to the builder, the zipline can reach speeds of up to 32 miles per hour.
You'll glide 77 feet above the Fremont Street pedestrian traffic below, getting off at the ending platform, which is at the western end of the 300 block of Fremont Street, between the Four Queens Hotel and Casino and the Fremont Hotel and Casino.
Superman style
As opposed to the traditional zipline ride, the Slotzilla calls this the "Super Hero Zoom" ride. It's higher, longer, and more expensive than its little brother, the zipline underneath it.
With the Slotzilla Super Hero Zoom, you still take off from a platform at the giant slot machine, however your fly a lot higher than the zipline. The zoom line is 114 feet above the street, versus the zipline's 77 feet elevation. This 37 foot difference doesn't seem like a lot, until you're up there, looking down.
The Superman style zoomline is also a much longer ride, at 1,700 feet. You'll soar the entire length, flying high above all the hotels on Fremont Street, ending up near the Plaza Hotel and Casino, in-between the Golden Gate casino and the Circa Casino Hotel right across the way. This ride takes about a minute.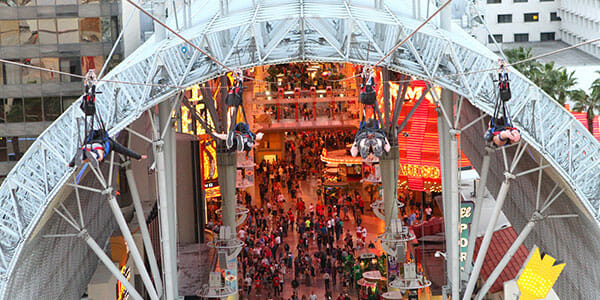 Slotzilla Zipline Prices & Hours
The Slotzilla's ticket booth is located at the bottom of the giant slot machine on Fremont Street, next to Walgreens. Alternatively, you can purchase and reserve a time online from the ride's official website here: Slotzilla Zipline.
Prices below can vary on time of day but start at the following prices (not including the zipline's $3.95 per ticket processing fee.)
| | |
| --- | --- |
| Sit down Style (Zip-Zilla) | $54 |
| Superman-style | $74 |
The Fremont Street Experience notes that prices are subject to rise if demand warrants it.
Slotzilla Hours
| | |
| --- | --- |
| Monday – Wednesday | Noon – 1 AM |
| Thursday – Sunday | Noon – 2 AM |
Please note that Monday – Wednesdays, the Zip-Zilla sit-down zipline opens at 4 PM. However the Zoomline opens at noon.
Slotzilla Ride Discounts
There aren't any sort of all-day type passes, however recently Nevada residents who show a Nevada state driver's license get 15% off the ticket price, as did seniors 65 years old on up and active-duty members of the military.
Some other tidbits about Slotzilla: For both the zipline and zoomline have four cables each, meaning each ride has the capacity for four riders to go at once (not on the same harness).
Even after you get a reserved time, there is a wait, (up to an hour) which includes time for you to sign a waiver, review safety instructions, and be fitted with a helmet and harness.
You'll take two flights of stairs up to the first platform. After you are fitted with your harness, Zoomline (Superman-style) riders will take an elevator to the top. Zipline riders will go up some more stairs to the launching area.
Slotzilla Weight Limit
You must be between 50 and 300 pounds to ride the zipline, and between 80 and 300 pounds to ride the zoomline. Also, you cannot ride if you are six foot eight inches or taller.
No Cameras
As for pictures, you cannot carry your camera or phone with you as you ride. In fact, you are not allowed to carry, or hold anything with you as you ride, (including your beer), due to the fact that an Iphone or Coors Light bottle may sort of hurt when dropped from 114 feet high.
Instead, there is a decent sized, zipped up pouch attached to your ride designed to hold your belongings.
If you are interested in a picture, you may purchase a photo of your ride taken by the Slotzilla-hired professional photographer. Most recent packages advertised on their website included a digital photo for $10, or their GoPro video for $15.
You'll also find your photo at the bottom of the platform you landed upon. A recent price check a few months ago showed physical photos costing $20 with packages at $45.
As for children? There are no age limits, (so long as the child is at least 50 pounds). Children under 16 years of age must show up with a rider who is 16 years or older.
(By Steve Beauregard. Photos courtesy of (Photo courtesy of Mark Hillary, Ken Lund via Flickr, and Vegas.com).