Updated October 15th, 2020
In a city already bursting with excitement, thrill-seekers can further enhance their Vegas vacation with a ride on one of Sin City's three different zip line rides – two of which are up and running post-Covid shutdown.
To be more specific, there are two ziplines and one zip ride, the difference which we'll cover more below.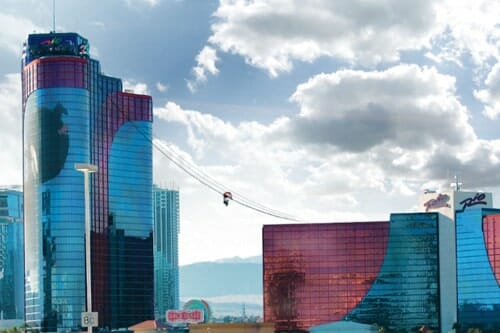 Two of the Las Vegas ziplines are located at hotel/casinos around the Strip, while the third one is high above downtown Fremont Street.
Unlike your typical vacation-destination zip lines, in which you float over a canopy of beautiful trees or get a peaceful, scenic bird's eye view of nature, these zip lines are all Vegas. The bright lights and sounds of Sin City will pulsate at your feet as you soar high above the madness below.
There is a fourth, quieter zipline in the dessert just outside of Las Vegas as well (more on that below).
Zipline Las Vegas
Strip
The two zipline rides around the Las Vegas Strip are ones at the (1) Linq Hotel & Casino right on the Strip, and at the (2) Rio All Suites Hotel and Casino, which is just a mile or so off of the Strip. However the Rio one is currently closed.
1) Fly Linq Zipline
The newest of the three Vegas zip lines, this one is at the Linq Hotel & Casino, right across from Caesars Palace.
Prior to the shutdown, you could ride Superman style, however currently only the seated position is available.
After taking elevators up and receiving your safety instructions, you're launched from a 12 story tower above the Linq Promenade Stores towards the High Roller Ferris Wheel.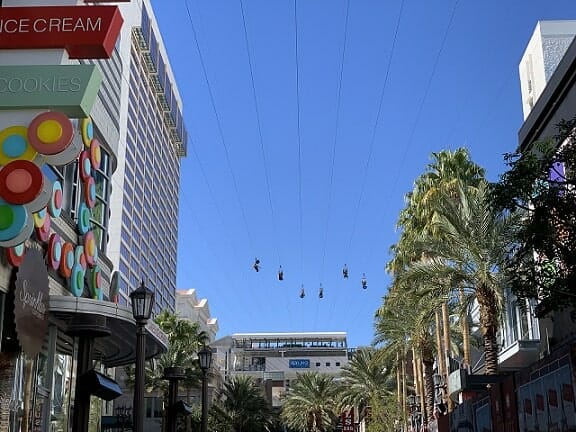 While it doesn't go along the Strip, you will get great views of some Strip casino/hotels while flying above the restaurants, bars and shops below you.
Fly Linq Zipline ticket prices are $25 total here at Vegas.com: $25 Tickets or $28 (after fees) when bought from the Linq itself.
(I have an affiliate relationship with Vegas.com and may receive a commission if you purchase these from them).
The attraction is open from 4 PM to midnight on Mondays and Thursdays – Sundays. (Closed Tuesday and Wednesdays).
2) Rio ZipLine & Prices
Just like the Rio Hotel and Casino itself, the Rio zipline remains closed. We'll update this section once it re-opens. Until then, below is the original wording about the ride.
Just a mile west of the Strip, (and across from the Palms Hotel & Casino), the Rio All-Suites Hotel & Casino has what's called the Rio Zipline (formerly called the "Voodoo Zipline").
For those of you unfamiliar with it, a zip ride is a two-seat passenger ride. Think of ski area chairlift – only much smaller and incredibly faster.
In fact, the Rio ZipLine reaches speeds of over 30 miles per hour.
50 Stories High
The ride starts off 50 stories high, atop the Rio hotel's Masquerade Tower. After soaring over the resort's pool area, it arrives at the Ipanema tower, 800 feet away.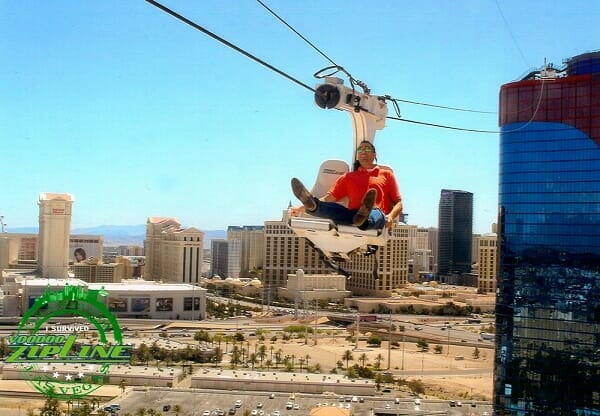 However unlike a traditional zipline where you'll disembark, here at the Rio's ride, you'll stay on and go backwards for the ride back to your original starting point.
Another nice feature of a zip ride as compared to a zipline is that just get to hop on and off, without having to be fitted with a bulky harness. You'll just wear a seat-buckle like strap.
And whereas a zipline is a solo ride, a zip ride, on the other hand, lets you share the experience, as you get to enjoy this thrill while seated next to your spouse, or a friend or a loved one, or a paid escort (this is after all Las Vegas).
On the downside, there may be a little less adrenaline factor when you are seated in a chair, as opposed to just dangling from a wire hundreds of feet above the ground as you would with a traditional zipline.
Either way, you should get at least some sort of rush as there's not much more than a seat belt keeping you from the hard ground, 500 feet below.
Tickets cost $27.50 each and valid for anytime during operating hours. The Rio Zipline is open as follows:
Monday – Thursday 3 PM to 11 PM

Friday – Sunday: 11 AM to Midnight
Please note that while children are welcome to ride, you have to be 48 inches or taller to ride. Also, you have to be 21 years or older to ride after 7:30 PM.
GoPro cameras and/or any hand-held cell phone videos are not allowed to be taken on the ride for fear they may drop on people below.
One last note: those that ride get free admission (that day only), into Rio's Voodoo Rooftop Nightclub and Lounge when showing their receipt.
3) Fremont Street Zipline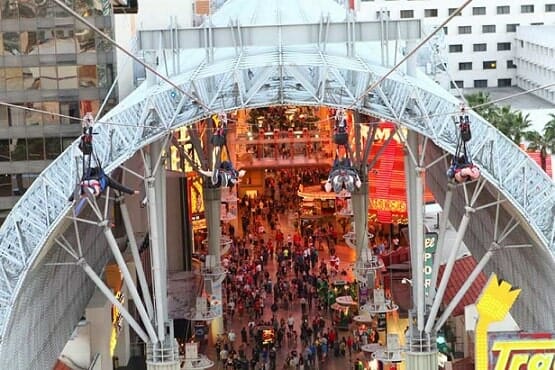 The third Las Vegas zipline is located downtown and is up and running post-Covid shutdown.
It's a normal type of zip line with a ride that is anything but typical. Called the Slotzilla, its launch tower resembles a giant slot machine.
The ride itself allows you to fly either sitting style (they call it, "Zip Zilla"), or Superman style (they call it "Super Hero Zoom") as you traverse high above the casinos on Fremont Street in downtown Las Vegas.
And while you'll ride above the partiers below you, you'll also be under the famous Fremont Street Experience light show.
In other words, the lights and neon and noise of Fremont Street surround you on all sides, making for a very memorable zipline ride.
Slotzilla ticket prices vary on the type of ride. The Zoomline, (or Superman style) prices are higher than sitting down style.
Slotzilla Prices
Zip Zilla zipline: $32.95

Super Hero Zoom: $52.95
Both of these prices are after all fees.
Please note the differing hours for each ride.
The Slotzilla zipline only runs on weekends. It's currently available to ride Friday – Sunday, from 5 PM to 1 AM.
The Zoomline Superman style, on the other hand, is open everyday of the week. Hours are 4 PM to 1 AM Monday – Thursday, and Friday – Sunday, from Noon to 1 PM.
Zip Lines Just Outside of Las Vegas
(Please note: this zipline also remains temporarily closed).
Boulder City is small town near Lake Mead, 27 miles from the Las Vegas Strip. There'll you find the Flightlinez Zipline at Bootleg Canyon, which is a desert hiking and mountain biking area just north of Boulder City.
The Flightlinez is much longer (and more expensive), than its big city Las Vegas zipline cousins. In fact, the entire ride is a mile and a half long.
Due to it being more remote, this zipline ride is part of a 2 and ½ hour adventure, involving a bus ride from Flightlinez's Boulder City store up to the staging area, then a 15 minute or so hike up to the launch site.
After the hike, you'll start the ride at the top of Red Mountain, almost 4,000 feet above sea level. From there, you zip down to the bottom on four different zip lines. One of the four sections is about a half mile ride itself.
At the bottom, Flightlinez will bus you back to their store in Boulder City. You can find their website here: Flightlinez Zipline
Prices for adults start at $159 per person for daytime rides. There are also slightly more expensive sunset and moonlight rides available.
(By Steve Beauregard. Photos courtesy of Caesars Entertainment's Media Blog and the Fremont Street Experience Media Blog)