Georgia Lottery Second Chance Drawing & How to Enter
Don't throw away ten million dollars.
Sure, it's frustrating when you scratch a lottery ticket and lose, however don't toss that ticket away in the heat of the moment. Instead, enter it into one of the Georgia Lottery's second chance drawings to possibly win a prize ranging from a $100 gift card up to $10 million dollars!
It's part of the second chance promotion that the Georgia Lottery has instituted to give players with losing tickets more hope.
These second chance drawings are free to play, so you may as well give yourself another shot at cash or prizes by taking the few seconds needed to enter that losing ticket. There are second chance games for both scratch-off and draw games.
Georgia Lottery Second Chance Games
As you probably know already, the Georgia Lottery has hundreds of different games available to play – more than most states in fact.
As an example: while some states sell one or two different $20 tickets, the Peach State has a whopping twenty different scratch-off games costing $20 or more.
The array of available games range from $1 scratchers, and draw number games (like Georgia 5, Keno, etc.), up to $30 scratch-off tickets.
However only a few of the hundreds of games have 2nd chance opportunities. At any given time, there will typically be at least one scratch-off game with second chance drawings.
The recent "Georgia Jackpot" scratch game is a themed game with six different tickets at six different prices, ($1, $2, $3, etc). Any of the six tickets could be entered into a second chance drawing.
The "Monopoly for Life" scratcher game was little more elaborate. You'd enter any Monopoly ticket (from $1 up to $20), to enter into the monthly drawing for one $10K winner and 40 different $500 dollar winners, however there were also chances for bonus entries by spinning a wheel and collecting different Monopoly board properties.
To find out which games have 2nd chance opportunities, you can either look for "2nd chance" promotional language on the face of the scratch ticket, or go to the official lottery page and click on the "GAMES" tab, and on the right will be "SECOND CHANCE GAMES."
Second Chance Drawings for Draw Games
As for second-chance drawings for Powerball, MegaMillions and the like?
Draw number games like Mega-Millions will have a 2nd chance drawing only occasionally, and usually part of a special promotion.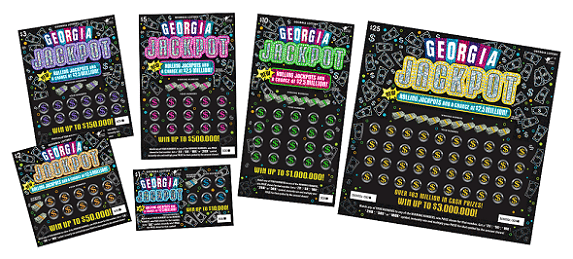 When Atlanta hosted the Super Bowl for example, you could enter losing Mega Millions tickets into a second chance drawing in which 5 pairs of Super Bowl tickets were awarded.
A few years back, there was a very short December entry period, in which you could submit losing Cash4Life draw game tickets for a chance to win big. First place was a Kia Sol.
Second place was two Kia Sols.
(Just kidding. I'm sure it's a fine car).
A recent "Powerball Mondays" promotion allowed you to enter losing Powerball tickets for a weekly drawing (lasting 5 weeks), in which there were 10 different winners of $1,000 each week.
GA Lottery 2nd Chance Drawing Prizes
Prizes offered by the lottery for these second chance promotions change constantly, and range from the quirky to the life changing.
Recently, the state lottery sold a $2 Pac-Man scratch-off ticket, and it had a second chance promotion. During the four month-long contest, they gave away a total of 10 old-school Pac-Man arcade machines, along with 400 different $100 gift cards, and several other cash prizes of $100 to $500.
A 2021 promotion for the Cash 4 draw game allowed you to submit non-winning tickets, in which they gave away $444 dollars to 444 people in 44 days.
The numerous second chance prizes for a recent CashPop game included a $500 gift card to Bass Pro Shops. There were 500 different winners of this prize (along with $250 Visa gift cards and more).
$10 Million Dollar Second Chance Drawing
The state's biggest second chance prize had a longer entry period: 4 years to be exact.
It was called the $10 Million Cash Spectacular. Tickets cost $30, with instant prizes of $1 million and $10 million offered. However even if you lost, you could submit that loser into the 2nd chance drawing, where they gave away one prize of $10 million. (It was won by a lady in Covington).
Granted, your chances of winning the $10 million second chance were pretty slim, given it was a 4-year long contest with just one winner, however keep in mind, it was free to enter, (after buying the original $30 scratcher of course).
Do you think the woman in Covington was glad she took the time to enter her losing ticket into the drawing?
Georgia Lottery Second Chance Drawing Entry Periods
Keep your eye out for the entry periods, as shorter time frames increase your chances of winning.
The aforementioned Georgia Jackpot game didn't have a huge $10 million prize, however it gave you a much better chance of winning serious money.
The Jackpot game consisted of six different drawings, each one lasting about a month.
Losing tickets submitted during each monthly period were eligible for one of the 20 monthly $100 prizes and the monthly progressive jackpot prize (which had been over $175,000).
I like these types of second chance drawings because of the fact the shorter entry period (30 days roughly), means fewer entries you have to compete against. Plus the monthly progressive prize isn't too shabby.
A recent Monopoly scratch game 2nd chance drawing had monthly $10,000 first place prices. Some of the entry periods were only 27 days long.
Georgia Lottery Player's Club & How to Enter Tickets into the 2nd Chance Drawings
There's just a 3 step process to enter losing tickets into the bonus drawings.
1) Register for a Georgia Lottery Player's Club account.
Before you can enter a losing ticket, you must have a Georgia Lottery Player's Club account.
You can register for the free account on the state lottery's official website here: Georgia Lottery
2) Download the Georgia State Lottery app or Enter online
Once registered with your password and all, you can enter the losing ticket either online or on your phone.
On your phone, you would want to download the official lottery app, which is available through Apple app store. Those of you with an Android phone can download the app from the lottery's website.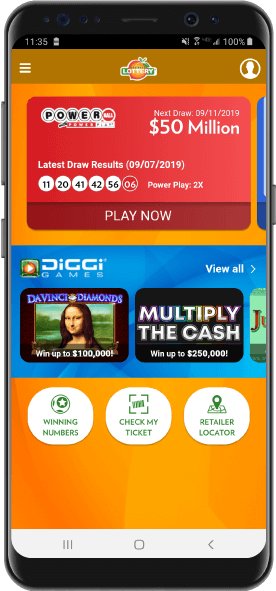 You can use this app to buy tickets, like Cash Pop tickets, Mega Millions, Powerball, Fantasy 5 and Keno games. You can also play Diggi Games on the app, (which are only available online).
The app's scanner makes it super quick and easy to check to see if a ticket has won, however at this time, you cannot scan losing tickets to enter into second chance drawings.
This makes Georgia an outlier, as most states with second chance lottery drawings allow you to scan the barcode on a ticket for a quick and easy 2nd chance entry.
In one sense however, this is good news for those of us who enter 2nd chance drawings. The easier it is to enter a drawing, the more people will enter. Having to manually input the losing ticket numbers will undoubtedly be a deterrent to some players. That means less competition for the rest of us.
(Related: Florida Lottery 2nd Chance Drawing)
3) Enter the number of the losing ticket
Whether you use the official Georgia Lottery app, or a desktop computer or laptop, you will manually enter the number on the losing ticket into the system.
You simply log into your Player's Club account, then type in the 11 digit number on the front of the losing ticket.
Keep Losing Tickets?
If the scratch-off ticket isn't a winner, you typically don't have to keep it. Official rules for the last two games I looked at informed us that players don't need to keep the non-winning tickets around after they've been entered.
Winners of 2nd chance drawings will be notified by phone or email information from their Player's Club account.
Other Notes about the Georgia Lottery
I've never had this problem, but you can only enter 30 losing tickets a day.
You have to be 18 years of age or older to buy tickets.
Unlike as in other states, Georgia doesn't seem to allow players to enter losing tickets they may have found in the trash, or on the street. Wording from the Jackpot 2nd chance game is as follows: "If you attempt to enter any ticket that you did not purchase, you may be disqualified."
Winning tickets under $600 can be cashed in at any retail store that sells tickets.
However if you win a prize of $600 or more, you have to claim it in person, (even if you won the prize online).
Prizes can be picked up at one of the ten Georgia Lottery offices. There are offices in Atlanta (downtown on Williams Street), and two retail stores at Hartsfield-Jackson Airport. District Lottery offices can also be found in Columbus, Dalton, Duluth, Grovetown, Macon, Savannah, and Tifton.
If you trust the Post Office delivering your ticket, prizes (of any amount) can also be claimed through mailing the ticket to this address:
Georgia Lottery Corporation
P.O. Box 56966
Atlanta, GA 30343
The two Georgia Lottery retail stores and kiosks at Hartsfield-Jackson Airport combine to make the airport the state's second biggest seller of lottery tickets.
The biggest lottery win in Georgia took place in December of 2013, when a woman from Stone Mountain split the $648 million Mega Millions jackpot, taking the cash option of $173 million.
To say the Georgia Lottery makes money is to say the Titanic had buoyancy issues. For the fiscal year ending June 30th, 2021, the state lottery made $1.54 billion dollars in profit, per an Associated Press story.
By Steve Beauregard. Photos courtesy of the Georgia Lottery.