Health Food Stores in Las Vegas and Near the Las Vegas Strip
By Steve Beauregard
Las Vegas may seem to be the antithesis of the principal of health food stores: natural, organic, minimally processed and good for you, but society's growing embrace of healthy food choices means there are plenty of healthy food shopping options – even in the land of 100 ounce drinks and indoor smoking.
Here's a look at some of the health food stores near the Las Vegas Strip.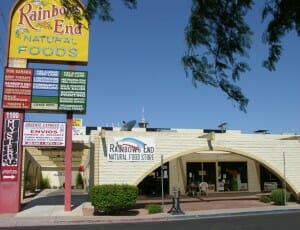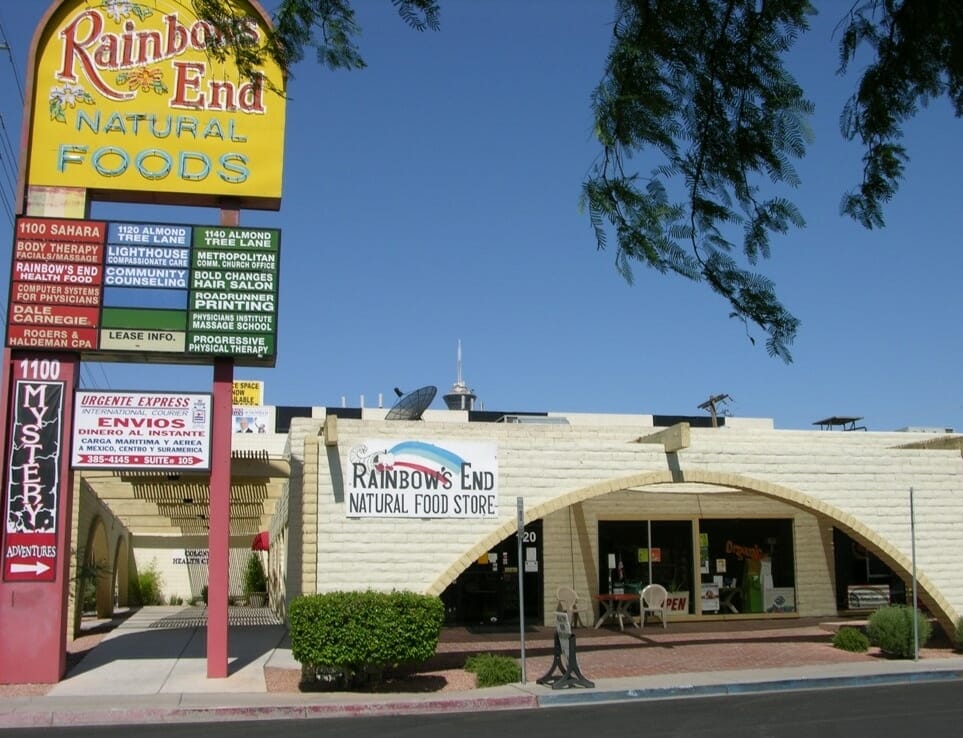 Rainbow's End Natural Foods
This store brags that they were into natural and organic products before it became cool. And they're right.
Rainbow's End Natural Foods is sort of the godfather of health food stores in Las Vegas, having opened in 1977. This family-owned store is not a chain or anything; they just have one location in Las Vegas, on Sahara Avenue, exactly one mile east of the Las Vegas Strip, making it very close to hotel and casinos such as the Sahara Las Vegas and the Stratopshere. It's not the closest health food store to hotels and casinos further down the Strip, however. (More on that below).
In addition to a natural foods store, they have their Healthy Café vegan restaurant.
Healthy Café serves items like veggie burgers, sandwiches, paninis, and a well-regarded roasted Portobello burger.
(Here's how to get to Rainbow's End Natural Foods from the center of the Las Vegas Strip)
Other entrée's include the Rainbow burrito, which is described on the menu as follows:
"Sprouted grain tortilla, organic basmati rice, and black beans with avocado, romaine, tomato, red onion, salsa, and vegan sour cream."
The Healthy Café also has a juice bar.
The address for Rainbow's End is as follows:
1100 E. Sahara Ave #120
Las Vegas, NV 89104
Their phone number is (702) 737-1338
The store is open from 9 a.m. to 8 p.m., Monday through Friday, Saturday from 10 a.m. to 8 p.m., and on Sunday, from 11 a.m. to 5 p.m.
The Healthy Café is open from 10 a.m. to 6 p.m. on weekdays, from 11 a.m. to 4 on Saturday, and 11:30 a.m. to 4 p.m. on Sunday.
Other health food stores
Herbally Grounded, at 4441 West Charleston Boulevard, is another independent Las Vegas health food store. However at over 4 miles away from the action, north and west of the Strip, it is more of a locals' health food store.
Whole Foods Markets
You're already familiar with them, so no need to describe, other than to say that there are four Whole Foods Market stores in Las Vegas.
They are at the following locations:
6689 Las Vegas Boulevard
8855 W. Charleston Boulevard
7250 W. Lake Mead Boulevard
100 S. Green Valley Parkway
The Whole Foods Market on Las Vegas Boulevard is located in the Town Square Mall, just one and a half miles south of Mandalay Bay on the Strip.
Sprouts Farmers Markets in Las Vegas
A favorite of my wife, there are two Sprouts Farmers Market stores in Las Vegas. None, however, are closer to the Strip than either the Whole Foods or Rainbow's End. The two Sprouts stores in Sin City are at:
3365 E. Tropicana Ave.
Las Vegas, NV 89121 (About 4 miles east of the MGM Grand on the Strip)
4020 South Rainbow Boulevard
Las Vegas, NV 89103 (4.1 miles west of the Strip, as your driving towards the Palms or Rio Hotel and Casino)
There is also a new Sprouts Farmers Market in Summerlin, and two in Henderson.
Closest Health Food Store to the Las Vegas Strip
The Rainbow's End's location on Sahara puts it one mile east of the Las Vegas Strip. So technically, this makes it the health food store that is nearest to the Las Vegas Strip. But because Las Vegas Boulevard is so long however, it's further away from resorts in the center and south Strip areas.
Rainbow's End is 2.8 miles from the Venetian and Palazzo, and Treasure Island hotels and casinos, and slightly less than that from the Wynn and Encore resorts. From these resorts on the northern end of the Strip, the Rainbow's End is about a ten to fifteen minute drive.
The store, however, is 3.9 miles from the center of the Las Vegas Strip. Here I'm talking about Caesars Palace and the Bellagio, or Paris, Bally's or the Flamingo. The Whole Foods on Las Vegas Boulevard, however, is slightly less, at 3.6 miles away.
What all this means is that if you are staying in the middle of the Strip, or south of it at places like the MGM Grand, Excalibur or Luxor, the closest health food store is the Whole Foods Market at Town Square.
Then again, from the Aria Hotel and Casino, it's a 3.4 mile drive to Whole Foods, compared to a 4.1 mile drive to Rainbow's End. Not much difference, and sometimes it's nice to try out a new, local health food store, rather than the typical Whole Foods Market you're probably already used to.
(Photo courtesy of the Rainbow's End Natural Foods' website: lvrainbowsend.com)