Whole Foods Market by the Las Vegas Strip and other Locations in Las Vegas
The very popular Whole Foods Market chain now has over 500 stores throughout the United States, Canada, and the United Kingdom. Four of those stores are in Las Vegas, including one right on Las Vegas Boulevard.
While there are several grocery stores by the Las Vegas Strip, there is just one Whole Foods. Of the four Whole Foods Market stores in the Las Vegas area, two are in Las Vegas itself, while two are in neighboring subdivisions.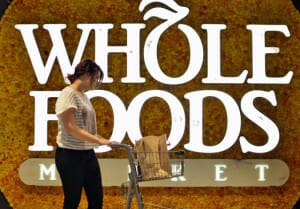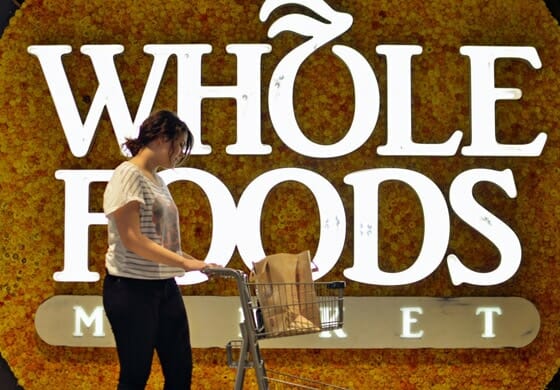 Whether you're a Vegas local looking for a healthy grocery store to make your "home store" or a visitor wanting to escape the endless processed, fried food offerings on the Las Vegas Strip, you'll find some healthier options at one of the four stores below:
Las Vegas Whole Foods Market Stores
Town Square Mall
Like the heading says, this Whole Foods is situated in the beautiful Town Square Mall Las Vegas – a 120 store outdoor pedestrian friendly shopping plaza situated right on Las Vegas Boulevard, 1.5 miles south of where the Las Vegas Strip starts. It's the closest Whole Foods to the Las Vegas Strip.
(Red marks the Whole Foods store that is nearest to the Las Vegas Strip)
The mall is not your typical, bland 1980's style indoor shopping mall, so don't let the name fool you. The store is an anchor tenant and is the first store on your left when pulling into Town Square off of the Las Vegas Strip.
The address for the Town Square Whole Foods Market is:
6689 Las Vegas Boulevard
Las Vegas, NV. 89119
Northwest Las Vegas
The other Las Vegas proper Whole Foods Market is in northwest Las Vegas at:
7250 W. Lake Mead Boulevard
Las Vegas, Nevada 89128
This store is in a non-descript strip mall, about 7.2 miles from downtown Las Vegas.
Summerlin Whole Foods Market
8855 W. Charleston Boulevard
Las Vegas, Nevada 89117
North and west of the Las Vegas Strip, this store is quite a ways away any tourist-based hotel and casino. It is however, just 2.5 miles east of the Red Rock Casino Resort and Spa. Otherwise, it's about 8.5 miles from the casinos on Fremont Street and about 9 miles from the Center Strip, (i.e. Harrah's, Caesars Palace, etc.)
(Here are the four Whole Foods stores in Las Vegas)
Henderson, Nevada Whole Foods Market
100 S. Green Valley Parkway
Henderson, Nevada 89012
South and east of the Las Vegas Strip, the town of Henderson has a Whole Foods Market. It's in a Town Square-style outdoor shopping area called Green Valley Ranch, and the store is just a quarter mile east of the Green Valley Ranch Hotel and Casino.
Whole Foods Market Las Vegas Store's Hours
Each of these Las Vegas area Whole Foods Market stores open at 7 AM. The Henderson and Lake Mead Blvd stores close at 9 PM. The Town Square Mall and Charleston stores close at 10 PM.
Whole Foods Market Store Closest to the Las Vegas Strip
There isn't really a Whole Foods Market that you can walk to from the Las Vegas Strip. Not if you plan on carrying groceries in 110 degree heat.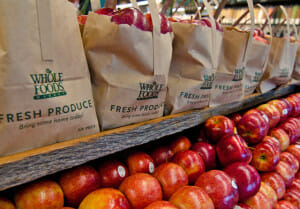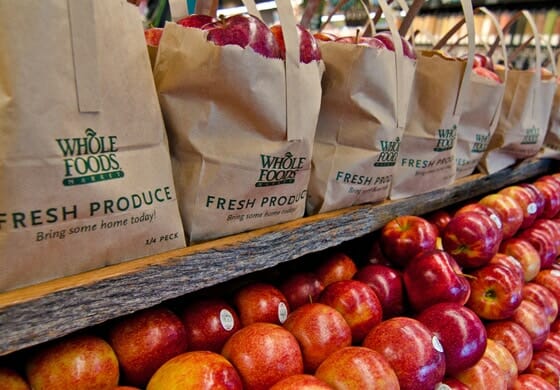 The Town Square Mall Whole Foods Market is the closest. It's on Las Vegas Boulevard, and although Las Vegas Blvd is the official name of the Las Vegas Strip, the Strip doesn't start until further north, at Mandalay Bay.
Nevertheless, this location at Town Square is by far the nearest Whole Foods Market store to the Las Vegas Strip. It's just 2.5 miles from the MGM Grand, Excalibur, Tropicana and NY-NY Hotel and Casino, and just slightly less than that from the Luxor.
(Related: Trader Joe's by Las Vegas Strip)
Here are some other distances from various hotels and casinos to this Whole Foods Market:
Aria and Cosmopolitan – 2.9 miles away
Bellagio, Paris, Bally's and Planet Hollywood – 3.2 miles away (or a 5k run)
Caesars Palace, Flamingo, the Linq Hotel and Casino – 3.6 miles away
Venetian, Palazzo, Treasure Island – 4.2 miles
Wynn and Encore – 4.5 miles away
Virgin Hotels Las Vegas – 3.9 miles away
Westgate Las Vegas – 5.8 miles away
Whole Foods Market Store Closest to Fremont Street in downtown Las Vegas
It's the West Lake Mead location, at 7250 West Lake Mead Boulevard, north and west of downtown.
It's still quite a ways, however. This Whole Foods is 7.2 miles the center of Fremont Street (places like the Golden Nugget, The D Las Vegas Hotel and Casino, Fremont, and Four Queens), and it would take you between 10 and 15 minutes to get there.
(By Steve Beauregard. Photos courtesy of Whole Foods Market)