Hottest Temperature Ever Recorded in Las Vegas & the Coldest One in History Too
It's in the high desert, just a few miles from Death Valley, which is the hottest place in the United States. So you know it gets hot in Las Vegas, but what is the city's all time hottest temperature?
It's 118 degrees, or 47.8 degrees Celsius. This happened in July of 1931. But in a city where nothing is a sure thing, even that record is somewhat in dispute.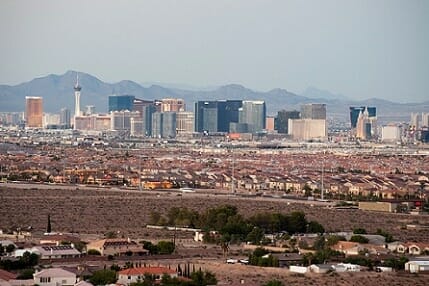 I say that because the 118 degrees recording took place before the "official" record of the National Weather Service took place.
The 118 degree temperature was recorded by a Las Vegas city founder and newspaper man named C.P. "Pop" Squires *, who, according to an article in the Las Vegas Sun, "scribbled readings from the thermometer in his back yard off Fremont Street."
The actual address was 411 E. Fremont Street, Pop's home and the home/office of one of the first newspapers in Sin City, the Las Vegas Age.
Six years after Pop Squires recorded his 118 degree record, the National Weather Service began keeping official records. On January 1, 1937, the NWS began tracking Las Vegas weather, from their outpost in what is now Nellis Air Force Base.
Hottest Temperature Officially Recorded in Las Vegas
Since 1948, official Las Vegas weather data has been recorded from the National Weather Service office at Harry Reid International Airport.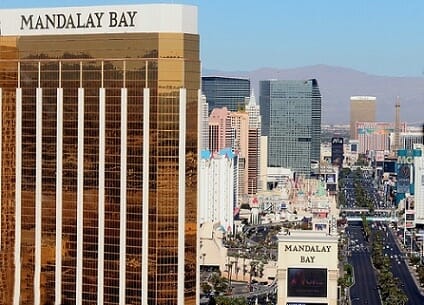 All of which is to say that Pop Squires' records don't count as the "official" record of the hottest temperature ever in Las Vegas.
That record is 117 degrees Fahrenheit. This took place on five different occasions, most recently on July 10th, 2021. Of the five times it has hit 117 in Las Vegas, three of those days have been in July, and two in June.
Specifically, the Las Vegas mercury hit its highest ever, 117 degrees, on:
July 24, 1942
July 19, 2005
June 30th, 2013
June 20, 2017
July 10th, 2021
The second highest temperature in Las Vegas is 116 degrees. This has taken place on 19 different days, most recently on July 9th, 2021.
It has hit 115 degrees in Las Vegas on 36 different days, including a late June period of 1994, when the high was 115 degrees for three days in a row! To top that though, we see that between July 16th, 2005 and July 19th, the daily high temperatures were: 115, 116, 116, and the record 117!
The hottest month in the history of Las Vegas was July of 2010, when the average temperature was 96.2 degrees. (Not the average high, just the average temperature).
Typically, July weather in Las Vegas is the hottest, with an average temperature of 92.5 degrees.
Coldest Temperature Ever in Las Vegas
On January 13, 1963, the mercury dipped down to just 8 degrees in Las Vegas, (or – 13.33 Celsius). This tied the coldest Las Vegas temperature that had been set on January 25, 1937.
On average, December is the coldest month in Las Vegas, when the average temperature is 47.7 degrees. The coldest month in the city's history took place in a January, however, when the average temperature was 31.2 in January of 1937.
Most precipitation received by Las Vegas in One Day
According to the NWS, Las Vegas is the "driest metropolitan area in the continental United States."
Still the area receives, on average, 4.19 inches of precipitation per year, often from the late July and August monsoons that are known to wreak havoc on Las Vegas streets.
The record for most precipitation in a 24 hour period in Las Vegas is 2.59 inches. This took place on August 20th/21st, 1957.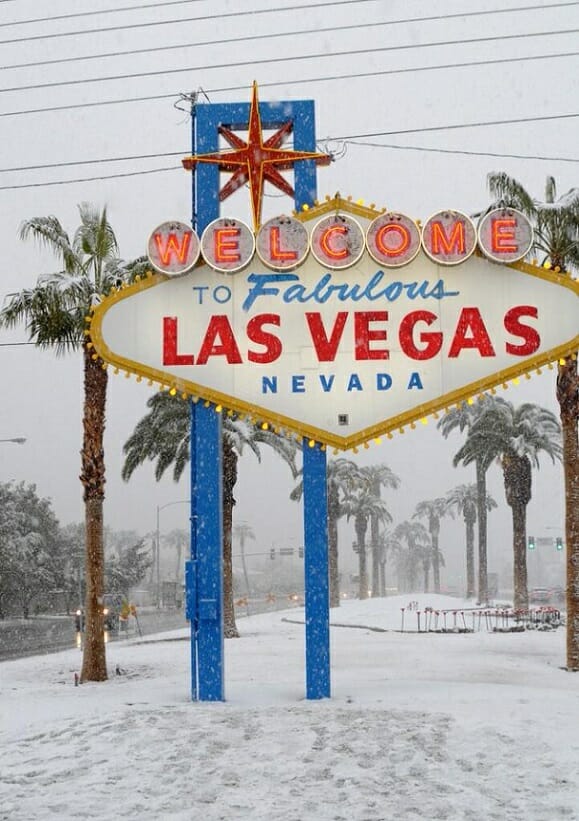 The record for least amount of precipitation received is zero, which is set almost every day of the year.
Does it Snow in Las Vegas?
The weather station at Harry Reid International Airport only receives measurable snow once every four or five years.
The record for most snow received in one day in Sin City is a remarkable 7.4 inches. This happened on January 31, 1979. It shattered the previous snow record of 4.7 inches on January 5, 1974.
Las Vegas has never received snow before November 15th, or after March 14th.
The last measure snow day in Las Vegas was February 21st, 2019, when 3/10 of an inch of snow fell. The day before, 1/2 inch was recorded.
Highest Wind Gust Ever in Las Vegas
On August 8, 1989, the wind reached a speed of 90 miles per hour.
* As an aside, you could make the argument that Pop Squires was the first owner of property on the Las Vegas Strip. According to an article in the Las Vegas Review Journal, Pop Squires once owned 40 acres of land in what was then the outskirts of town. The 40 acres was eventually sold to a woman, who then sold it to a man, who sold it to Benjamin Bugsy Siegel, who opened the Flamingo Hotel and Casino on that desolate 40 acre parcel.
(By Steve Beauregard. Photos courtesy of Andrew, and Prayitno via Flickr. Las Vegas snow photo courtesy of the Las Vegas Visitors & Convention Authority's Twitter page, Vegas.com. )