Las Vegas weather in July – Average Temperature and Highest and Lowest of All Time in July
By Steve Beauregard
In a city known for hot temperatures, July is the hottest of the hot, as the month is historically the hottest time of the year in Las Vegas, with an average daily high of 104 degrees Fahrenheit, (or 40 degrees Celsius).
Keep in mind, that's just the official temperature readings. It can be (and often is), several degrees higher in the concrete and glass center of the city, in that mass of tourists you are walking along with on the pedestrian bridge overpass from Caesars Palace to the Bellagio for example.
In case you had any doubt about the weather in Las Vegas in July; about wondering what to wear, or concerns about this high desert location maybe being a tad chilly a night, and wondering if a jacket is in order, please know that in July, Las Vegas is hot in the morning, afternoon, evening, and in the wee hours as well. In fact, on a recent July day, weather.com showed Las Vegas as having a temperature of 97 degrees. At 2 a.m.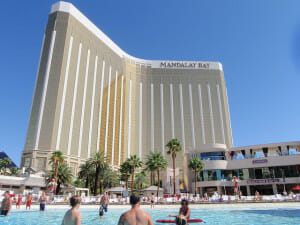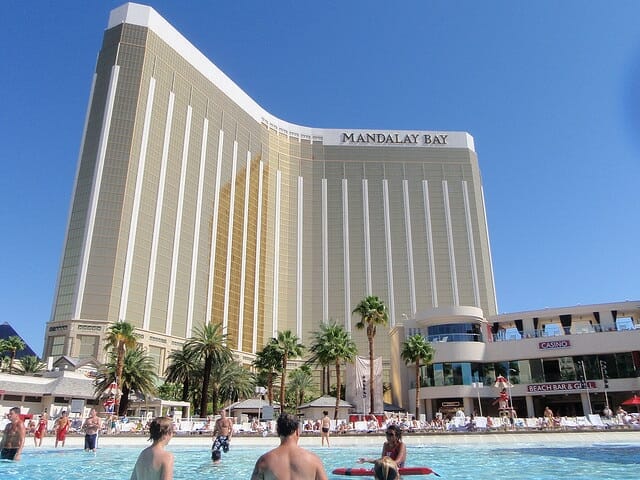 Typically in July, Las Vegas will see its lowest temperature between 5 to 6 a.m.
So wear shorts, and light shirts, and stay indoors, taking a beating at the tables or slots, rather than from Mr. Sun above. Plus inside, they serve free drinks. Experts are always telling you to stay hydrated – they just never tell you what liquids to drink.
As further proof of the brutal, unbearable temperatures in Las Vegas in July, the city's all time highest temperature ever recorded took place in July.
Hottest Temperature in Las Vegas in July
Officially, the highest temperature ever recorded in Las Vegas in July is 117 degrees. This took place on two different occasions, July 24, 1942, and July 19, 2005.
Unofficially, the record high for July, (and the hottest temperature in Las Vegas history) is 118 degrees, or 47.8 degrees Celsius. This was recorded by a Las Vegas local in July of 1931, but is not counted in official records, as the National Weather Service did not begin keeping records until 1937.
(Related: When is the best time to go to Las Vegas?)
Average temperature in Las Vegas
According to the National Weather Service, the average temperature in Las Vegas in July is 92.5 degrees. Some other statistics from the NWS:
Average High: 104 degrees.
The absolute hottest time in Las Vegas is from July 13th to July 25th, when the average daily high temperature is 105 degrees.
Average Low: 80.9 degrees.
Coldest temperature ever recorded in Las Vegas in July:
Unofficially: 40 degrees in 1910. Again however, this was before official record keeping began, so its reliability is questionable. This is especially true given that the official records for the lowest temperature recorded in Las Vegas in July are significantly higher.
(Related: Weather in Las Vegas in August)
Officially: 56 degrees.
This July low of 56 degrees took place on two different occasions: July 19, 1937, and July 21st, 1940.
Precipitation
On average, Las Vegas receives just a lowly .39 inches of precipitation in the month of July. Also, of the 31 days in July, the city receives precipitation for just two of those days, on average.
The record precipitation for one July day for Las Vegas was set on July 28th, 1984, when the city received an astonishing 1.36 inches of rain, over 3 times what it usually receives for the entire month.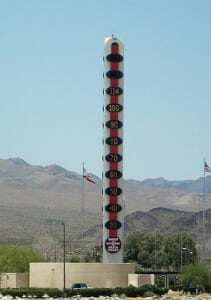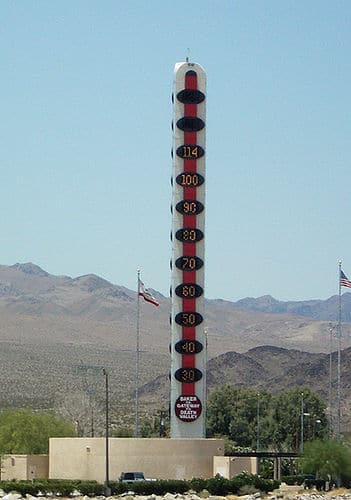 Las Vegas July Temperature Trivia and Tidbits
* Official Las Vegas weather and temperature readings take place at the weather monitoring station at McCarran International Airport.
* The ten hottest Julys in Las Vegas have all taken place since 2002. The absolute hottest July in Las Vegas ever recorded was the July of 2010, when the average temperature was 96.2 degrees.