When is the Best Time to Go to Las Vegas? Considering Weather, Busy Seasons, Prices, Etc?
By Steve Beauregard
The best time of the year to visit Las Vegas is at 9:37 a.m on March 14th.
Of course I'm joking. For Vegas junkies like me, the best time to visit Sin City is absolutely any time you can!
Nevertheless, there are some specific times when a trip to Las Vegas is more advantageous than others, weather wise, and in terms of crowds, prices, etc.
Best Time to Visit Las Vegas Weather Wise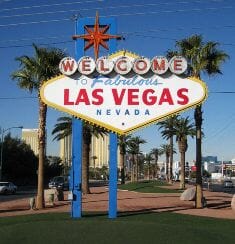 I have a friend who is a true gambling degenerate loser. He drinks too much there. Then gambles. Then hits the ATM machine. It's like we're soul mates. Anyway, he's always hesitant to fly to Las Vegas in the summer. "It's too hot," he says. This is from a man who spends every minute of his Vegas vacation at a craps table, in a heavily air-conditioned casino – leaving the dice only occasionally for bathroom and food breaks.
Yet while the May through September months can be excruciatingly hot, how much time do you expect to spend outdoors?
July is the hottest month, temperature wise, in Las Vegas, when the average daily high temperature is 104 degrees. Temps much hotter than this are not uncommon.
I'll fully admit that Las Vegas can be brutal in the summer, even for Vegas junkies. My wife and I spent a scorching July 4th weekend at the Paris Las Vegas once, when I found it even too hot to swim. (My Eiffel Tower shaped pina colada melted in less than five minutes.)
Truth is, long walks between strip casinos can leave you red-faced and drenched in sweat. A combination of crowds, concrete and an unrelenting mid-day Sin City sun can drench away both your bodily fluids, and energy quickly.
So if hot weather really has an effect on you, rather than being just an irritant – you should ask yourself some questions before considering a Vegas June jaunt: do I plan on doing a lot of casino hopping? Am I going to be participating in any outdoor activities? Am I comfortable staying indoors all of the time?
If the answer is "no," a trip to Las Vegas during the region's hottest months won't affect you much, other than in an uncomfortable moment or two when you're either hauling luggage to and from McCarran International Airport, or are dressed up and waiting in line to catch a taxi to another casino.
However, do you plan on playing golf? Hiking in Red Rock Canyon? If so, Las Vegas' milder, almost perfect spring and autumn days may be more to your liking. The average high temperature for March in Las Vegas is 69 degrees, while in October; the average daily high is 82 degrees.
In general however, don't let the endless string of 100 degree plus days keep you away from the most exciting city on Earth. Yes it's miserable outside, but that's what the numerous daiquiri and frozen drink bars are for!
Best Time of the Week to Stay in Las Vegas
Travelzoo and other travel websites often scream about incredible Las Vegas Strip hotel deals. However in the fine print, you'll often see how the great bargain is for Sunday to Thursday night stays only
This is typical, so if you are on a budget and have vacation time from work, a Vegas trip during weekdays can save you a lot of money, and hassle versus the traditional weekend get-a-way.
This is never truer than when it comes to booking hotel rooms. The difference between a hotel room on say a Tuesday versus Saturday can be staggering. My wife and I recently stayed at the Flamingo for $85 a night on Wednesday and Thursday (that included the resort fee and taxes). However staying an extra night, Friday night, would have cost $280 after taxes and fees. In other words, the weekday rate was about 1/3rd of the weekend rate. That's $195 you could save. You won't of course. You'll drop that $195 in the slots, but the point remains: try to visit Las Vegas during the week to save tons on your hotel room.
This same supply and demand factor comes into play when shopping for show tickets. You are much more likely to find seats to popular shows, as well as discounted seats available at places like Tix 4 Tonight, on weekdays. Keep in mind, everyone needs some time off, so comedians, musicians and other performers often "go dark" on Sunday and Monday nights.
Other than some of the fancier buffets, you won't find any discounts in restaurant pricing from a weekday versus the weekend. You will however, find popular restaurants less crowded, helping to make that reservation at a nice place much easier.
As for those buffets, Saturday evening buffets at many of the upper-end casinos, such as the Bellagio, are priced higher than normal weeknight buffets.
Ostensibly, this is because they (the casinos), add some more costly and elaborate dished to the menu, while calling it a "Gourmet" buffet. In reality however, more bodies in the casino on weekends means more demand for buffet food, and hence, more money can be charged.
Almost as nice as saving buffet money by going on the weekdays is the waiting factor. Weekend buffet lines at popular buffets like Caesars Palace or at the Bellagio can be 1/2 hour to an hour long, whereas these lines on weeknights are significantly less, or in some cases, non-existent.
Busy Times in Las Vegas
In addition to weekend, Las Vegas sees a heavy influx of visitors during holidays. Three day holiday weekends in particular, seem to fill up the streets of the Strip and Fremont Street, as fun-seeking Southern Californians flock L.A. for Sin City. (Go here for the distance from Los Angeles to Las Vegas).
Beginning with New Year's Eve, Las Vegas gets extremely crowded during the following holidays: New Year's Eve, Martin Luther King Jr. Day, Memorial Day, 4th of July, and Labor Day.
Religious holidays like Easter, Thanksgiving, and Christmas don't seem to bring in the visitors as much as the secular holidays. Other noticeable busy times for Las Vegas include March Madness (which takes place in October – just kidding), and Super Bowl weekend.
The least busiest time of the year in Las Vegas is December, followed by February. Hotel room rates drop dramatically in December, although the weather in Las Vegas in December IS the coolest of the year. Temperatures during the day reach the mid to high 50's, while late at night, they typically cool down to the high 30's.
Las Vegas Conventions
Although Las Vegas has over 124,000 hotel rooms, one of its major yearly international conventions can quickly put a huge dent in that inventory.
The result of this influx of conventioneers are crowded streets, packed restaurants, busy monorails and taxis, higher room rates, and bustling casinos, where you may have to wait a while to snatch a seat at a lower limit black jack table.
Some of the major annual Las Vegas conventions and their traditional schedules are as follows:
CES (Consumer Electronics Show): First week of January
AAIW (An automotive trade show): First week of November.
National Association of Broadcasters: Middle of April
MAGIC Marketplace: Late August
International Builders Show: Late January
Shooting, Hunting and Outdoor Trade Show: Also late January.
Each of these conventions brings in over 60,000 convention attendees.
Overall, the best time to go to Las Vegas when all factors are taken into account is probably either before or right after the National Finals Rodeo in December each year. The NFR brings in a huge crowd, and is usually held in the December 4th – 11th range. Prices and crowds will probably be the cheapest all year immediately before, and after the NFR. In addition, you certainly won't have to worry about Las Vegas heat in early December.
Whatever your tolerance for heat and crowds may be, Las Vegas offers so much, and so many options that I still believe the best time of year to go to there is any time I get permission from my wife.