Las Vegas, NV Weather in October – Average Temperature and Normal Highs and Lows
Many Las Vegas residents feel that, weather-wise, October is the best month of the year. And indeed, it's clearly at, or near the top, in terms of temperatures and outdoor comfort levels.
But it can also be a strange month for weather. It's the only month that has seen temperatures go over 100 degrees, and below freezing. Normally, however, the month sees very pleasant weather. Whether golfing, dining outdoors, or just strolling the Strip, you will usually find temperatures in October to be to your liking.
In general October days in Las Vegas are warm, but not unbearable, while nights are pleasant. Up until the later parts of the month, you don't even really need a jacket when going outdoors late at night.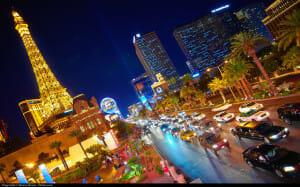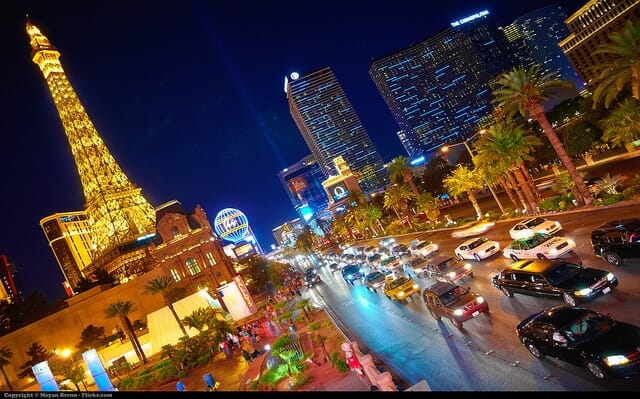 Many Las Vegas locals consider October to be perfect "patio weather." The October weather is the first month of genuine relief from the five month onslaught of the sun and burning temperatures the city experiences from May to September.
In fact, from May 18th to September 26th, the normal high for Las Vegas is 90 degrees or higher. October marks the first month where 90 plus degree temperatures are the exception, rather than the rule. In fact, the mercury has hit 100 degrees or higher only three times in the history of Las Vegas.
October temperatures in the Las Vegas valley area range from daily lows in the 50's and 60's to highs ranging from the mid 70's to upper 80's Fahrenheit.
(Related: Weather in Las Vegas in November)
The normal daily high temperature for each day of the month is 80.6 degrees Fahrenheit, or 27 Celsius. After October 18th, the normal daily high temperature falls down into the 70's.
Average October temperature in Las Vegas, Nevada
According to the National Weather Service, the normal average temperature in Las Vegas in October is 69.5 degrees. This marks a big drop off from the weather in Las Vegas in September, when the normal average temperature is nearly 83 degrees, and the average daily high is 94 degrees.
Some other Las Vegas October weather facts:
Average High Temperature in October: 80.6 degrees.
Hottest Temperature in October in Las Vegas
The warmest it has ever gotten in Sin City in October is 103 degrees. This happened on October 1, 1978.
The warmest part of October takes place in the first five days of the month, when the average high each day is 86 degrees or above.
Coldest Temperatures in Las Vegas During October
October is the month when the low temperatures of the day (typically just before sunrise), are between 53 degrees (on days close to November), and 65 degrees (on those days closer to September).
The normal daily low for Vegas in October is 58.5 degrees.
The coldest temperature ever recorded in Las Vegas in October was a chilly 26 degrees (-3.33 Celsius). This occurred back on October 30, 1971.
Halloween Weather in Las Vegas
Coming out to Sin City for the big Halloween celebration? If so, you don't have to worry about dressing warm, although you may want a sweater or light jacket under your costume if you're going to be outside during the very wee hours.
The typical high temperature for Halloween in Las Vegas is 74 degrees, according to the NWS, which has been tracking this data in Las Vegas since before Halloween (or Las Vegas for that matter), was big. Their records go back to 1937.
The normal low on Halloween is 53 degrees. Again, however, this place in very early morning hours, just before the sun begins to rise.
Precipitation in Las Vegas in October
October is the fifth driest month in Las Vegas. On average, the town gets .27 inches of precipitation.
The October record for amount of precipitation in one day in Las Vegas is 1.08 inches of rain. This rainfall happened on October 12, 1947.
Interesting Las Vegas Weather Facts for the Month of October
* In the history of Las Vegas, the temperature has reached triple digits only three times in October: the record setting 103 degrees set on October 1, 1978, and 100 degrees even, reached both on October 2nd, 1980, and October 4, 1987.
* The highest wind gust recorded in Sin city in October took place on October 21, 1965. On that day, wind gusts reached speeds of 71 miles per hour.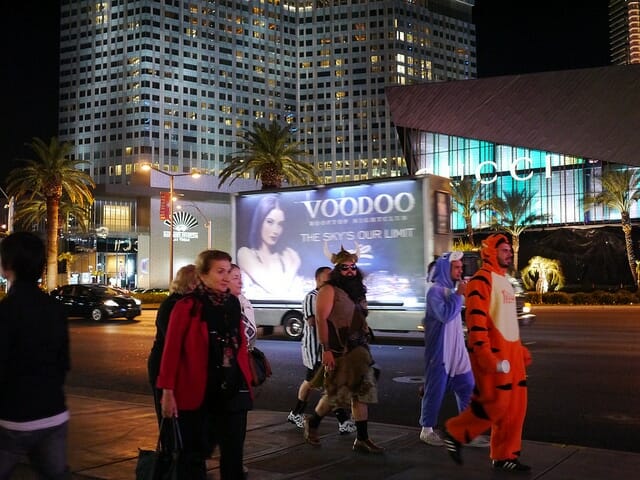 * On average, the high temperature for Halloween in Las Vegas will be 80 degrees or higher once every five years.
* It has never snowed in Las Vegas in October.
* In terms of visitor traffic, October is the second busiest month in Las Vegas. Last year in October, the town welcomed 3.583 million visitors.
* The average daily hotel occupancy rate in October is 89.1% overall. (The Strip's occupancy rate is 90.7% for the month)
* Convention-wise, October is fairly slow in Las Vegas. But since we're talking about Las Vegas, "slow" is relative. The biggest convention in Las Vegas in October takes place mid-month, when the welcome mat is laid out for National Association of Convenience Stores. Thirty thousand attendees show up for this convention.
(Top photo courtesy of Moyan Brenn via Flickr. Bottom photo courtesy of kennejima via Flickr).