Las Vegas Weather in September – Average Temperature and Normal Highs and Lows
By Steve Beauregard
September may be the month when fall starts, and the NFL kicks into gear, yet Las Vegas weather in September in no way resembles what most of us would consider to be a typical autumn.
Temperatures for the Strip, downtown, and other areas typically range from daily lows in the low 70's, to highs in the mid 90's Fahrenheit. For those of you who use Celsius, that's roughly from lows of 21.1 to highs of 35.
The normal daily high temperature for each day of the month is 90 degrees or above.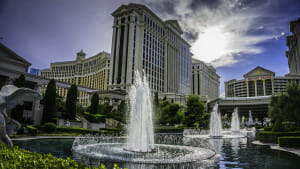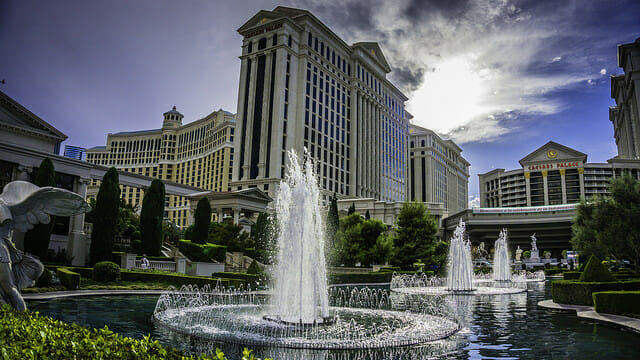 Up until September 16th, the daily high temp is still at least 95 degrees, and often higher! So don't bring out those sweaters yet.
Average temperature in Las Vegas in September
According to the National Weather Service, the normal temperature in Las Vegas in September is 82.6 degrees. While still warm, this represents a nice cool down from the preceding month, as August weather in Las Vegas is much warmer, with a normal temperature of 90.6 degrees. Some other weather facts for September in Sin City:
Average High Temperature in September: 94 degrees.
Hottest Temperature in September in Las Vegas History
The warmest it has ever gotten in the Vegas valley during September is 113 degrees. This happened on September 1, 1950.
As you might expect, the absolute hottest time in Las Vegas is around Labor Day, when September is basically an extension of summer. The warmest September days are from September 1st through the sixth, when the normal high is 98 degrees or higher.
Coldest Temperatures in Las Vegas During September
September is the month where the low temperatures of the day (usually between 4 a.m. and 6 a.m.), approach reasonable levels. We're talking temperatures where you would be comfortable getting up early and taking your morning run, which zero percent of you will do, so let's use a more realistic example: the morning lows between 4 a.m. and 6 a.m. are comfortable when you are walking back from a bar or club hungover and broke.
The normal daily low for Vegas in September is 71.1 degrees.
The coldest temperature ever recorded in Las Vegas in September is 43 degrees. This occurred back on September 27th, 1948.
(Related: Las Vegas weather in October)
Precipitation in Las Vegas in September
September is the 4th driest month in Las Vegas, as the region receives just .25 inches of precipitation, on average. Strangely, because of monsoons, August is wetter in Las Vegas than September.
The September record for amount of precipitation in one day in Las Vegas is 1.18 inches, set on September 11, 2012. If 1.18 inches of precipitation doesn't sound like much, keep in mind that the city averages just 4.18 inches per year.
In other words, on September 11, 2012, Las Vegas received 28% of its annual rainfall. In one day.
Other September Las Vegas Weather Facts that may Only Interest Me
* For every day in September, the record highest temperature for that day is, at the minimum, 101 degrees Fahrenheit.
* The sunniest month in Las Vegas history took place in September of 1942 and 1970, when, according to the National Weather Service, it was sunny 100% of the time during both months (other than nighttime of course). Because the NWS stopped tracking the city's sunny levels in 2002, these two months will hold the record as sunniest Las Vegas months, for eternity.
* The highest wind gust recorded in Sin city in September took place on September 4, 1980, when gusts reached speeds of 73 miles per hour.
* The average high temperature for Labor Day in Las Vegas is 99 degrees. However on Labor Day, temperatures reach triple digits 55% of the time.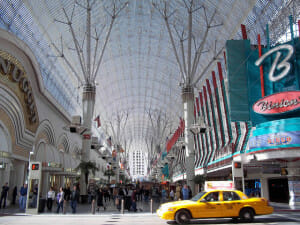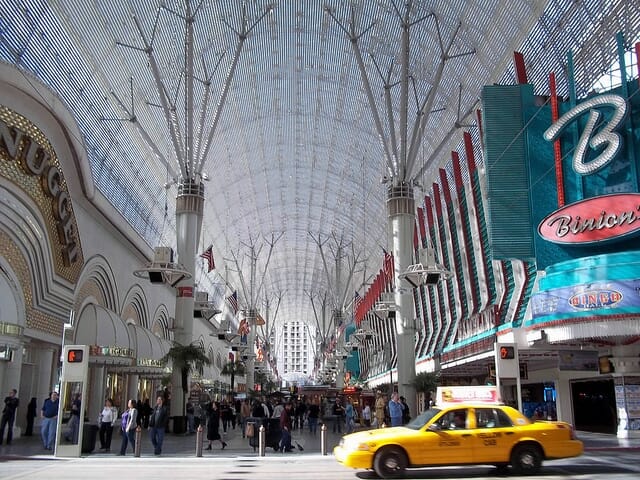 * In terms of visitor traffic, September is the 4th slowest month in the city. On average, there are 3.3 million visitors to Las Vegas in September.
* The average daily hotel occupancy rate in September is 85.9%
* The two big conventions in Las Vegas in September are the Pack Expo (a trade show for packaging and processing professionals), and the Super Mobility Week, which is a trade show for the mobile phone and technology industry. Each convention brings over 40,000 attendees to Las Vegas.
* Interestingly enough, the third largest convention in Las Vegas in September is the Mr. Universe competition. This event draws an amazing 30,000 visitors to the area.
(Photos courtesy of Jeff Turner and Time Anchor via Flickr).