By Steve Beauregard (Updated April, 2021)
(Please note that "Super Bowl" is copyrighted by the National Football League and Caesars Entertainment properties are the only ones with an official tie-in with the NFL. Also, the article below covers pre-Covid Super Bowl 2020 parties. I'll update this when we get closer to the 2022 game).
There's nothing like watching a big football game on a mammoth screen surrounded by rowdy gamblers in Las Vegas.
Football is already fun just when watching from home, but spending Super Bowl Sunday in Sin City gives the game a whole new dimension, as almost every single play elicits loud roars (or groans), from the thousands of watchers with money riding on the game.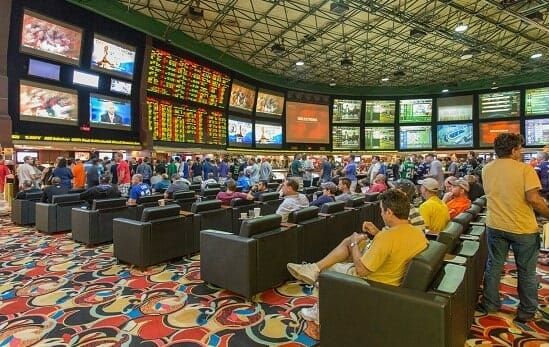 Between the prop bets, flowing drinks, fans all decked out in their favorite team's jersey, there is an amazingly fun buzz in the air, which is why Las Vegas bursts at the seams with visitors on Super Bowl Sunday.
In fact, last year, over 311,000 people came into Las Vegas for Super Bowl weekend, according to the Las Vegas Convention and Visitors Authority.
To put that number in perspective, 309,000 came into town to celebrate New Year's Eve, meaning that in Sin City, Super Bowl Sunday is a bigger holiday in than New Year's!
Hotels, (which already average a weekend occupancy rate of 95.5% during the rest of the year) fill up to capacity, shows sell out, and dining reservations get a little harder to acquire.
And while many of the sports books will reserve their best seats for their high-rollers, the rest of us have plenty of options in which to enjoy our football weekend – both on the Strip and on Fremont Street in downtown Las Vegas.
There are literally hundreds of viewing parties, as each bar and restaurant will have some special event, however we're just covering the bigger ones in this article. Also, many casinos have yet to announce parties, but we'll update this as parties are scheduled.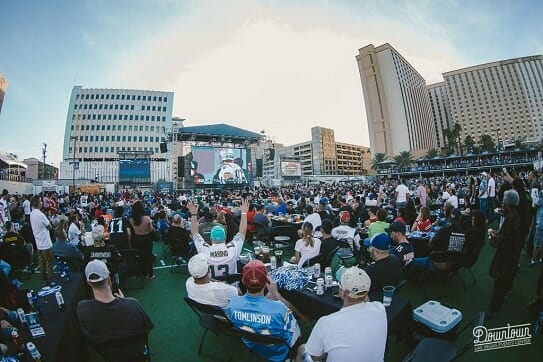 Here's a look at the viewing party options in Las Vegas for Super Bowl 54, on Sunday February 2nd, 2020.
Westgate Super Book
With 30,000 square feet, the Westgate Hotel & Casino's sports book is the biggest in town, offering every prop bet you could possibly imagine. In short, it's the epicenter of sports betting in Las Vegas, if not the world.
As such, it means you're unlikely to score one of the prized 350 seats in this massive book.
So instead, you could watch the game at one of parties held in (1) The International Theater, or (2) The ballroom.
1) International Theater
Westgate's 1,600 seat venue turns into football central on Sunday's during the regular season, and of course, during Super Sunday. The theater is home to a free Super Bowl viewing party, with food and drink specials.
Drink and food specials started at just $3. Seating in the theater is free and doors open at noon.
2) The "Big Game Party" for 2020 is held each year in the resort's ballroom. There are tables and TVs everywhere. Tickets cost $185 per person, and get you an open bar, all-day buffet, and guaranteed seating. You'll also get a raffle tickets for various prizes drawn thought the day.
Hard Rock Café
Not to be confused with the Hard Rock Hotel & Casino, this iconic restaurant and bar is right on the Strip, across from Park MGM.
Their "Big Game Watch" party costs $250 ($294.95 after taxes and fees), and includes five hours of an open, premium bar, guaranteed seating, and a game day buffet.
Tickets are available here: Hard Rock Viewing Party
Caesars Palace Super Bowl Viewing Parties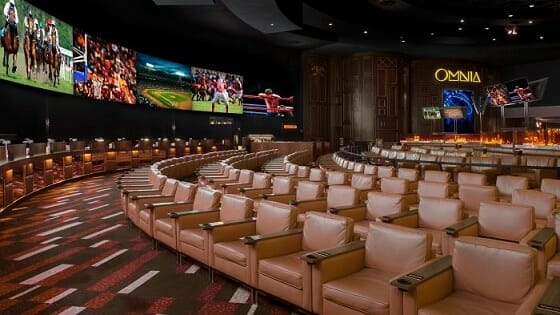 Caesars Palace
(Some of the links here are affiliate links and I may receive a commission should there be a purchase through them).
I remember watching the 1998 NFC Championship game here at this beautiful sportsbook while on a bachelor party. We grabbed some empty free seats.
My how times have changed.
For this year's Super Bowl, the Caesars Palace sports book offers several viewing options among three different tiers:
Bleacher Seat: Now $252.75 (after taxes, fees & gratuities) per person. You get a reserved seat in the bleachers in the back of the sportsbook. It comes with two drink tickets.
Main Seating: There are four rows and the price is based on the row. Regardless of the row you purchase, you receive three drink tickets. Counter-intuitively, rows are cheaper the closer to the TV screens.
Prices for the first row start at $284.73 per person (after taxes, fees & gratuities), up and go up from there to the 4th row, (the most expensive), where tickets are $492.10 per person, again, after all taxes, fees & gratuities.
VIP Seat The price is $811.24 per person, after all taxes, fees & gratuities. It includes your seat and an open bar with unlimited beer, wine and well liquor.
The Book at the Linq Hotel & Casino
The "Book" at the Linq is newly remodeled and has more than 50 big TVs. You're given a tablet as you arrive for digital ordering of drinks, placing bets online, etc.
Their Super Bowl viewing party ticket costs $374.26 per person (after all taxes, fees and tips), and includes the following:
– A reserved seat at an upper deck table
– An open Bar
– All You Can Eat buffet
Alternatively, you could book one of their fan cave experiences for $5,000 (before everything). This gives you and nine buddies fan cave rental (with your own 98 inch TV), an open bar,and a buffet.
Linq Promenade
From the Tilted Kilt, to the Brooklyn Bowl, all of the bars and restaurants on the Linq Promenade will have viewing parties.
One example is Virgil's Real BBQ. Their Big Game party costs $175 per person, which gives gets you all-you-can eat of their great barbecue, a premium bar from 3 PM to the end of the 3rd Quarter, and even a dessert bar. Last year, there were giveaways and contests, but I'm not sure if there will be in 2020.
At the AmeriCAN Big Game Party, you get a premium open bar from 2 PM until the game ends. Tickets cost $120 before fees and taxes.
Mandalay Bay
At the resort's House of Blues nightclub, the big game party starts at 1:30 PM. The package ($157.97 per person before fees), gets you a reserved seat, and all you-can-drink draft beer, along with an unlimited buffet featuring barbecue pulled pork sandwiches, chicken fingers, wings, loaded mac'n cheese, mini-cupcakes, etc.
Mirage
"The Still" inside the Mirage is a restaurant/bar with a big game party, costing a minimum $300 in food and beverage spend (per person).
The Mirage Sports Book has yet to announce Super Bowl plans. Last year, reserving a seat in the sports book cost $262 per person.
Planet Hollywood and Miracle Mile Shops
Inside the Miracle Mile shopping mall, bar/restaurants like Blondie's Sports Bar have all-you-can drink viewing parties. Blondie's Super Sunday party 2020 however, is sold out.
The PBR Rock Bar & Grill's party has all-you-can drink premium bar tickets starting at $192.59 (after taxes and fees). The party goes from 2 PM until the game ends, however there are also options allowing you to pay more for pre-game "tailgating" drinking and eating staring at noon.
Paris Las Vegas
The resort's Beer Park has some pricey packages that do not include alcohol.
For $133.49 per person (after taxes and fees), you get a guaranteed seat at the bar, and free buffet-style food starting at 2 PM.
T.I. Hotel & Casino (Treasure Island)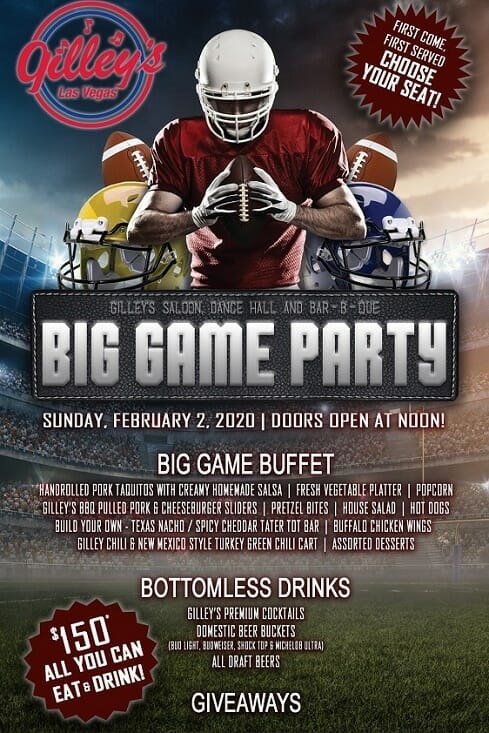 In addition to their laid-back sportsbook, the cowboy restaurant/bar Gilley's is the setting for T.I.'s Super Bowl party.
Unlike as with other places, seating here is first come/first served. Doors open at noon, but you can get tickets ahead of time. For $150 you get an all-you-can eat at a buffet that looks enticing, with pulled pork sliders, cheeseburgers, build-your-own nachos, a tater tot bar, wings, desserts, and more. You also get unlimited alcohol.
Also, the Senor Frogs restaurant here at T.I. has a party with tickets starting at $135 (when bought early). It includes guaranteed seating, contests, giveaways, and all you can eat from noon to the end of the game, and an open bar.
Venetian
Rockhouse Bar at the Venetian as their 2020 Big Game Party costing $180 per person. Included in that is an open bar from 2 PM until the end of the game.
The popular nightclub/restaurant Tao has their annual "Tao Bowl." There are only tables for rent here, and you have to email them for prices and reservations. But like the saying goes, if you have to ask about the price….
Wynn & Encore
The Encore Beach Club is the location for this Super Bowl party. General seating tickets start at $150 (before taxes, fees & gratuities) and do not includes drinks or anything. The upper package is…gulp…$25,000, and includes seating for 20 people, three liters of Dom, 6 bottles of Grey Goose, Fiji water, Red Bull, and, ahem, a case of Bud Light.
South Point Hotel & Casino
Besides the nationally-renowned sports book, the South Point has large Super Bowl viewing parties at a showroom, exhibit hall and grand ballroom. All are free of charge. In-room wagering is offered, and there are drink and food specials all day.
Fremont Street Downtown Las Vegas Super Bowl Viewing Party
The Downtown Las Vegas Events Center is an outdoor concert/entertainment venue right off of Fremont Street, with 85,000 square feet of space that can hold 15,000 people.
On Super Bowl Sunday 2020, the party is called the "Biggest Big Game Bash." The game is shown on a giant LED TV screen (they say has 72 feet of space), along with two large side screens. Food and drink vendors provide the drinks and meals (at a price of course).
Entry into the party, however, is free! You can also a reserve a table for you and some friends. A 4 man table starts at $240 total (before taxes and fees) and there are 6 person, 8 person tables on up. On the highest end, you can reserve a man cave for up to 20 people with a $5,000 minimum food and beverage spend.
The party here starts at 11 AM on Super Bowl Sunday.
Other
* For Super Bowl 53 last year, the Nevada Gaming Control Board says that there was $146 million legally wagered on the game.
* The ultimate Sin City Super Bowl viewing party may take place in 2025, when it is very possible (even likely), that the Super Bowl will be held at Allegiant Stadium in Las Vegas, which is on the south end of the Strip, just across the Interstate from Mandalay Bay.
(Photo courtesy of the Westgate Hotel and Casino and the Downtown Events Center)